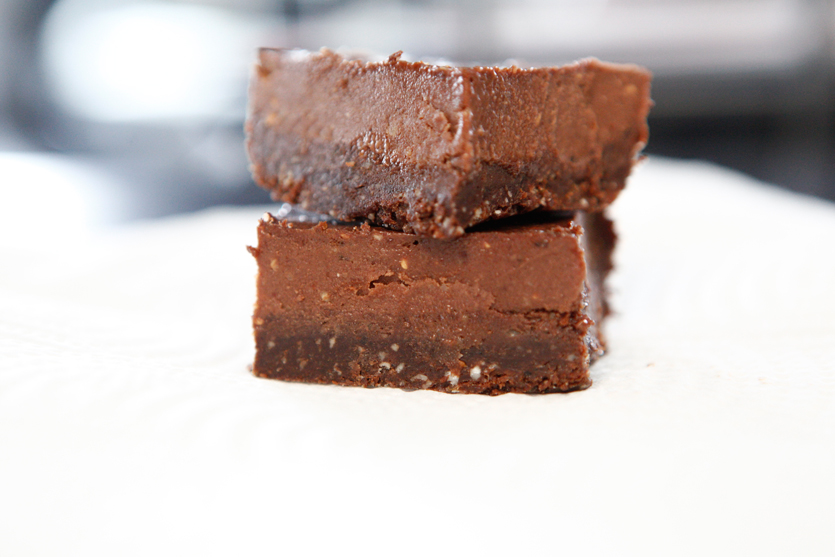 Hey everyone! It's been a while since my last post. I hope you haven't been missing my recipes too much. 😉
To make up for not posting for a while, I'll be sharing a wonderfully rich chocolate treat today. Not only are these RAW Chocolate Raspberry Bars sweet and chewy…they also keep fresh a long time (you'll keep them in your freezer the entire time, only taking them out a minute or two before having a bar).
If you're not too crazy about raspberries, you can easily substitute them with your favorite type of berry. You could even go crazy and sub it with something like shredded coconut! It's completely up to you. Raspberries worked great for me.
Let me tell you a bit about my life. I've taken a break from weights and cardio for about 1 month. I was doing a juice cleanse and giving my entire body a nice break from my old routine (weights, cardio, high protein diet, 6 small meals a day). It was a much needed break; it gave my body a chance to recover, rest, step out of my old routine and have more time for my loved ones and myself. It was truly wonderful.
This week, however, I felt like it was time to incorporate bits and pieces of my old lifestyle. I started lifting weights, doing cardio twice a day and eating an average of 5 times a day. I will still substitute a meal with a smoothie or skip protein on my salads here and there. Just trying to keep my overall nutrition balanced and light.
In general, I feel great! I am leaning out a bit, staying as healthy as possible and having a great time while doing it. I feel driven, focused and ready for any challenge.

RAW Chocolate Raspberry Bars
Instructions
Place dates, almonds, walnuts and ½ cup cacao powder in food processor. Process for about 3-4 minutes, until all ingredients have been blended well and they create sort of a smooth/sticky consistency.
Place mixture in baking dish. Press on it until it has been evenly distributed and nicely packed at the bottom.
Place bananas, raspberries, ¼ cup cacao powder, almond butter and honey in food processor. Process until smooth.
Pour mixture into baking dish.
Place baking dish in freezer for 1 hour+.
Cut into 9 small squares (3 lines vertically and 3 lines horizontally) and enjoy. No bake baby!
Notes
Tools You'll Need:
- Food processor
- 8"x8" baking dish
- Measuring cups
- Measuring spoons

Keep in freezer.
Nutrition Information
Serving size:
1 bar --
Calories:
294
Fat:
13 g.
Carbohydrates:
48 g.
Protein:
5 g.