Hello Summer Salad with Strawberry Vinaigrette! We welcome you wholeheartedly during these glorious hot summer days!
What is it about summer that attracts us so much toward salads? Is it the constant need we get to feel refreshed when it's so hot outside? Is it because there is a ton of great produce available and it all looks so good that it makes us want to eat it right away? Is it because we want to feel and look lighter and salads do the trick very well? Is it because salads go so well with any kind of grilled protein and summer is grilling season? There could be so many explanations as to why we are so drawn to eating salads for lunch or dinner during summer, but I am definitely grateful we are attracted to these as eating more vegetables is always a great idea.
Right now I am totally digging fruit in my salads. Think sweet red cherries, peaches, avocados, apples, blackberries…YUM. Doesn't just the sound of these make your mouth water? (I went to the store earlier today and got a bag of cherries, so you betcha I stopped mid sentence as I was typing and went to grab myself a big bowl of 'em. I have little self control 99% of the time.)
This salad recipe I have for you today is one of my current favorites, and it's definitely one that's been on repeat in our household. We love the combination of the citrus from the oranges with the sweetness and tartness from the berries; also, it's base is baby spinach and I love this particular green leaf for the salad, because since it's so versatile and subtile, it doesn't add any bitterness to the mix or take away from the sweet fruits.
Oh, and that strawberry poppy seed vinaigrette! (Enter heart-eyed emoji here.) The freshly squeezed lemon juice, the freshly ground cracked pepper, the balsamic vinegar, the sweet strawberries, the poppy seeds…they all go together so well and form a wonderful salad dressing. Simply put, this salad is perfection.
I would recommend having this salad with a good sized chicken breast fresh from the grill, your with favorite pan fried white fish, or with some grilled shrimp (or chicken) skewers.

Summer Salad with Strawberry Vinaigrette
This Summer Salad with Strawberry Vinaigrette is perfect for those hot summer months. It's light, delicious and very nutritious. A great lunch option!
Ingredients
For the Strawberry Vinaigrette:
For the Salad:
Instructions
For the vinaigrette:
Add all vinaigrette ingredients (except poppy seeds) to a high-speed blender and blend on high until smooth. Transfer vinaigrette to mason jar, add in poppy seeds, close jar with lid and shake it well for ingredients to combine. Refrigerate for 1+ hours.
For the Salad:
Place spinach, orange slices, strawberries, blackberries and pecans in a large salad bowl. Add in salad dressing (to taste) and toss to coat. Serve right away and enjoy!
Notes
Tools You'll Need:
• Large salad bowl
• Mason jar with lid
• High speed blender
• Measuring cups
• Measuring spoons
• Cutting board
• Sharp knife
• Citrus squeezer
Nutrition Information
Serving size:
1 serving --
Calories:
115 kcal.
Fat:
5 g.
Carbohydrates:
17 g.
Protein:
3 g.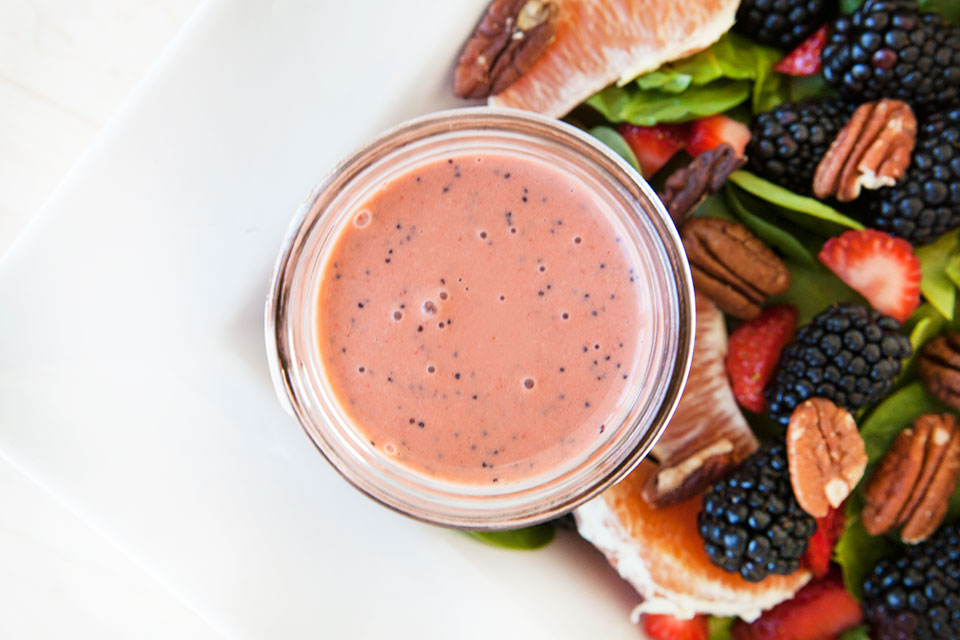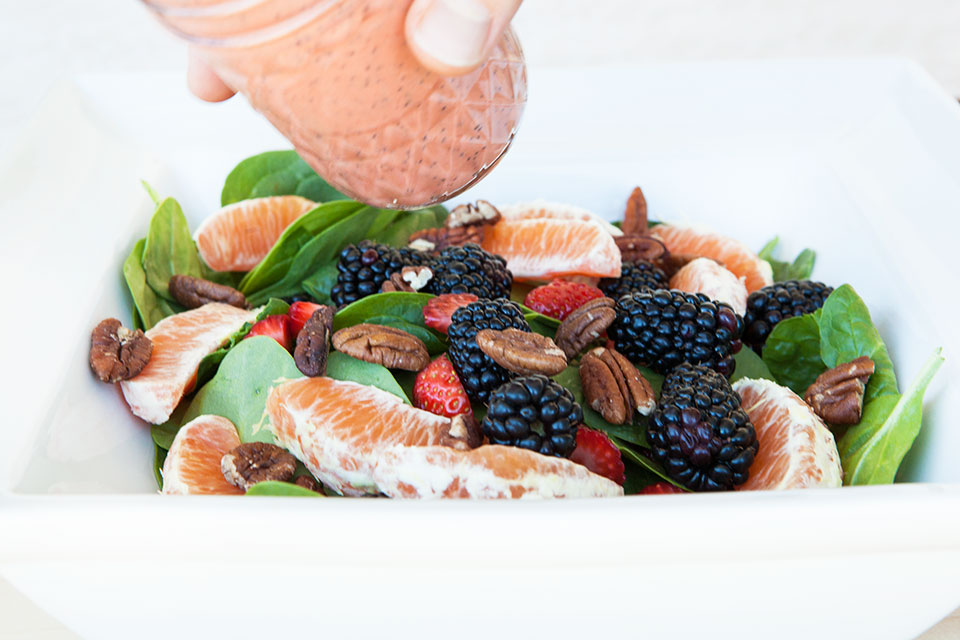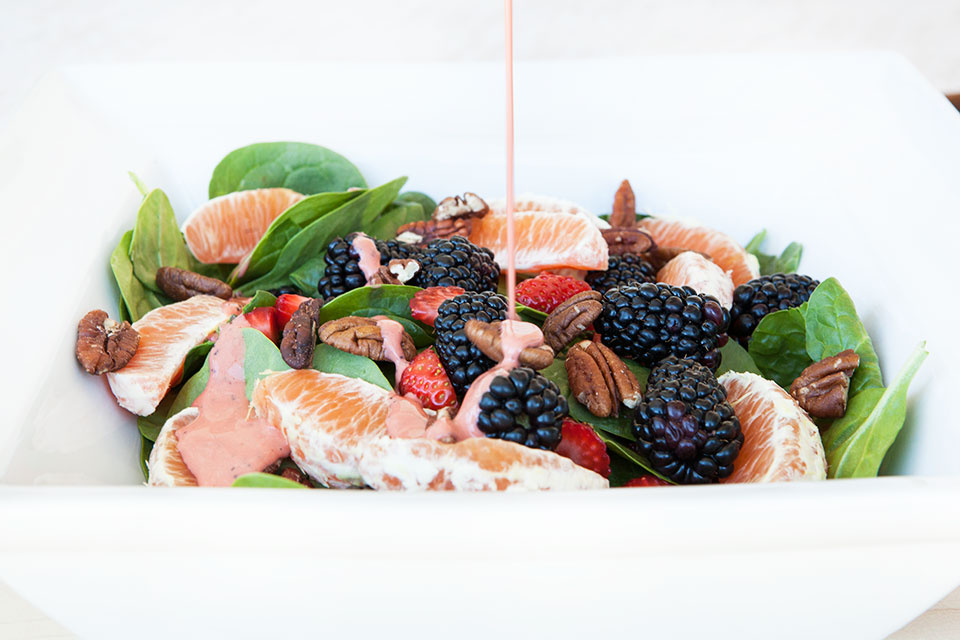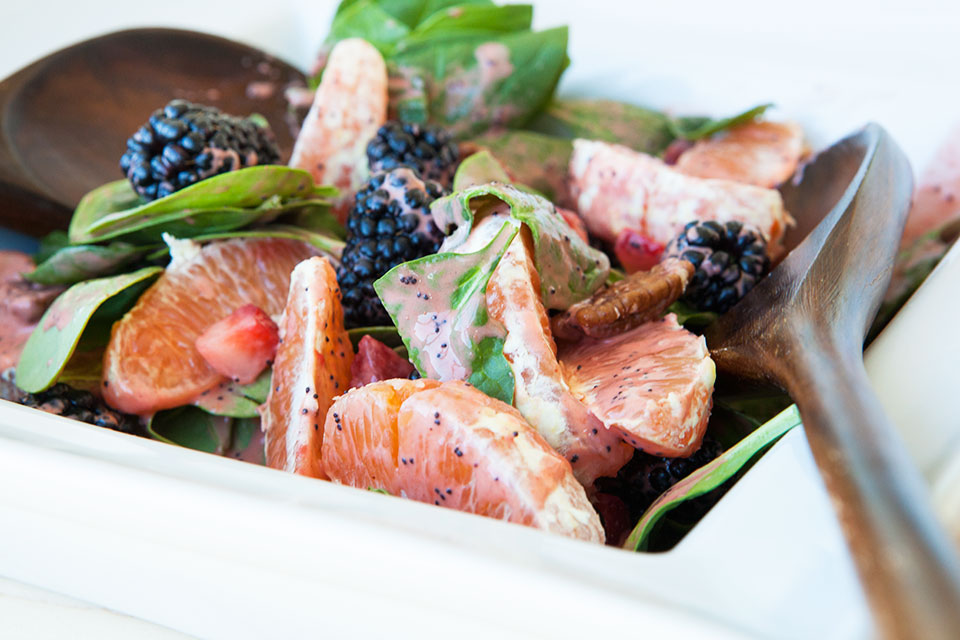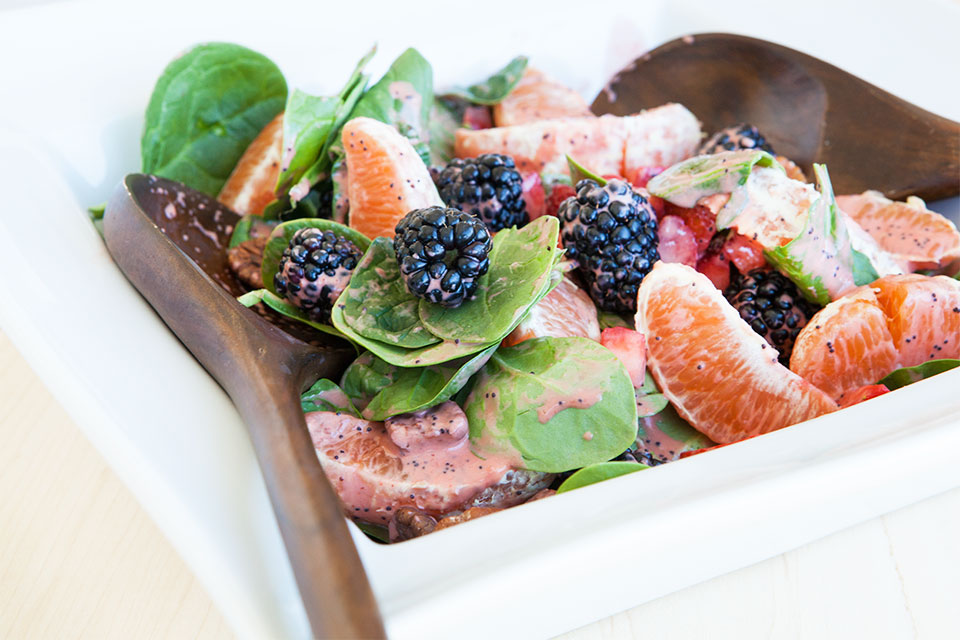 PIN ME!