We've had raspberries galore in our home these last few weeks, because Whole Foods has had raspberries on sale for a long time now, so naturally, I've been adding them to my shopping cart every single time I step foot over there (which is like every other day, #foodbloggerprobs).
I've had to get creative with how I use them. A girl can only eat so many raw raspberry bowls, so I've resorted to adding them to some of my meals. For example, I've been adding them to salads, to my granola parfaits, to dressings, and even used them for baking.
And do wanna know what one of my favorite ways of eating them has been so far? In these delicious Sweet Raspberry Paleo Muffins, which recipe I'm about to share with you today! YAY!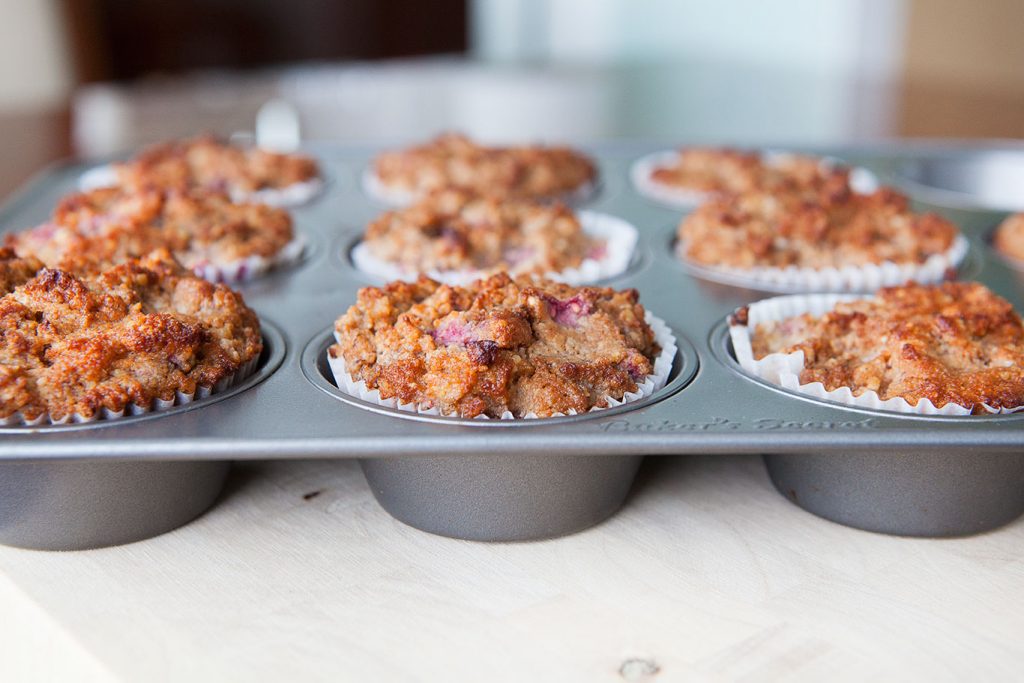 These muffins are so good. They're moist, soft, sweet and satisfying…everything we want a muffin to be. My husband loves them, I love them and I think that if you make them and try them, you may just fall in love with them too!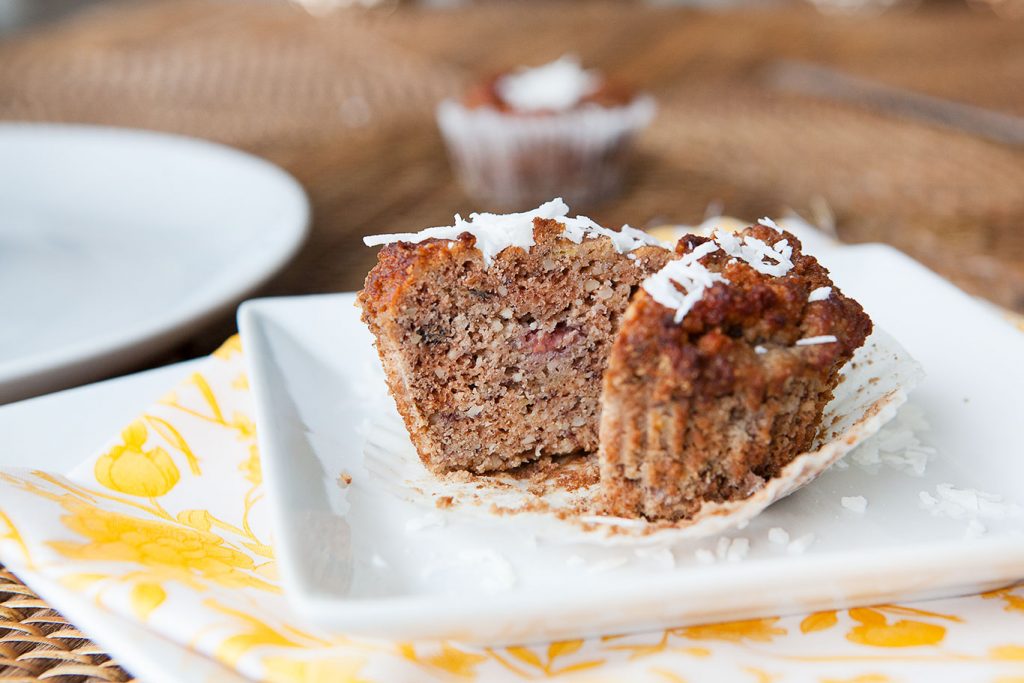 Raspberries played a big role in this recipe because their tartiness was able to balance the sweetness of the other ingredients really well, and because they added a ton of great moisture to every bite.
(Confession: I am eating one of these muffins as I am typing this right now! Here's a photo to prove it, hehehe!)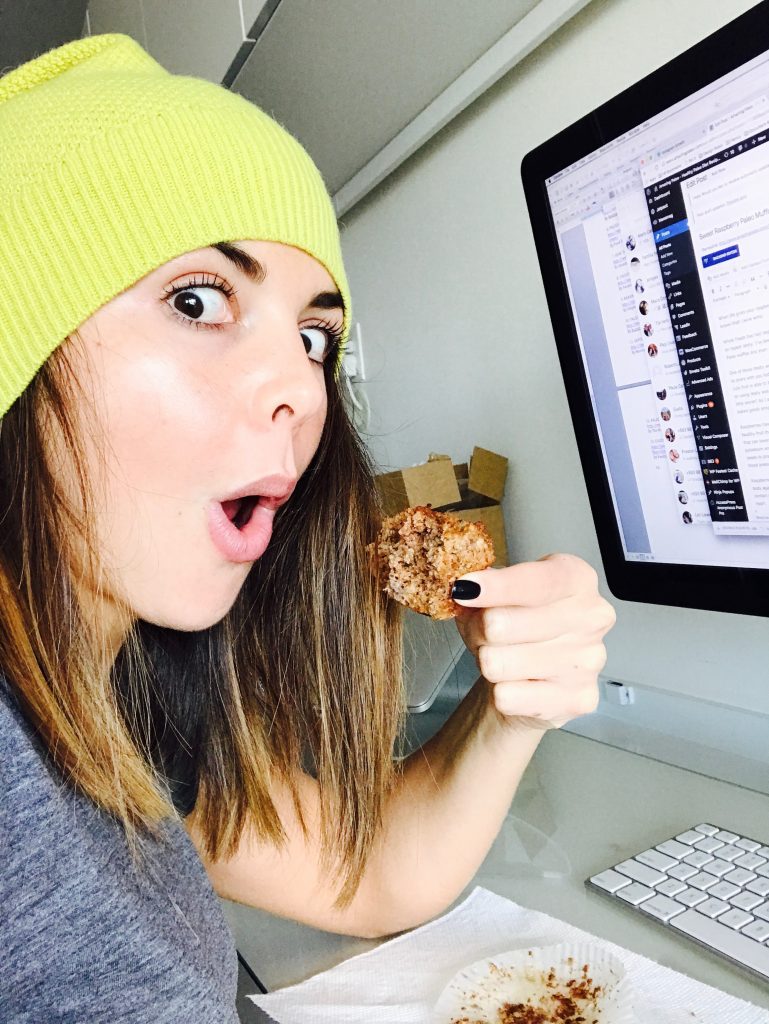 What I love about raspberries (other than their INCREDIBLE FLAVOR) is that they are an extremely healthy fruit that can help with weight loss, seeing as though they have a low calorie count and a high fiber content. They have lots of potassium and copper, which provide our bodies with the nutrition we need to produce red blood cells and help maintain healthy blood pressure. I also love that they have high levels of antioxidants that can help slow down the aging process (Score! Almost thirty over here, and this girl is starting to need all the help she can get!) and can help lower the risk of cancer (Score #2! Cancer, you stay away from us you!).
Aren't raspberries amazing?
If you have Whole Foods in your area, call them right now and ask if they have raspberries on sale. If they do, go get yourself some and start baking these delicious treats for you and the fam-bam. They will make everyone happy and will keep your bodies healthy. Fall baking doesn't get much better than that!
XO

Sweet Raspberry Paleo Muffins
Ingredients
¾ cup raw cashews
¾ cup coconut flour
¼ cup + 2 tablespoons tapioca flour
2 tablespoons honey
1 tablespoon cinnamon
1 ½ teaspoons baking soda
1 teaspoon sea salt
3 large eggs
½ cup coconut oil, melted
¼ cup unsweetened carton coconut milk
1 teaspoon vanilla extract
1 teaspoon apple cider vinegar
3 large ripe bananas
1 ½ cups fresh raspberries
Instructions
Preheat the oven to 350 degrees Fahrenheit.
Line your muffin pan with muffin liners and set aside.
Place cashews in food processor and carefully pulse until a flour consistency is reached. Transfer cashew flour to a large mixing bowl.
To your large mixing bowl, add in all dry ingredients and whisk until well mixed. Set aside.
In a medium mixing bowl, first whisk your eggs and then add bananas in. Mash bananas well with a fork and combine with eggs well. Then whisk in melted coconut oil, coconut milk, vanilla extract, honey and apple cider vinegar.
Fold in the raspberries into dry ingredient mix until lightly coated. (This keeps them from sinking to the bottom when baking.)
Pour wet ingredients into dry ingredient mix, and gently stir to combine.
Divide batter evenly between cupcake liners (fill them all the way up) and bake for 35 minutes.
Let cool and enjoy!
Notes
Tools You'll Need:
- Muffin pan
- Muffin liners
- Food processor
- Large mixing bowl
- Medium mixing bowl
- Spatula
- Measuring cups
- Measuring spoons
Nutrition Information
Serving size:
1 muffin --
Calories:
245
Fat:
14 g.
Carbohydrates:
24 g.
Protein:
7 g.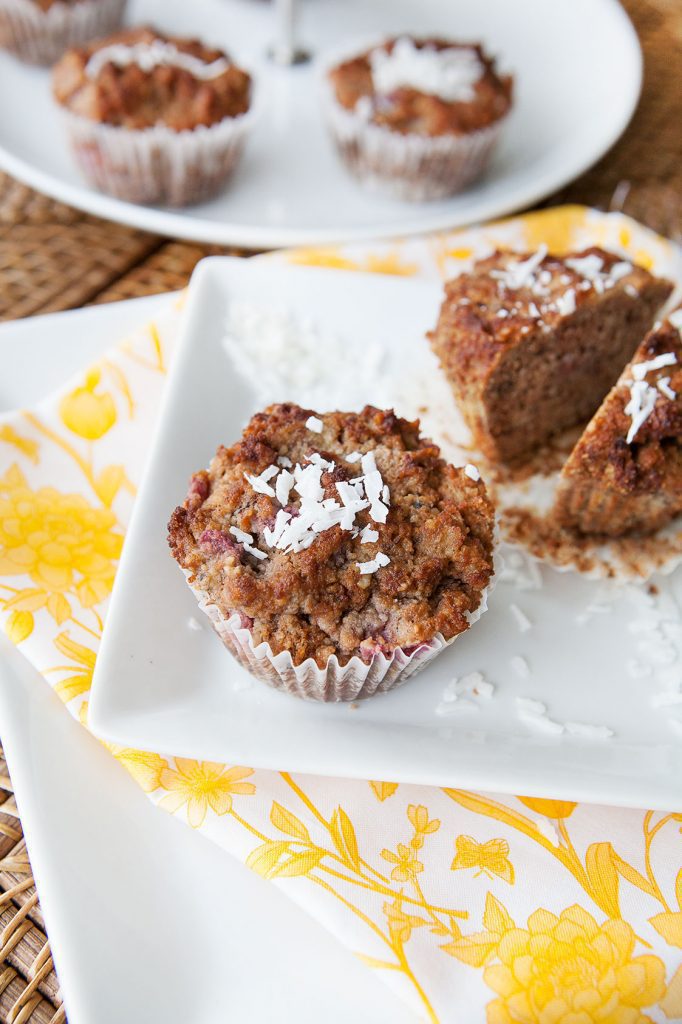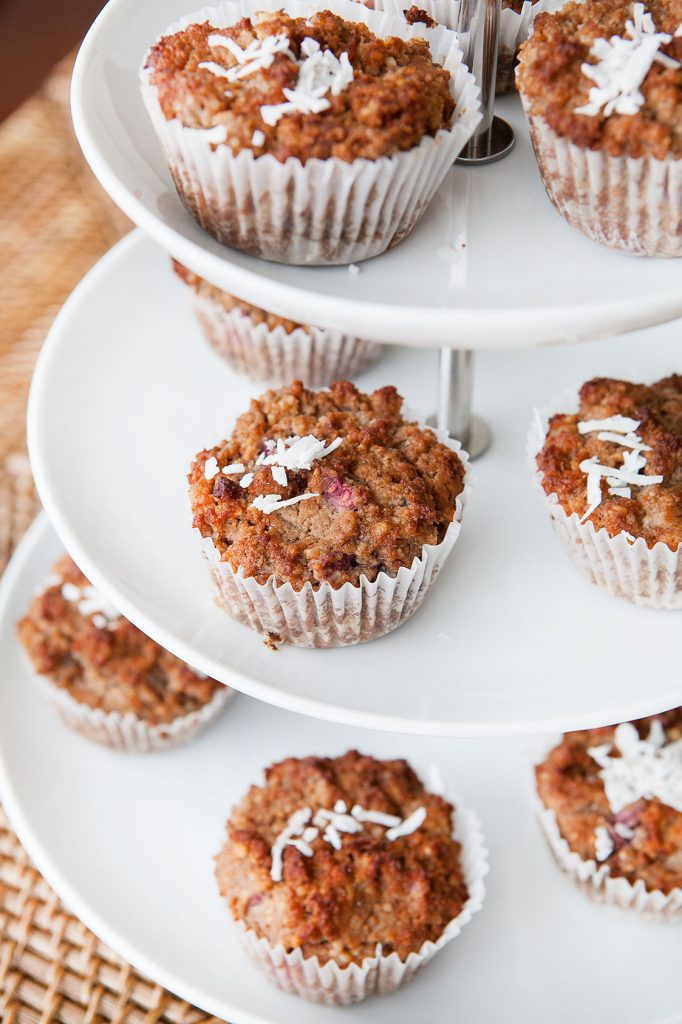 PIN ME!