How about this vibrant Massaged Kale and Roasted Squash Winter Salad with Maple Vinaigrette, ey? Isn't it a beaut? So colorful and fresh. Gotta love a good all veggie dish!
These last few weeks, my husband and I have been trying a new routine. It was my husband's idea, as he has been hearing about this concept for a while and has been wanting to try it. It always works best when we try new health-related routines together, as it's way easier to stick to it due to accountability.
Wanna know what it is that we've been trying?
Intermittent Fasting!
For those of you who are not very familiar with Intermittent Fasting, it's basically an eating pattern that encourages you to cycle between periods of fasting and periods of eating.
It's not restrictive as to what you eat, but it is restrictive as to when you eat your food. One of the most common patterns is the sixteen hour a day fasting period, which is what we have been doing. (The other common pattern is fasting for twenty four hours twice a week, but we haven't explored nor tried that one…sounds really hard, and we don't wanna do that!)
You can read some of the top Intermittent Fasting health benefits here. These health benefits are why Preston wanted to try this method in the first place.
We've been fasting from sundown to sunrise, so we basically stop eating food at around 6pm and start eating food at around 9am. Our schedule works best with fasting at these times, so we are sticking to that. That's fifteen hours of fasting, one hour short of the goal…BUT it's still a good chunk of fasting time, and we are totally happy with that.
We started Intermitting Fasting early January, and for the most part, we have been really good about it…except for a few weekends here and there when we've been out of town. And let me just say that Pres and I have been feeling amazing with this new routine. We haven't really changed our diet per se (just been having lighter dinners than usual), but we go through longer periods of time without eating, which has really allowed our digestive system some good rest. Yay!
The benefits of Intermittent Fasting that we've personally seen so far are as follows:
WAY better sleep
Sleeping earlier and waking up earlier
Feeling super refreshed and energized in the morning
Increased energy throughout the day
Better vowel movements
Less food cravings
Better athletic performance (probably due to better sleep)
We'll try to make this a part of our future as much as possible, however, we're going to be flexible and not really deprive ourselves from some good ol' fun with friends once in a while…which usually involves a little drinking and food consumption later at night. Balance is key!
Today's recipe, Massaged Kale and Roasted Squash Winter Salad with Apple Cider Vinaigrette, is an example of the "lighter" dinners we'll have at night when Intermitting Fasting. We'd accompany it with some kind of side, like grilled chicken, roasted brussels sprouts or Paleo-approved chips, and it definitely hits the spot. It's got a great combination of healthful ingredients, it's flavorful, and it feels nice and light! If you make it, hope you guys like it as much as we do at home.
Have an awesome, healthy week!
XO

Massaged Kale and Roasted Squash Winter Salad with Maple Vinaigrette
This Massaged Kale and Roasted Squash Winter Salad with Maple Vinaigrette is comforting, flavorful and healthy! Wonderful for lunch or dinner!
Ingredients
Maple Vinaigrette:
5 tbsp extra-virgin olive oil
3 tbsp apple cider vinegar
2 tbsp maple syrup
2 tbsp dijon mustard
1 tsp sea salt (or to taste)
Fresh ground black pepper (to taste))
Roasted Butternut Squash:
2 cups of uncooked cubed butternut squash
2 tbsp coconut oil
1 ½ tbsp maple syrup
¼ tsp ground cinnamon
Salad:
8 cups kale, de-stemmed and chopped (your favorite kind of kale, I used dino kale)
1 cup fresh blackberries
½ - 1 avocado, sliced
¼ cup roasted pecans, chopped
Instructions
Make the vinaigrette: place all ingredients in a blender, and blend on high until smootj. Transfer to a small mason jar and refrigerate until ready to use.
Roast the butternut squash: Preheat oven to 400 F. In a bowl, combine cubed butternut squash, coconut oil, maple syrup, and cinnamon; toss to coat. Place butternut squash in a single layer in a baking sheet, and bake for 20-25 minutes, or until soft, turning once half-way through baking.
Assemble the salad: place kale in a large bowl, add in half of the apple cider vinaigrette, and massage kale leaves to soften them up. Add in roasted butternut squash, blackberries, avocados, pecans, and remaining vinaigrette, and toss to combine. Cover and place in refrigerator for 1 hour for flavors to set in. Serve with preferred protein. (Salad keeps well in refrigerator for 1-2 days.)
Notes
Tools You'll Need:
- High speed blender
- Baking sheet
- Mixing bowl
- Measuring spoons
- Cutting board
- Sharp Knife
- Salad bowl
- Tongs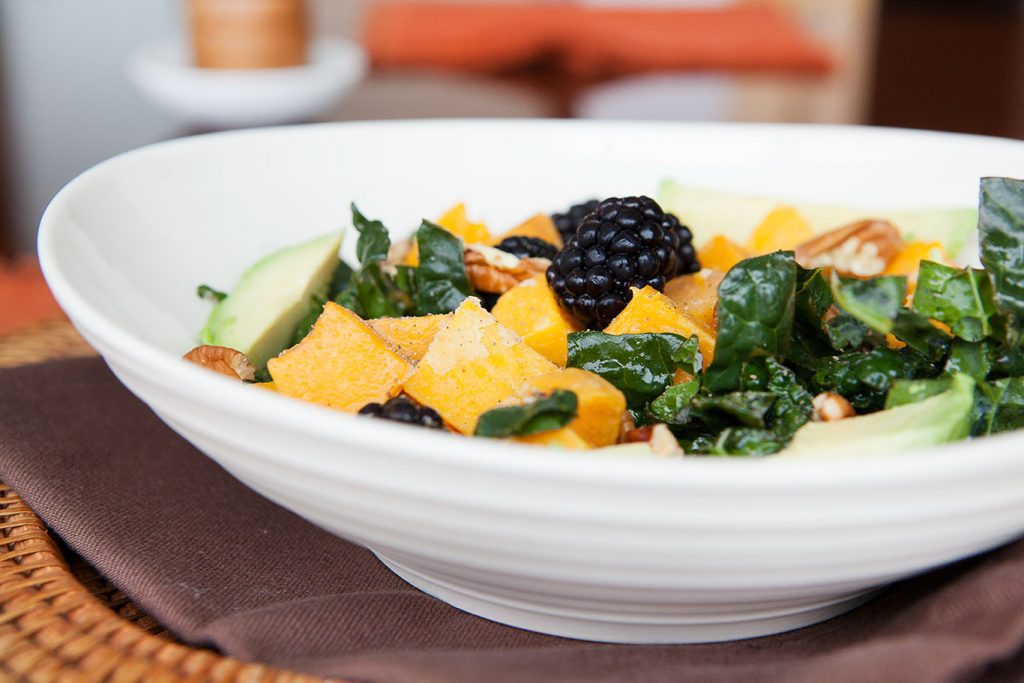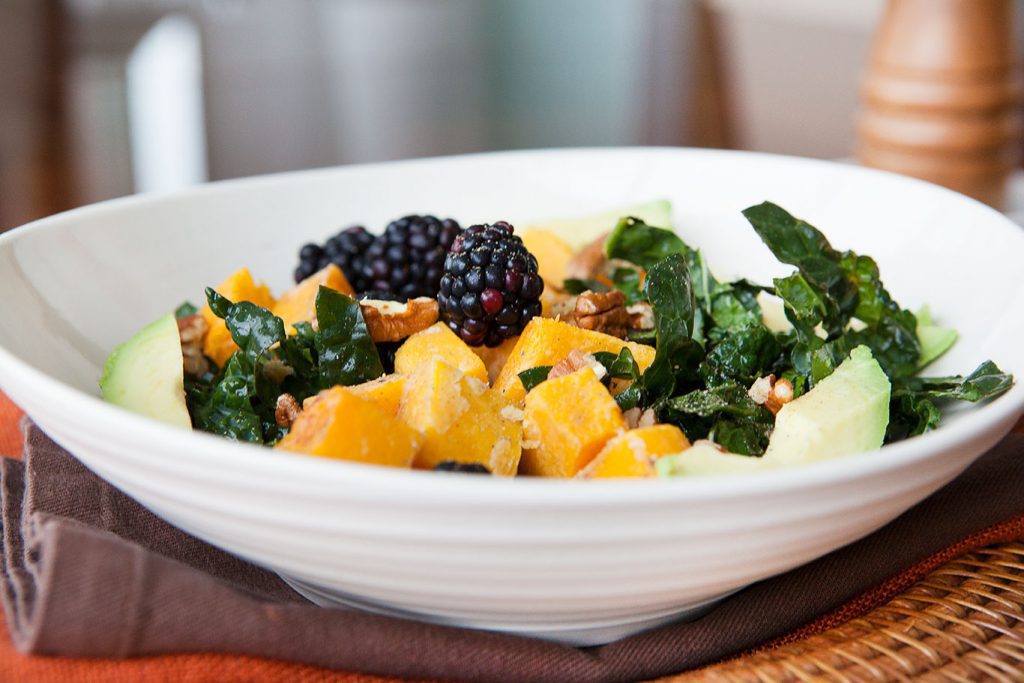 PIN ME!