Lemon Poppy Seed Protein Waffles for the win! Fluffy, soft, comforting, sweet, these Paleo waffles are here to rock your weekend brunch. After tasting them, you'll be making them on repeat. They are THAT good.
My husband and I have been traveling a lot lately for his work, going to fun big cities where tech conferences are being held. Preston and his business partner founded a fitness-based Virtual Reality company, whose purpose is to change the way we all workout. The company is developing both hardware and software for this, so that in the future, we can go to a cool gym where we can do full workouts in VR (Virtual Reality), and have so much fun doing it, that we won't even think about the act of working out. How cool is that?! The company's name is Black Box VR, you can keep up on what they're doing by visiting their website and reading their blog posts.
It's been a really fun journey so far for all of us. His business partner's fiancée and I have highly enjoyed watching our men strategize and develop this new venture. We have been having a blast encouraging them, sharing ideas to solve problems, but mostly, spending time together and touristing around while our guys are in busy learning about new tech in conferences.
Traveling is amazing, but it can be hard on the body. The change on schedules, routines, food and sleep patters can take a toll on you…even if you're only traveling for a few days. While we travel, we of course try to drink as much water as possible, bring healthy snacks along with us, eat healthy meals, and workout in the morning before our days begin. However, there's a lot of social events we have to be a part of, and there's usually a lot of drinking and a lot of yummy, not-super-healthy food being served. And as much as we pride ourselves in being healthy, sometimes we cave in and enjoy those treats.
As soon as we get home after traveling, I immediately head to the grocery store and buy healthy foods that can make up for all the indulgence. At home, I'll make a ton of salads, roast vegetables and starches as side dishes, grill proteins to accompany our salads and veggies, and prepare healthy snacks that have good macros in them.
Being at home brings us back to our normal and makes our fitness goals a lot more achievable due to a controlled environment. However, once in a while, it's really nice and healthy to enjoy a nice little treat. So, in times like these, I make Paleo goodies…ones that will 100% satiate our cravings, but that are made with non-inflammatory ingredients that will keep us from feeling yucky and bloated. An example of such treats are these incredibly delicious Lemon Poppy Seed Protein Waffles.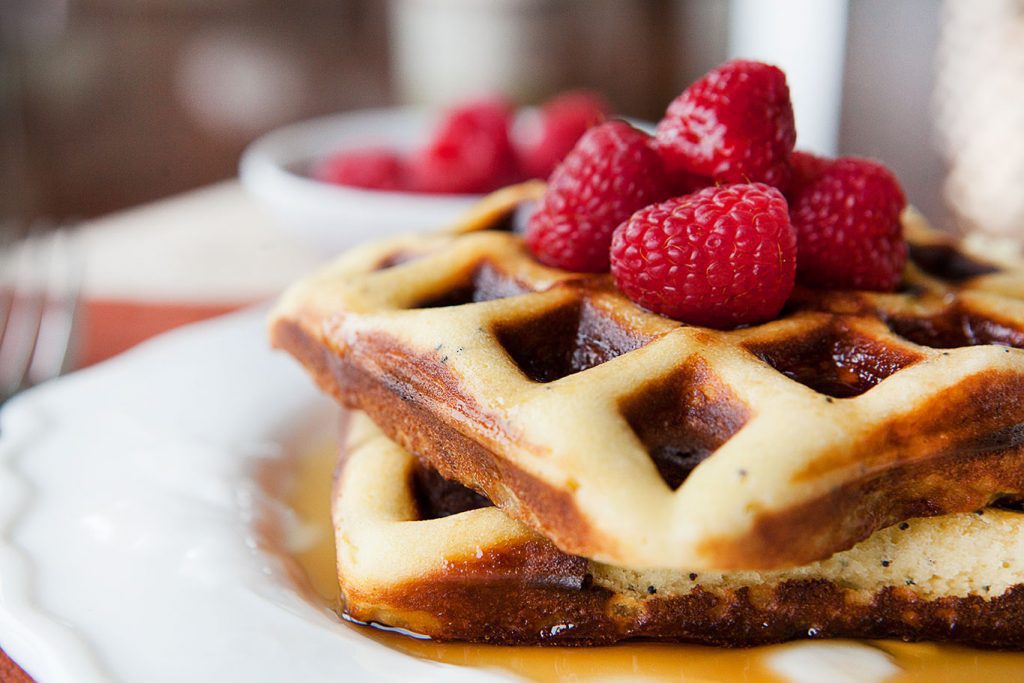 I made these Lemon Poppy Seed Protein Waffles thinking they were going to be good, but as soon as I took my first bite, my eyes widened. I had prepared a winner. A huge winner. TheseLemon Poppy Seed Protein Waffles are to die for. And that's an understatement. You. Must. Try. Them.
If you're feeling like you need a little treat in your life, go ingredient shopping, get your waffle iron out and get to it. You won't regret it! Make sure you top your Lemon Poppy Seed Protein Waffles with your favorite fruits and with lots of organic maple syrup.
Buen provecho! XO

Lemon Poppy Seed Protein Waffles
These Lemon Poppy Seed Protein Waffles are delicious, moist, soft & healthy! Gluten free & dairy free; perfect recipe for breakfast or brunch!
Ingredients
½ cup raw cashews
⅓ cup coconut flour
2 scoops Vital Protein's Collagen Peptides
2 tsp poppy seeds
½ tsp baking soda
½ tsp baking powder
4 eggs
⅓ cup ghee or coconut oil, melted
2 tbsp honey
Juice of 2 lemons
zest of ½ lemon
Instructions
Place all ingredients, except poppy seeds and lemon zest, in a high speed blender and blend on high until smooth. Transfer mixture to a mixing bowl and fold in poppy seeds and lemon zest.
Cook per waffle maker instructions. Batter should yield 4 waffles, so divide accordingly.
Serve right away with desired toppings, or refrigerate for up to 4 days.
Nutrition Information
Serving size:
1 waffle --
Calories:
488
Fat:
38 g.
Carbohydrates:
24 g.
Sodium:
383 mg.
Fiber:
5 g.
Protein:
16 g.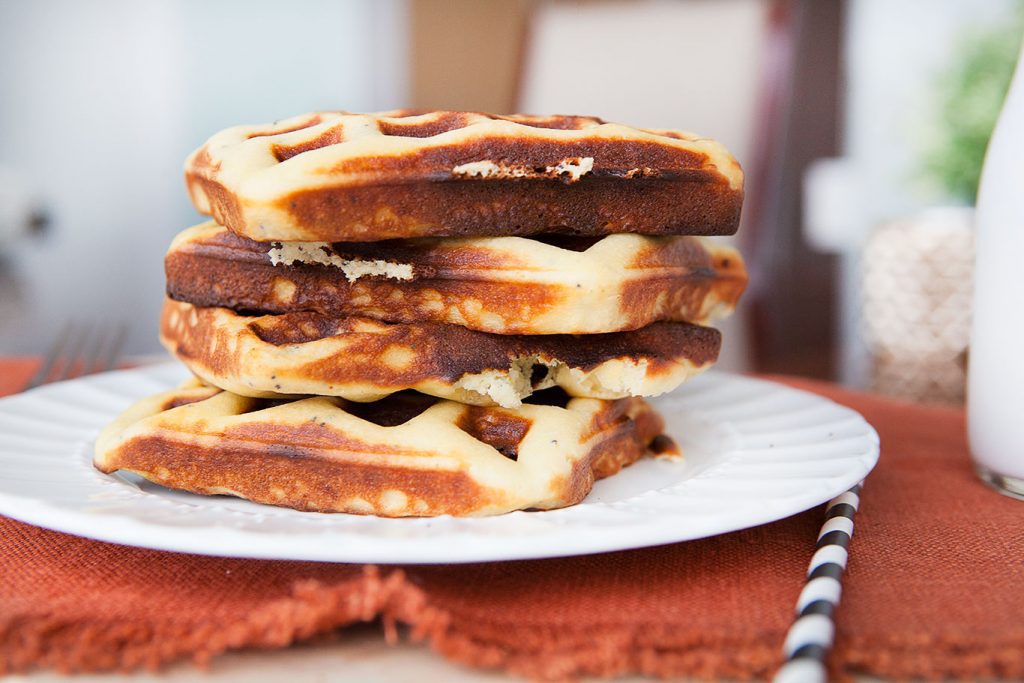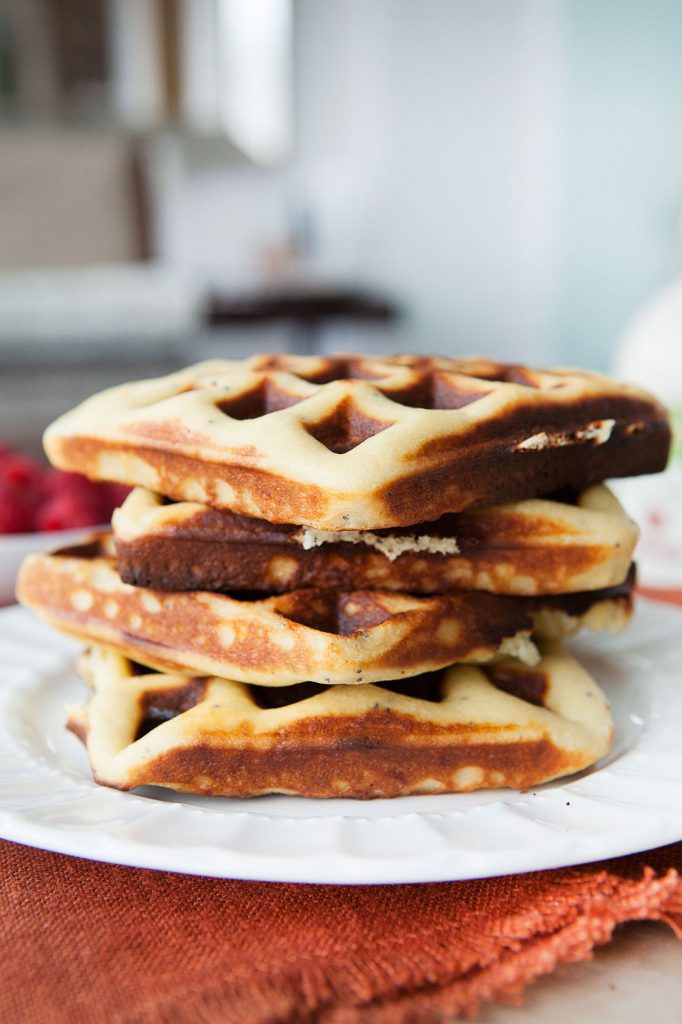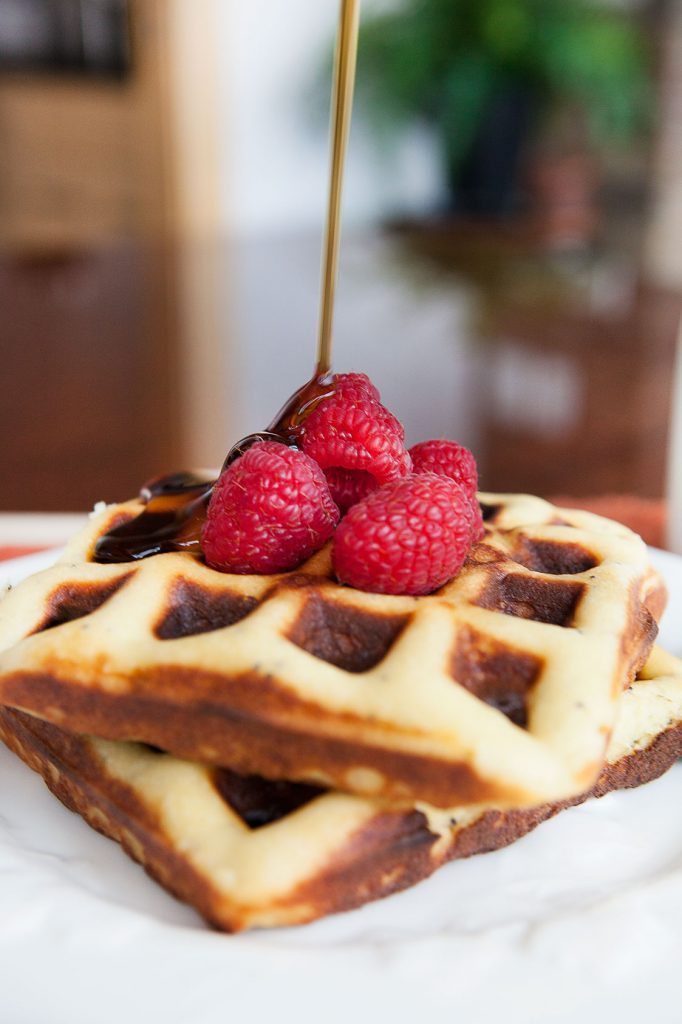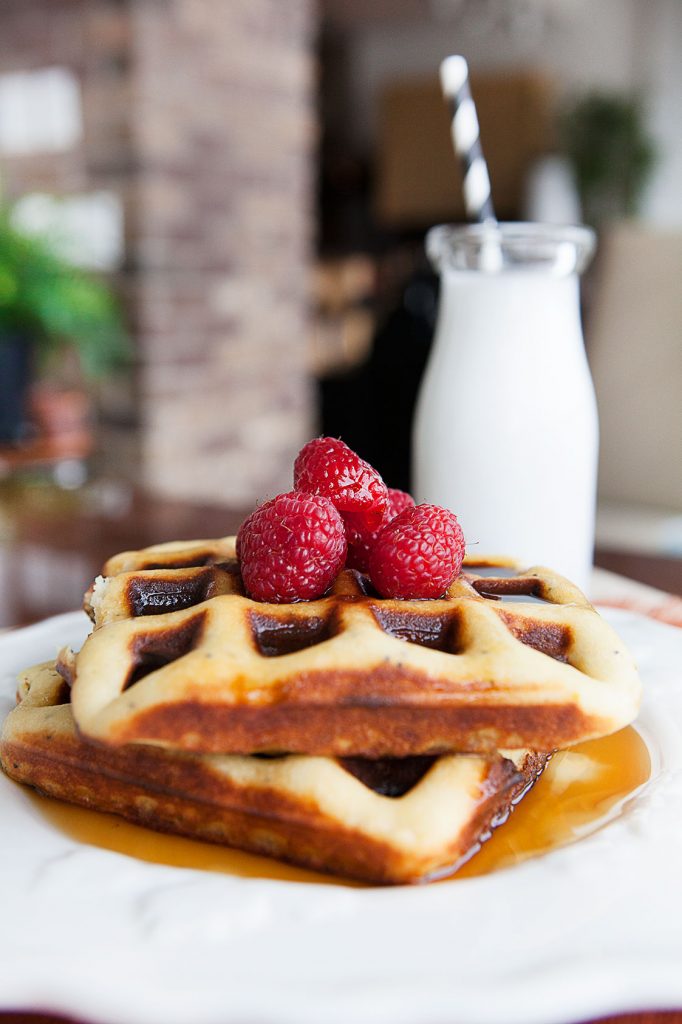 PIN ME!

Other Paleo waffle recipes you'll love: