How about this gorgeous Frozen Blackberry Torte to treat yourself and your loved ones this week? I think YES.
I know of a few people in my life who would love a piece. And I bet you can think of some people on your end too! You know, I really think it's good for the soul to treat oneself once in a while. Doing so makes us happy, keeps our sanity and lets us stick to the healthy diets we've set for ourselves long term (instead of binge eating after denying ourselves from all the foods we really want to eat).
Also, isn't it nice to share a good treat with our friends and family?
I LOVE sharing "dessert eating" moments with my hubby. It is such a sweet time (pun totally intended, haha). Him and I are food lovers and so we can totally appreciate eating a good treat when we feel like we need one. We'll get super excited when we know treat-time is coming (like, almost drunk of excitement), savor every bite, and sit in contentment once our treats are in our bellies.
Most of the time we make our own, as it's really hard and time consuming to find a super delicious gluten-free and dairy-free treat we can go out and buy. It is especially hard to find ones that are both of those things AND also match what we are craving at the moment. So the solution? We make our own in our kitchen!
We know what we like and we know we can make them amazing. And guess what? You can too! If you are not one to make many homemade recipes, don't let the lack of practice intimidate you! We all had to learn at some point, right? That's the beauty of recipes, all you have to do is follow them to the "t" and you'll be golden. Easy peasy.
It's wonderful to prepare our own foods, because we can tailor them to our particular needs and cravings. Also, we get to use ingredients that we know our bodies do well with. Those of us who are sensitive to gluten and dairy know how crucial this part is.
So today, I'm going to share with you a crazy good dessert recipe that is gluten and dairy free. I love this recipe; not only because it 100% hits the spot every time, but also because it's close to my heart.
Why?
It is my mom's recipe! And it reminds me of her every time I make it.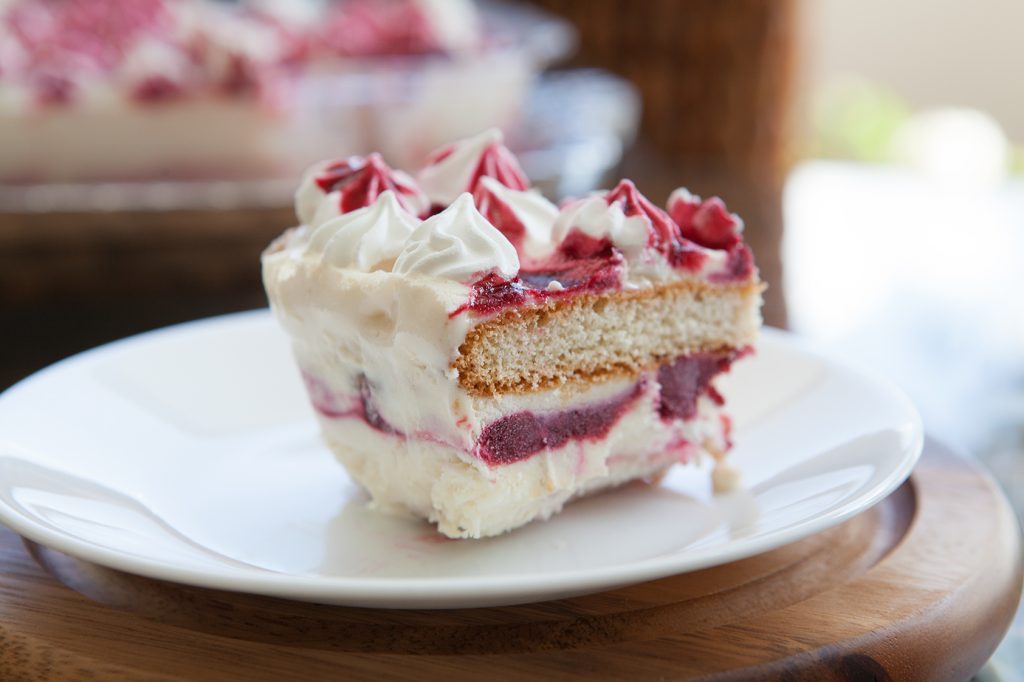 She makes her Frozen Blackberry Torte (or Torta Helada de Mora, as she calls it) whenever we go visit my family in Ecuador, as she nows how much my hubby and I love it. It'll be done even before we get there; she'll quickly bust it out before we arrive and keep it in the fridge for us to snag a piece whenever we want. Mom has a bunch of incredible recipes, but her Frozen Blackberry Torte is definitely one of my favorites.
What I love about this Frozen Blackberry Torte is that it's:
light
well balanced
soft
smooth
cold
layered
But really. Can a dessert sound any better?
I know that the ladyfingers I suggested we use for this recipe are only gluten free, but not one hundred percent Paleo. However, if you want one hundred percent Paleo ladyfingers a great Paleo blogger called The Urban Poster has a bomb all-Paleo ladyfinger recipe in her cookbook. Also, the meringue cookies I suggested we use for this recipe are not one hundred percent Paleo either, but if you are wanting one hundred percent Paleo meringue cookies for your dessert too, the same blogger has an awesome all-Paleo meringue recipe on her site (just be sure to omit the raspberry frosting for this recipe).
Making both the ladyfingers and the meringue cookies homemade will require a lot of extra time and effort, which is why I suggested the gluten-free and dairy-free options you can buy online. But hey, if you wanna go for it, more power to you! I bet your Frozen Blackberry Torte would turn out EXTRA amazing.
I suggest you serve this torte right out of the freezer, as it's meant to be enjoyed super cold. It won't disappoint. I eat it all by itself, but you can accompany it with a freshly made herbal tea or with your favorite cup of coffee.
Enjoy my mama's creation, friends! XO

Frozen Blackberry Torte
This light and fresh Frozen Blackberry Torte is a Latin American recipe that is perfect for any dinner party. It is gluten free, dairy free & Paleo!
Instructions
Place evaporated milk in stand mixer's bowl; mix on medium until it rises and gets frothy (important: evaporated milk must be chilled overnight, otherwise this desired frothy consistency will not be reached).
Slowly add in condensed milk and lime juice; mix on medium-low until all ingredients have combined well. Set milk-lime mixture aside.
Now we add our layers. To your baking dish add a layer of ladyfingers (I was able to fit about 22 of them).
To the ladyfingers layer, add a layer of the milk-lime mixture (add half of the total mixture).
Then, to the milk-lime mixture, add a layer of meringue cookies (I was able to fit about 100 mini meringue cookies).
To the meringue cookies layer, add a layer of blackberry pulp (1/2 cup).
Repeat steps 2-5, so that you end up with two layers of each. See my pictures below to visualize the entire layering processes!
Once done, let it sit for about 20 minutes, so that the ladyfingers get to soak in the milk-lime mixture.
After the 20 minutes have passed, place baking dish in freezer for 2 hours or overnight.
Remove dessert from freezer 30 minutes prior to serving (for it to unthaw a bit, as you do not want to eat it super frozen). Enjoy!
Notes
Tools You'll Need:
• Stand mixer
• 9" x 13" baking dish
• Measuring cups
• Soup spoon (to scoop and pour milk-lime mixture)
Nutrition Information
Serving size:
1 piece --
Calories:
273
Fat:
5 g.
Carbohydrates:
50 g.
Protein:
7 g.
The Frozen Blackberry Torte layering process: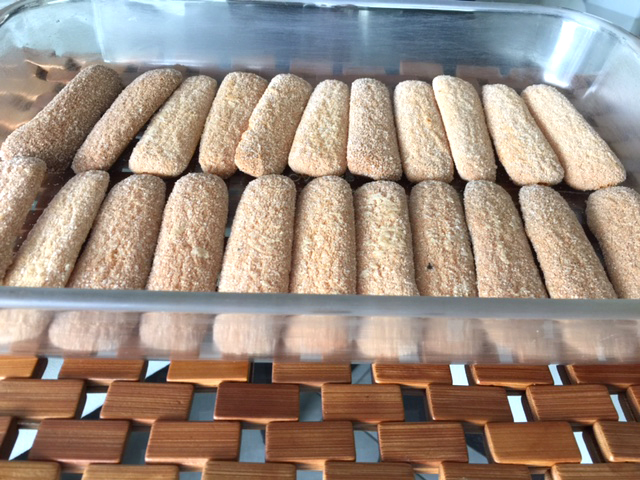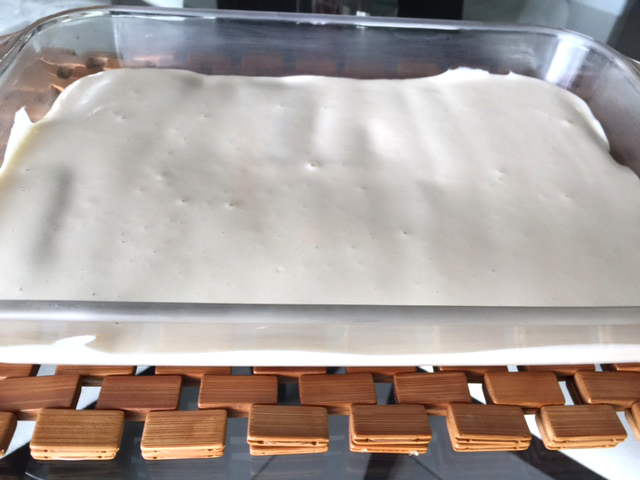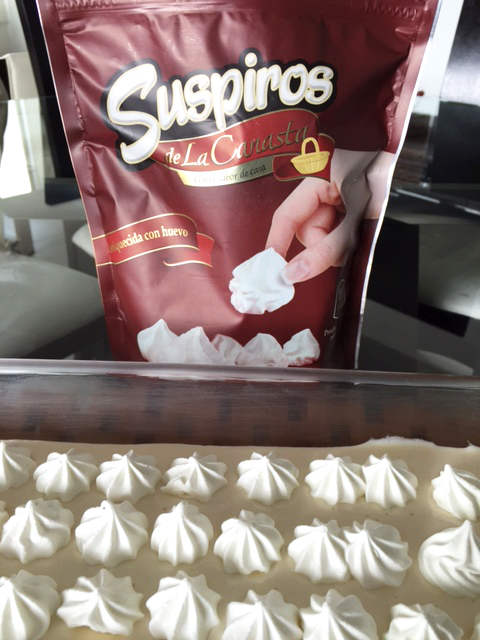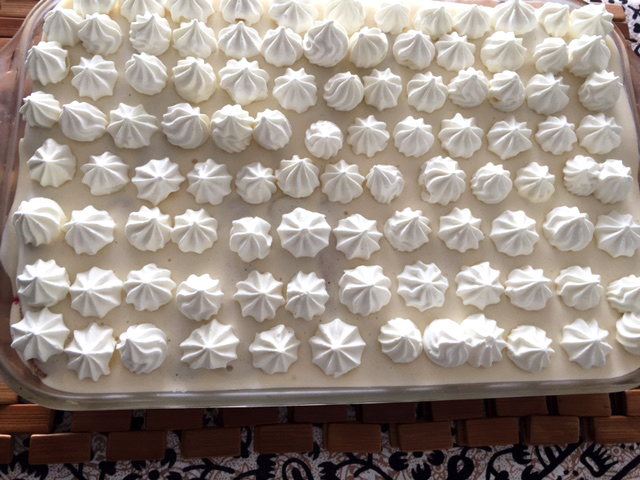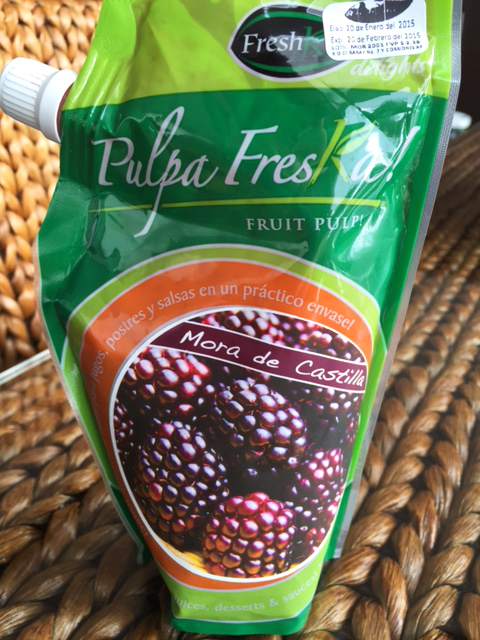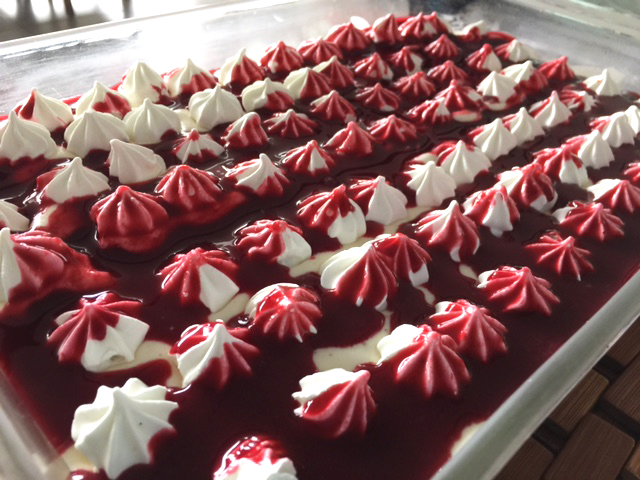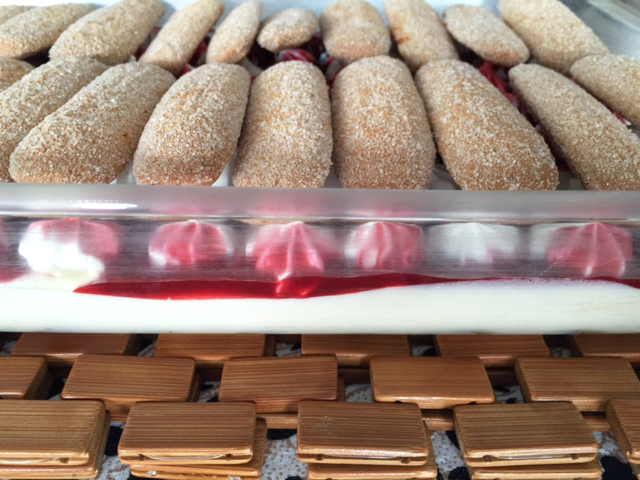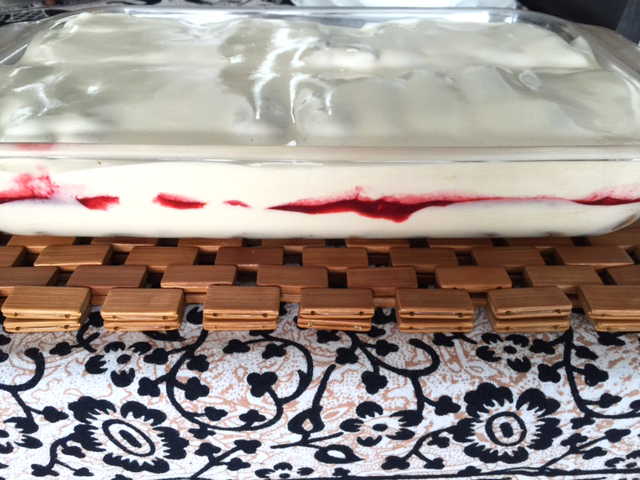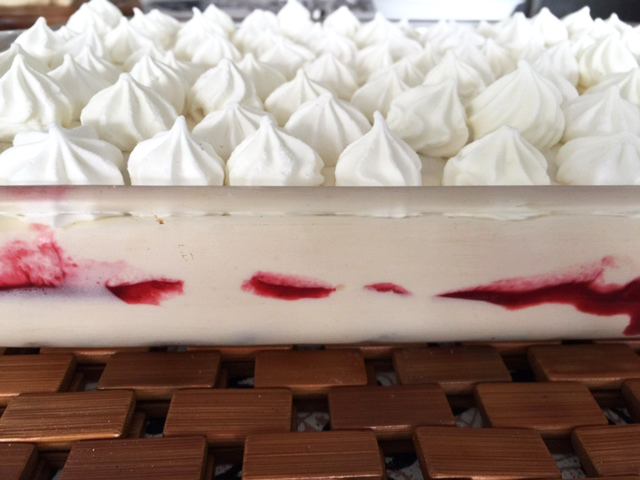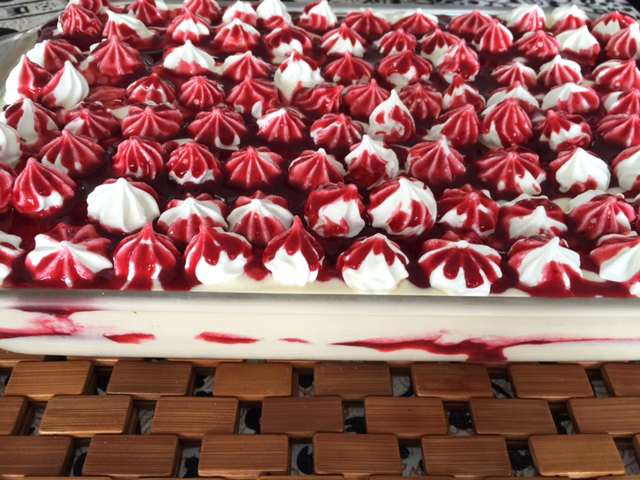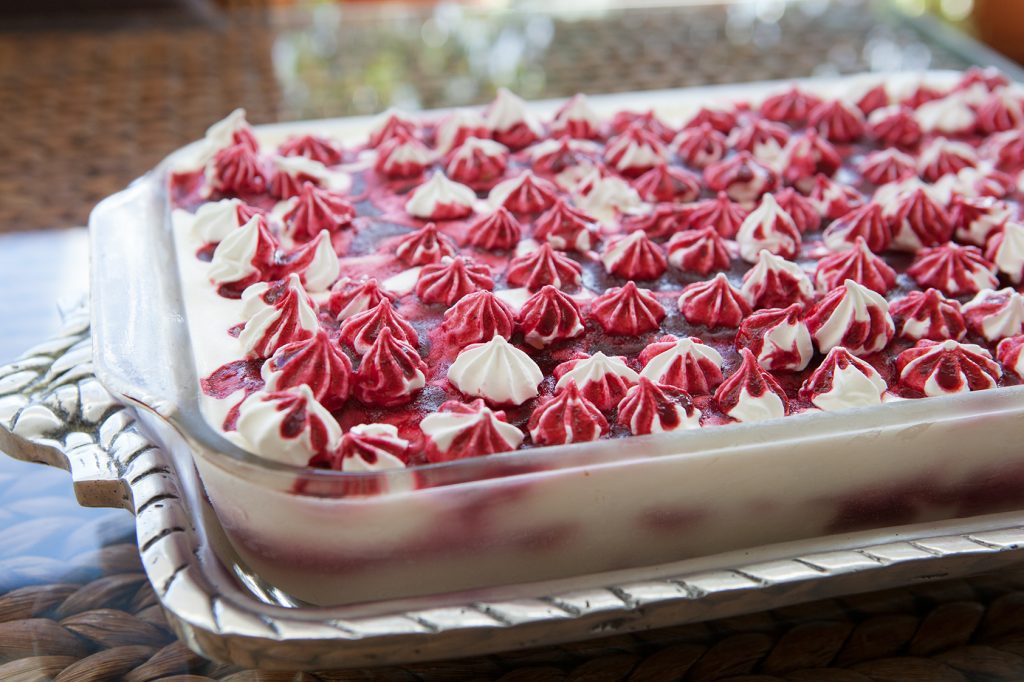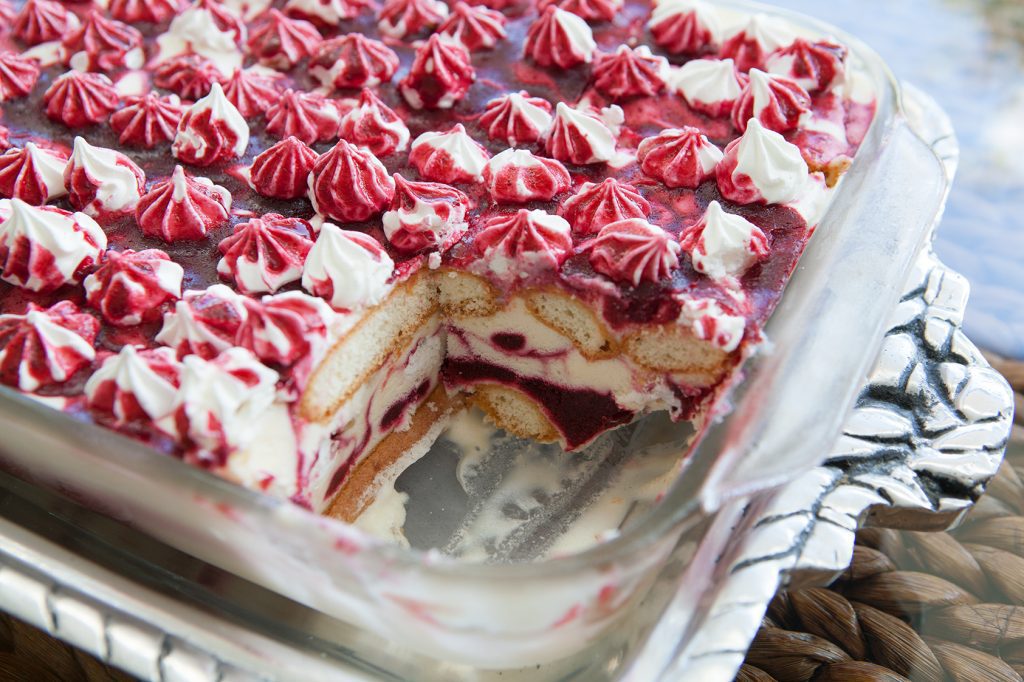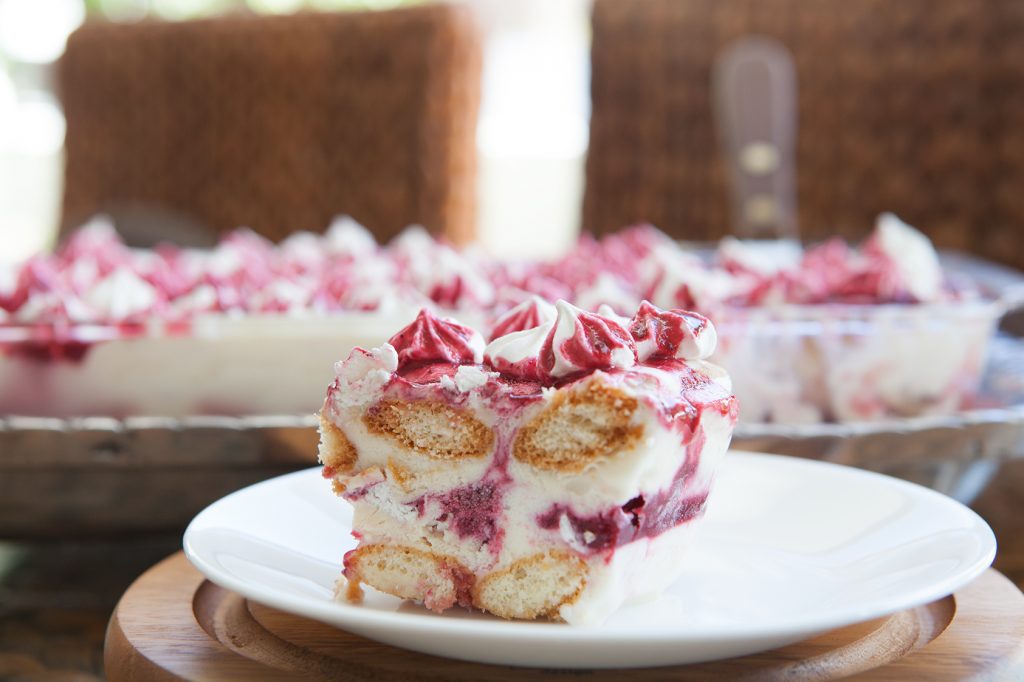 PIN ME!

Other Paleo cake recipes you'll love: