Disclaimer: these Protein Peanut Butter Rice Krispy Cups are not 100% Paleo. They are, however, dairy free, gluten free and vegan friendly! If you're trying to stick to a very strict Paleo diet, then this recipe is probably not for you. But, if you don't have any sensitivities towards peanut butter or brown rice, definitely give these a go. You'll love them!
---
Helllllllo Protein Peanut Butter Rice Krispy Cups. I'm totally and completely obsessed with you. Just made you yesterday and you're already diminishing in number rather quickly. Husby loves you too. We all do. You are adorbs and incredibly addicting.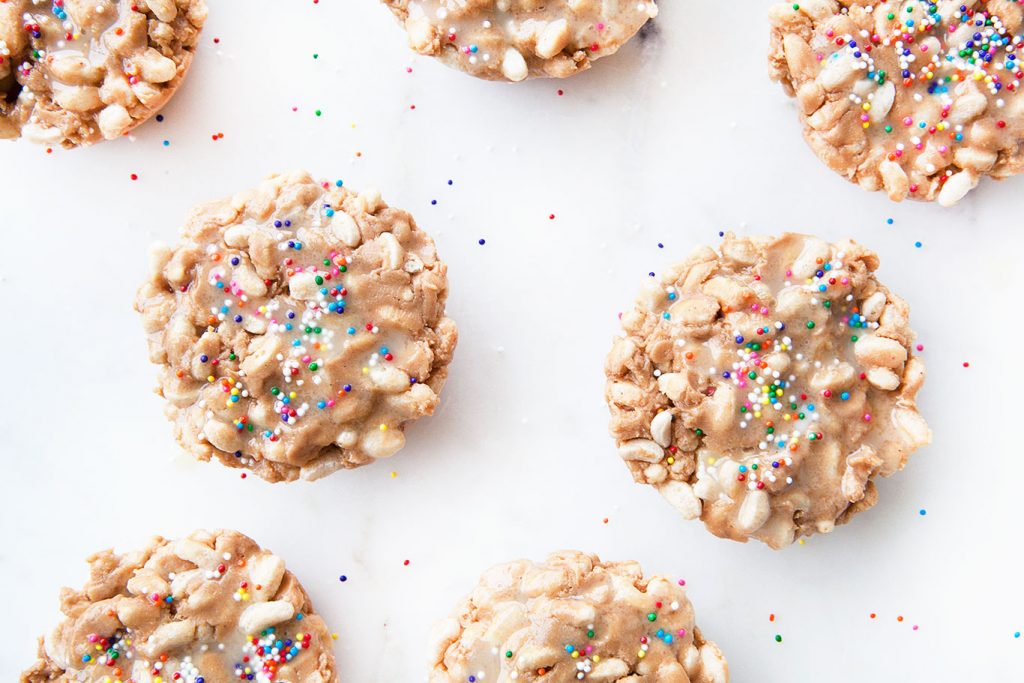 Let me share a bit about my husband. He is like a little kid. Legit. I put music on, he starts dancing; turn a movie on, he'll slowly make his way to the TV and start watching; put sprinkles on a random dessert, he'll for sure eat it. He is seriously the FREAKING cutest. I noticed these things early on in our relationship, and to be honest, it's one of the reasons why I fell in love with him so quickly.
Preston has the spirit of a kid, the heart of a warrior and the soul of an artist. Can you tell I am obsessed with him? Haha.
Almost as obsessed as I am with these cute Protein Peanut Butter Rice Krispy Cups with sprinkles on top. Which, by the way, have sprinkles on FOR Preston! I knew he'd absolutely eat them if they had some. And sure enough, he ate two in a sitting after he rushed home from work knowing these had just been made. So cute. Preston is my favorite person in the whole world and there is absolutely no one I would rather spend my time with.
This past week we went to Pennsylvania to celebrate my little sister's graduation at Penn State University. She finished in four, like a major boss, did an internship and now, is on her way to becoming a kick-a$$ woman! We are all so proud of her.
And to celebrate her accomplishments, my parents, brother, Preston and I all went to NYC for a few days to be together as a family and explore. We ate amazing food, walked like maniacs, stayed super active (Pres and I hit up SoulCycle, TMPL Gym and Equinox) and visited a few city parks in the area. It was so wonderful and refreshing to see my family, especially since I hadn't seen them in about ten months. Family togetherness was very much needed. I swear, every time we re-group, it is as if nothing's changed; the love is as strong and as pure as ever. Family is love, guys! Take care of your families and love on them hard.
After spending a wonderful week with my family, we said our sad goodbyes, and Preston and I headed to Las Vegas for our sixth year wedding anniversary.
SIXTH year! Can you believe it? Time has flown by. Wasn't it just yesterday that I found out his love for sprinkles? And didn't we just say "I do"? Holy moly. Six years have passed since we went to the Boise courthouse on a Friday the 13th (best day of my life) and committed our lives to each other. What a crazy life this is! It sure flies by.
So in order to celebrate our love and our beautiful commitment, we decided to hit up Vegas for some much needed R&R. We both adore going to Las Vegas, and have literally been there over fifteen times. Because Vegas is the one city that has our favorite things all in one! The BEST restaurants, awesome shows, great weather, amazing pools, fabulous hotels and hotel gyms, great shopping and all sorts of post-dinner activities (like parties, bars, live music, etc.).
We are not the typical Vegas goers though. I say that because we don't get wasted and party all night like a ton of people who go there do. Nope. We take it easy and relax; eat amazing food, sit by the pool, get fancy at night, wine and dine, watch shows and love on one another. It's our time to re-set and re-connect. I bet you would've never guessed Vegas could be that place.
After a week of full on vacay, and lots of recovery time, we are now back home! Pres is back to working on his startup, and I am working on developing delicious recipes for you guys and testing new health products I can recommend.
These Protein Peanut Butter Rice Krispy Cups were made with a new protein powder I've been trying, made by the brand Nourish and Bloom. It's a new all-women's brand that has very clean supplements; all of their supps are gluten-free, soy-free, non-GMO and made with clinically-tested ingredients. Great, huh?
I got some of their supplements in the mail a little over a week ago, and I have already fallen in love with a few of them!
If you follow me on Instagram, you'd probably seen that I've been eating their Beauty Blend Chews non-stop. They taste like raspberry candy, and are small enough to fit in the tiniest pocket. So cute and convenient. Like, if you're in a hurry, but don't want to miss out on those collagen chews, giiiiirl, just put one or two in your pocket for later and you're good. to. go. We liked these so much, that we've already run out. I'll have to order some more.
Another product I have fallen for is their protein powder called Whole Food Shake (especially the vanilla spice flavor). It's packed with protein, fiber, iron, phosphorous and vitamins…AND it blends really nice with water or dairy-free milk. I think that it was their vanilla spice flavoring that made these Protein Peanut Butter Rice Krispy Cups taste just like a birthday cake.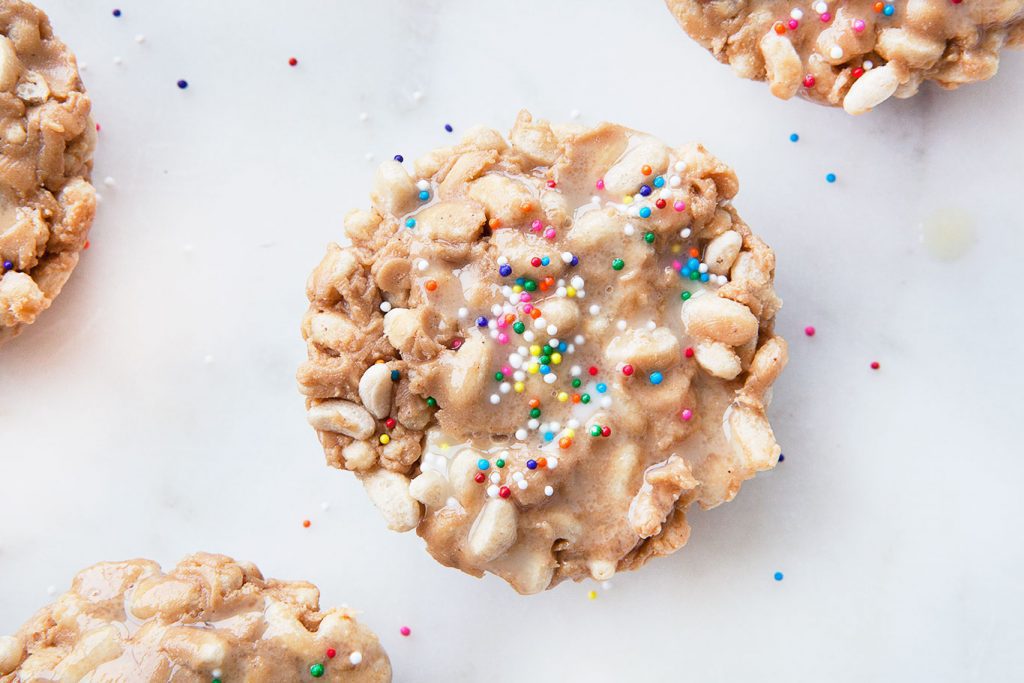 Add the white chocolate glaze and sprinkles on top, and you've got a next level treat. Like, really.
These Protein Peanut Butter Rice Krispy Cups are:
Crunchy
Creamy
Buttery
Sweet
Nutrient Dense
Gluten free
Dairy free
Vegan-friendly
Hope you love them as much as we did. Happy treat making, friends. Hope each and every one of you has an amazing weekend! XO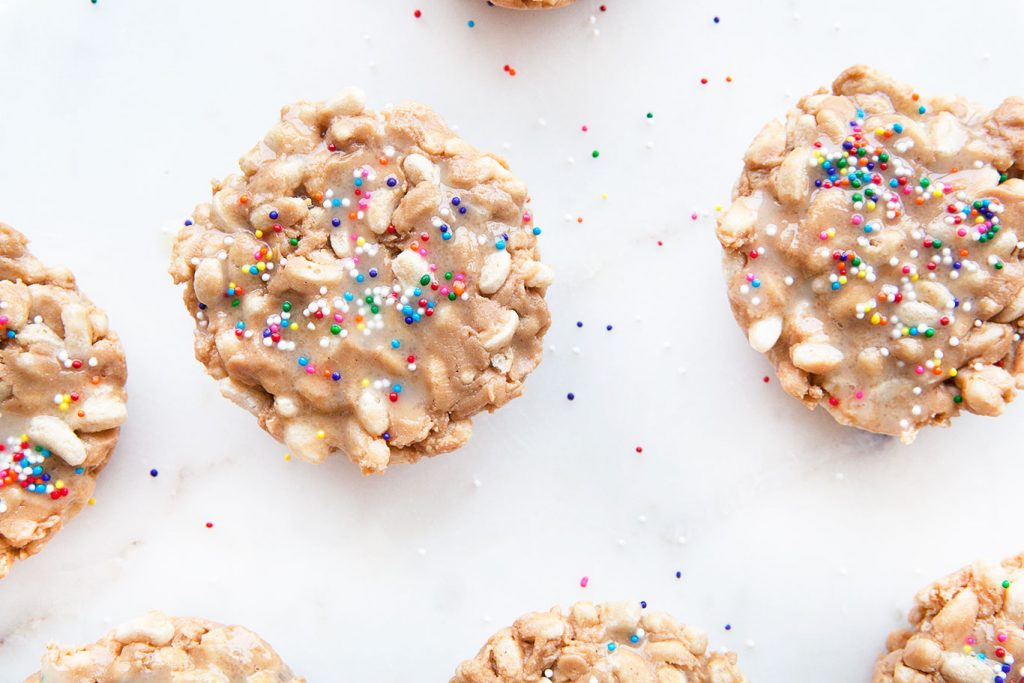 Protein Peanut Butter Rice Krispy Cups
These salty, crunchy & creamy Protein Peanut Butter Rice Krispy Cups are the perfect afternoon treat! Packed with protein, gluten-free & dairy-free!
Serves:
8 Rice Krispy Cups
Ingredients
For the Rice Krispy Cups:
For the Glaze:
Instructions
Add brown rice cereal to a large mixing bowl and set aside.
In a microwave safe bowl, place peanut butter and honey. Microwave for 40 seconds (in 10-second intervals each time to avoid ingredients from burning), until mixture is soft and smooth. Add in protein powder and mix until smooth.
Pour peanut butter mixture into the brown rice cereal and use hands to combine well.
Transfer mixture into a muffin tray, filling up eight of the twelve muffin spots to the top, pressing each firmly to shape them properly.
Refrigerate for 1 hour.
Before serving prepare glaze. Add cacao butter chips to a microwave safe bowl and microwave for 45 seconds (in 15-second intervals each time to avoid cacao from burning), until cacao butter chips have melted. Once melted, add in coconut butter and coconut milk, and mix until smooth. Use a spoon to drizzle glaze over Rice Krispy Cups. Add sprinkles on top and enjoy!
Notes
Tools You'll Need:
- Muffin pan
- Large mixing bowl
- Microwave safe bowl
- Measuring cups
- Measuring spoons
- Spatula
- Spoon
Nutrition Information
Serving size:
1 Rice Krispy Cup --
Calories:
301
Fat:
12 g.
Carbohydrates:
39 g.
Sodium:
92 mg.
Fiber:
3 g.
Protein:
10 g.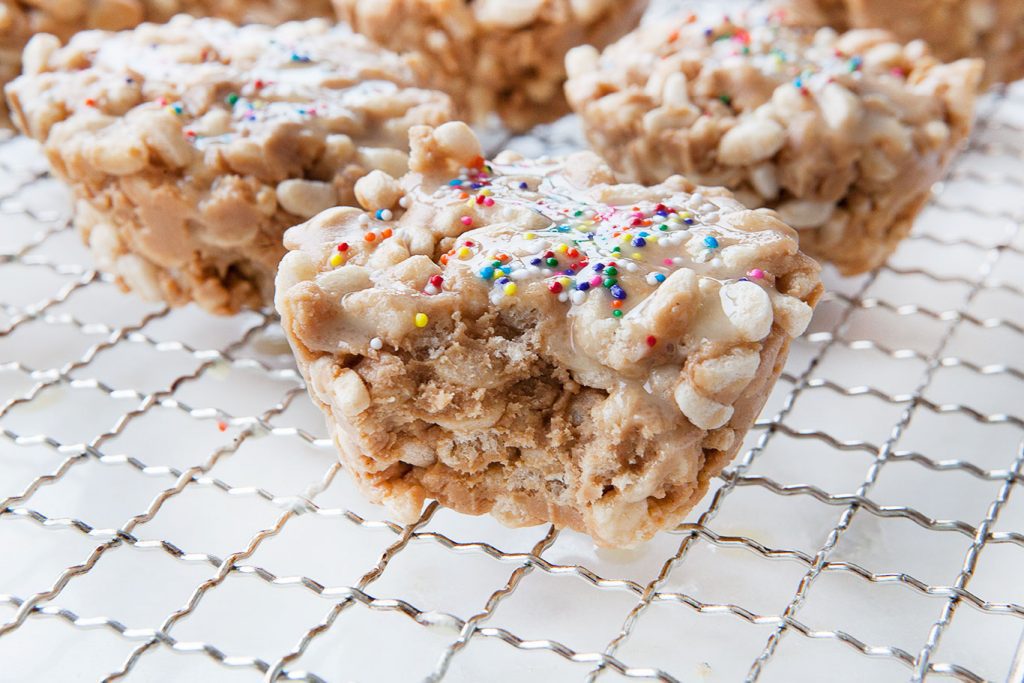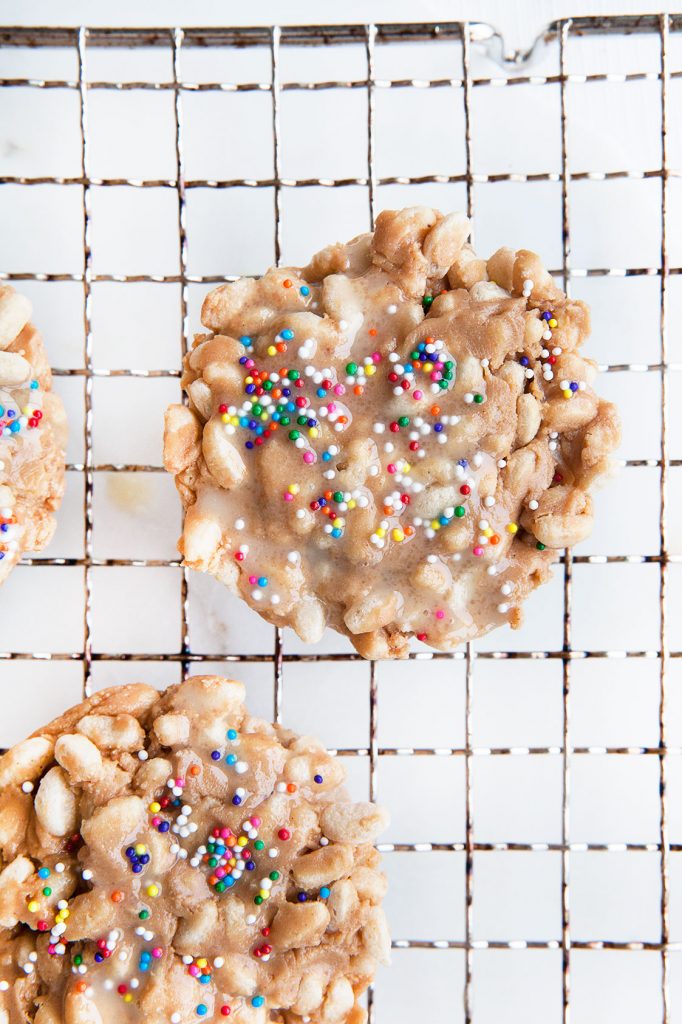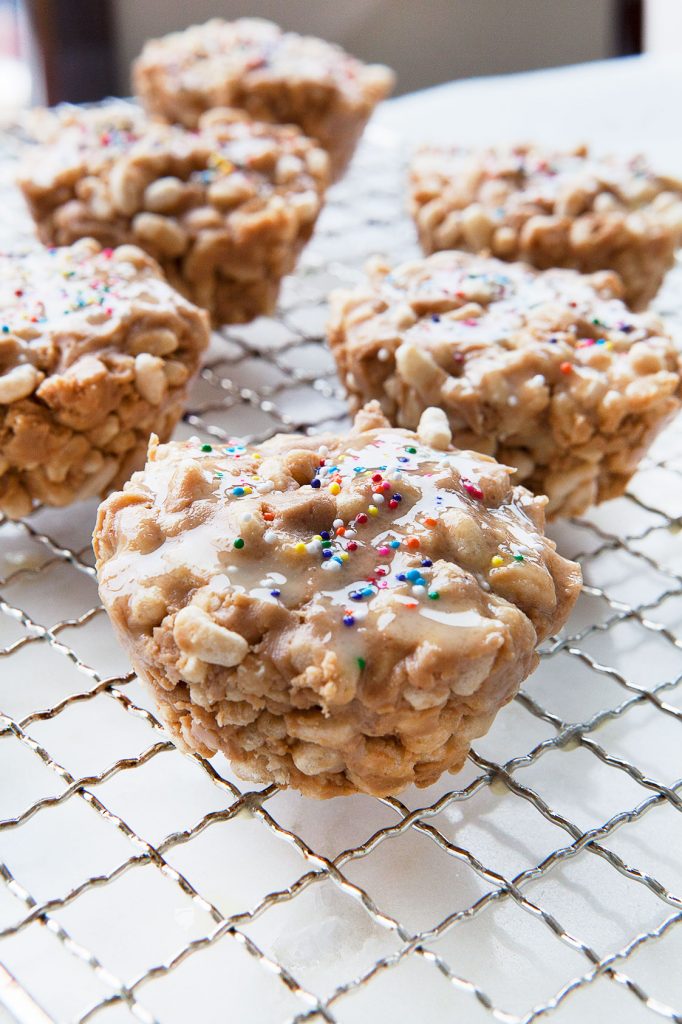 PIN ME!