Cheesecake in a Jar is where's it's at! Because, who doesn't need some sweet and creamy comfort food in the form of a to-go glass once in a while?
Cheesecake is one of those treats that gives you all the feels; one that should be eaten slowly and in smaller bites, so that it's creamy and rich texture can be fully savored and appreciated.
These little cuties are great, because you can close them with a lid and take them with you in a little cooler anywhere! I took these to an outdoor play a few weeks ago, and they stayed cool and perfect up until it was time to pop them open…which was probably mid way through the play, under the hot summer sun, so you can only imagine how hot it was out there. I took them in a cooler bag filled with ice packs, and they stayed just as fresh as if they had remained stored in the refrigerator. Major win!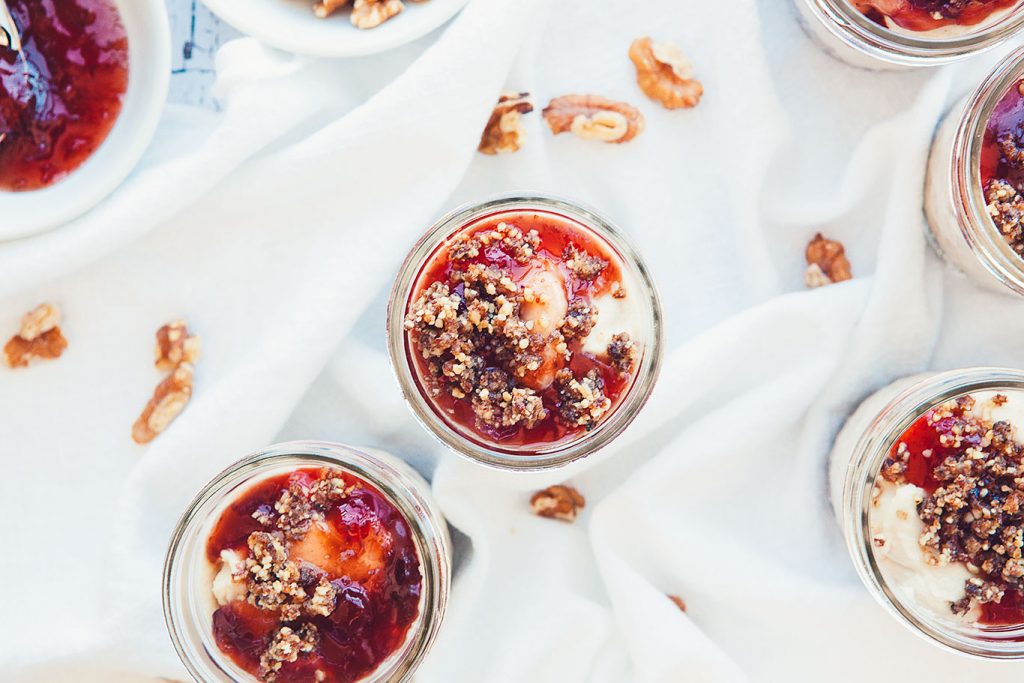 I made these specifically for one of my friends, who is Vegan. I had made some Carrot Cake Cupcakes for the rest of the gang, but these had eggs in them, so they were not Vegan (they were Paleo though, and I will share the recipe with you guys soon). And since I of course wanted her to enjoy a good little homemade treat too, I made Cheesecake in a Jar for her and brought a few along with me.
They turned out to be a way better treat to bring to an outdoor event than the cupcakes, since the cupcakes were not stored in my cooler bag (they would've gotten smashed) and they got all sorts of funky from the sun. I was so bummed!
You can make Cheesecake in a Jar for your honey and kids at home, for a fun party as the dessert, for a fun brunch as one of the treats, for a picnic, to take with you to the lake/beach, etc. They can go anywhere with you and you don't have to worry about them getting smashed or messy. Don't you just love treats in jar form?!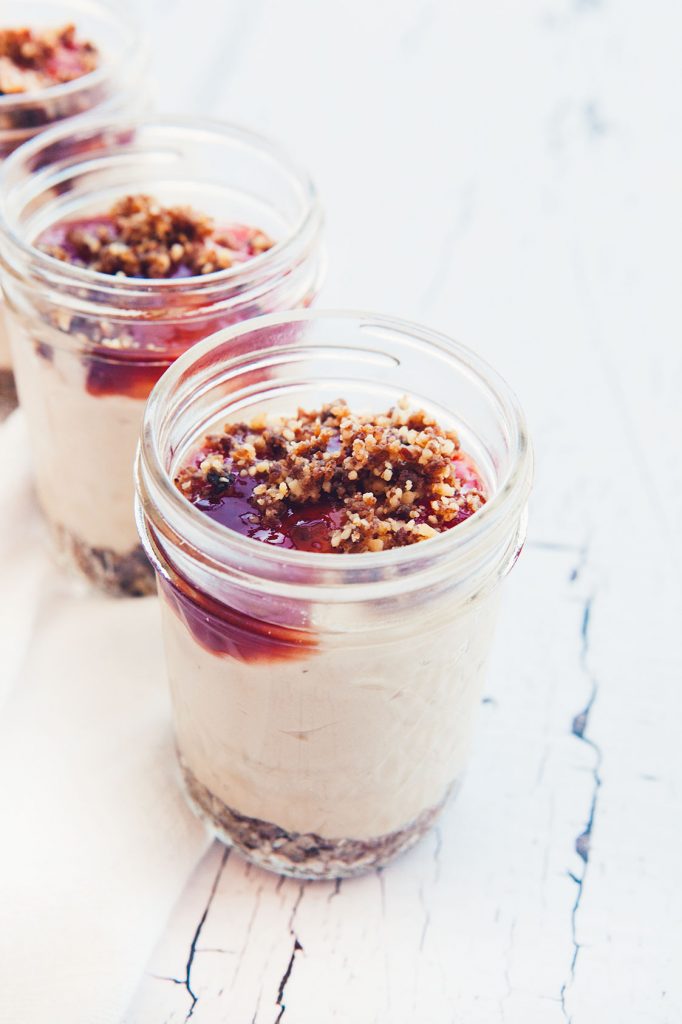 My Cheesecake in a Jar recipe is:
Non-inflammatory
Gluten free
Dairy free
Grain free
Paleo
Creamy
Convenient
Delicious
Be sure to keep these in the refrigerator until you're ready to eat them. Also, if you know you and your loved ones won't be able to eat them all in the span of a week, just freeze what's left of them to keep them fresh until ready to indulge again!

Cheesecake in a Jar
This easy to make Cheesecake in a Jar is the perfect gluten-free, dairy-free, vegan & paleo treat to bring with you anywhere...especially to a picnic!
Serves:
Ten 8 oz. mason jars
Ingredients
Crust layer:
1 cup raisins
1 cup raw walnuts
¼ tsp sea salt
Cheesecake layer:
3 cups raw cashews, soaked overnight and rinsed
1 cup honey
Juice of ½ lemon
½ cup canned full fat coconut milk
1 cup melted coconut oil
Strawberry jam layer:
2 cups fresh strawberries
2 tbsp honey
1 tbsp fresh lemon juice
Instructions
Prepare the strawberry jam: add strawberries, honey and lemon juice to a bowl and toss to combine. Transfer to a saucepan and cook over medium heat for about 5 minutes, until strawberries become soft and somewhat bubbly. Reduce heat to medium and continue to simmer for about 10 minutes, or until it begins to thicken. Remove from heat and let cool completely. Transfer to a jar with lid and refrigerate until ready to use.
Prepare the crust: add raisins to a food processor and process until small bits remain. Remove and set aside. Add walnuts to the food processor and pulse until they reach a flour-like consistency; add raisins back in, along with sea salt, and pulse until a loose dough is formed. Transfer mixture to a bowl and refrigerate until ready to use.
Prepare the cheesecake: add cashews to a high-speed blender and blend on high until smooth. Add in honey, lemon juice and coconut milk and blend until well combined. While blender is on, slowly add in melted coconut oil. Keep on blending until mixture is smooth and creamy. Refrigerate until ready to use.
Assemble the Cheesecake in Jars: Add ~3 tbsp of the crust layer to the bottom of each mason jar (set a bit of the crust layer aside to top off cheesecake jars after adding in the cheesecake filling and the strawberry jam layers). Add a thick layer of cheesecake filling on top of the crust layer, filling the mason jars ¾ of the way up. Add 2 tbsp of strawberry jam on top of cheesecake layer and top with a bit of the walnut/raising mixture you had set aside. Refrigerate until firm, and serve.
Nutrition Information
Serving size:
8 oz jar --
Calories:
357
Fat:
24 g.
Carbohydrates:
36 g.
Sodium:
52 mg.
Fiber:
2 g.
Protein:
5 g.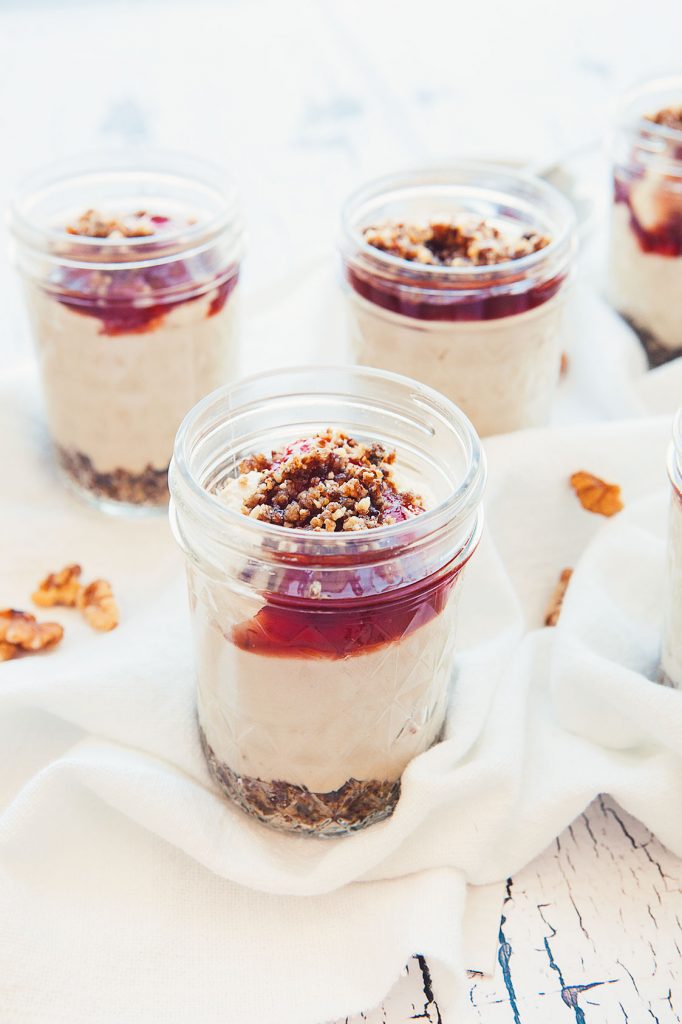 PIN ME!

---
Other Paleo Cheesecake Recipes You'll Love:
Raw Raspberry Chia Paleo Cheesecake
Deconstructed Cheesecake Bites
Raw Dark Chocolate Blackberry Paleo Cheesecake