I've struggled with gut issues in the past, mainly gut inflammation and food intolerance, both of which have forced me to become very aware of what I put in my body.
And since it's taken me a while to get better, not to mention a lot of hard work, now I pay a good amount of attention to what I eat. I read food labels, am careful about what I order at restaurants, try to bring my own snacks to social events whenever possible, try to eat at home as much as I can, and put a lot of thought into the products/brands I buy.
These careful considerations are what makes my body run like a well oiled machine, away from all inflammation and gut problems.
Nutrition is everything.
And it's pretty amazing how nature gives us most of what we need. Vitamin D? The sun and eggs can give us that. Vitamin A? Leafy greens, and orange/yellow vegetables and fruits can give us that. Vitamin C? Grapefruit, oranges, asparagus, broccoli, kale and cauliflower can give us that. Vitamin E? Sweet potatoes and avocados can give us that. Zinc? Seafood, beef, turkey and eggs can give us that. I could keep going on and on. Planet Earth has got us covered!
But because life is busy, and sometimes we don't have access to the foods we know we should eat, it's a good idea to take a bit of an "insurance policy" to make sure our bodies get the nutrition they need.
What do I mean by that? I mean that a little supplementation can help nourish us when the right foods are not available due to time or availability.
My husband and I get busy with life and work, and a lot of times, we can't prepare the foods we know we need to eat, nor keep track of what we are lacking (nutrition wise) during those busy days. That's when we bring supplements in!
And one of our all time favorite brands is Vital Proteins.
I've been a Vital Proteins fan for over a year now, after trying one of their products for a full month. After that first month, I saw amazing results without feeling any gut inflammation nor any other type of digestive issue. And that is huge for me, considering all the food sensitivities I have; in fact, to this day, I have not experienced any bad side effects from any of the Vital Proteins products I've tried.
It's hard to find quality supplement products, and when you do, you hold on tight. I hold on tight to Vital Proteins.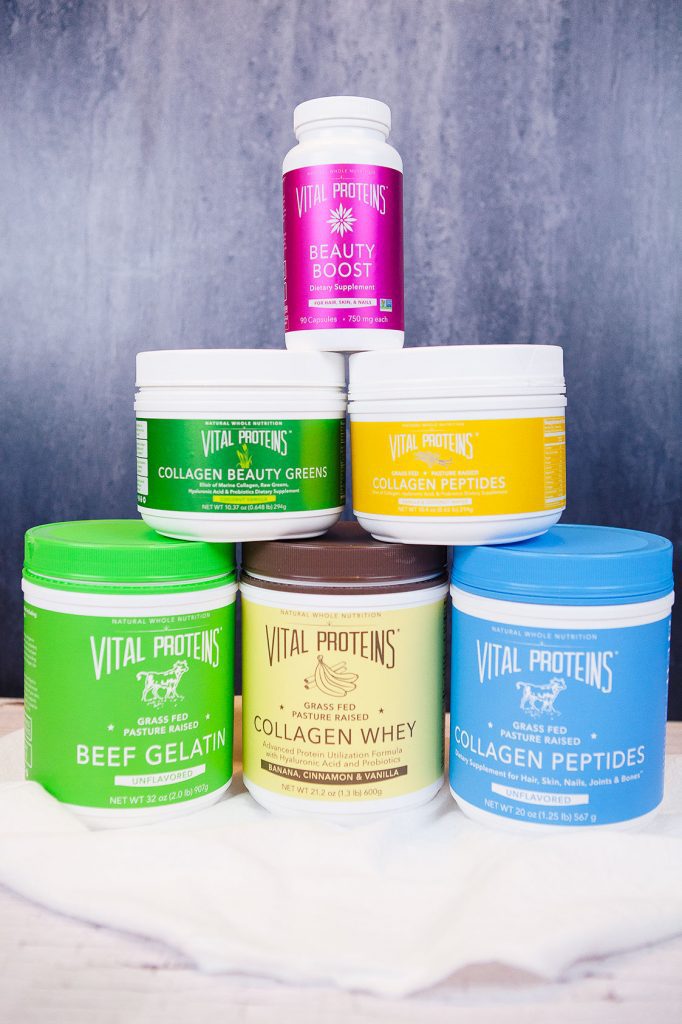 Below I list my top 6 Vital Proteins products. I've been wanting to share this review with you guys for a little while now, because I absolutely love these 6 products and I know they can do wonders for your body too.
For each product, I'll be sharing:
Why I take it
How I take it
When I take it
Hope you enjoy the read!
---
The Collagen Peptides (Unflavored) supplement is one I take on the daily. Both my husband and I get one serving (two scoops) a day without fail, adding it to our go-to protein smoothie in the morning before the gym.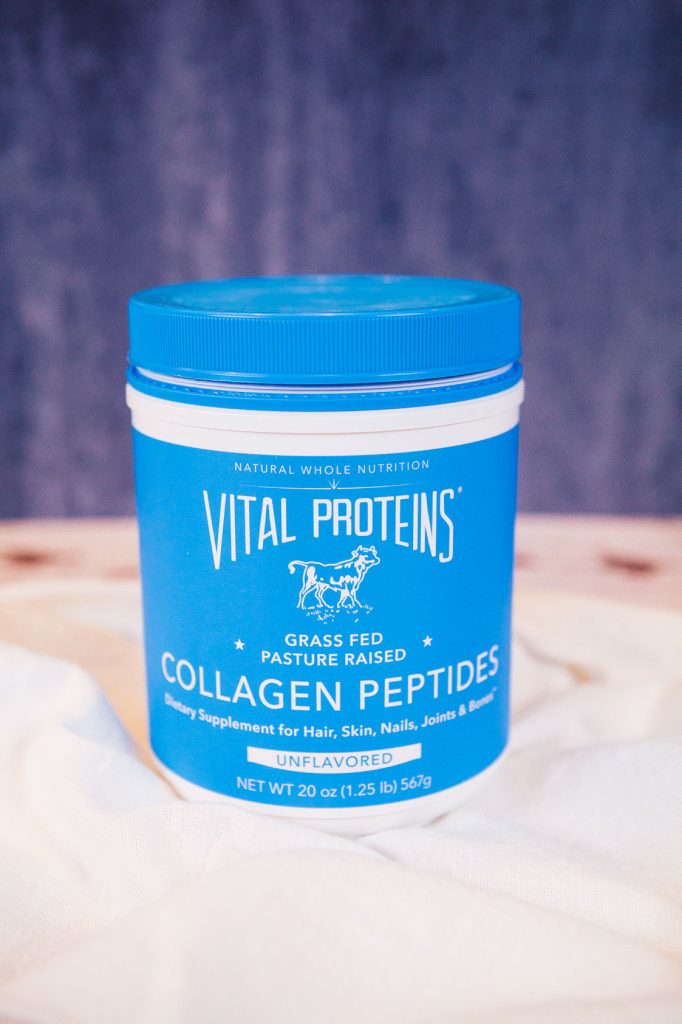 Why I take it:
The benefits I have personally seen from this supplement are out of this world great, which is why I keep taking it religiously. After using it for a little under a year, I can say that I have seen my hair and nails grow quicker (not to mention feel stronger), my skin is brighter and more plump, and my bones and joints feel stronger and healthier. And I absolutely love that it has 20 g. of protein per serving; that's right, just two scoops of this stuff and it is as if I were eating 3.3 eggs! Amazing, right? Nutrition on the go, guys.
Because peptides are gelatin proteins broken down into their constituent peptide chains through an enzymatic process, Collagen Peptides do not "gel" when added to cold liquids (you can't use them in recipes that call for gelatin) and their nutritional value is not altered when added to hot liquids. That means that you can add Collagen Peptides to cold and hot liquids alike, without worrying about the peptides losing their nutritional value nor changing the consistency of the liquids you're adding them to.
You can use Collagen Peptides in smoothies, juices, water, teas or coffee, as well as in recipes such as pancakes, waffles and protein bars. It dissolves very quickly, and it is tasteless and odorless…it's no wonder I add this supplement into so many of my Paleo recipes (read below).
How I take it
I like to add Collagen Peptides mainly to my morning go-to protein smoothie. It's a drink that both my husband and I are obsessed with, and don't go a day without. We love it mainly because of it's taste, but oh boy, the nutrition we get from it is NUTS! My go-to protein smoothie has a whooping 45 g. of protein per serving! Yup, pretty amazing. And a big chunk of that protein comes from the Collagen Peptides scoops we add.
I also absolutely love adding Collagen Peptides to my snack balls. These little balls are incredibly energizing and nourishing…not to mention: delicious! They are a fun treat to make in advance and have around in the fridge for the afternoon munchies we all get. My favorite recipes are my Nutella Collagen Bliss Balls and my Cinnamon Roll Energy Balls.
When I take it
Like I said above, I take my two scoops a day every morning in smoothie form. It's become a strong habit now, and very much part of our daily routine. I find that morning is the perfect time for us to take Collagen Peptides, because we've been fasting for over 13 hours at this point (we tend to eat early dinners) and our bodies are ready to take in and hold on to any nutrients we provide.
Having a few collagen snacks here and there after lunch is also welcome in my book, because there is no better snack than a nourishing one. Having Collagen energy balls along with a cup of coffee or tea, is one of my favorite treats to have on hand in the afternoons while I work.
---
I have another favorite Collagen Peptides supplement, and this is the Collagen Peptides (Vanilla & Coconut Water). It is slightly different from the previous Collagen Peptides supplement I talked about above, due to the few extra ingredients added for flavoring (like coconut water and madagascar bourbon vanilla bean powder). These not only add a light flavor to our collagen peptides, but they also add to the nutritional content.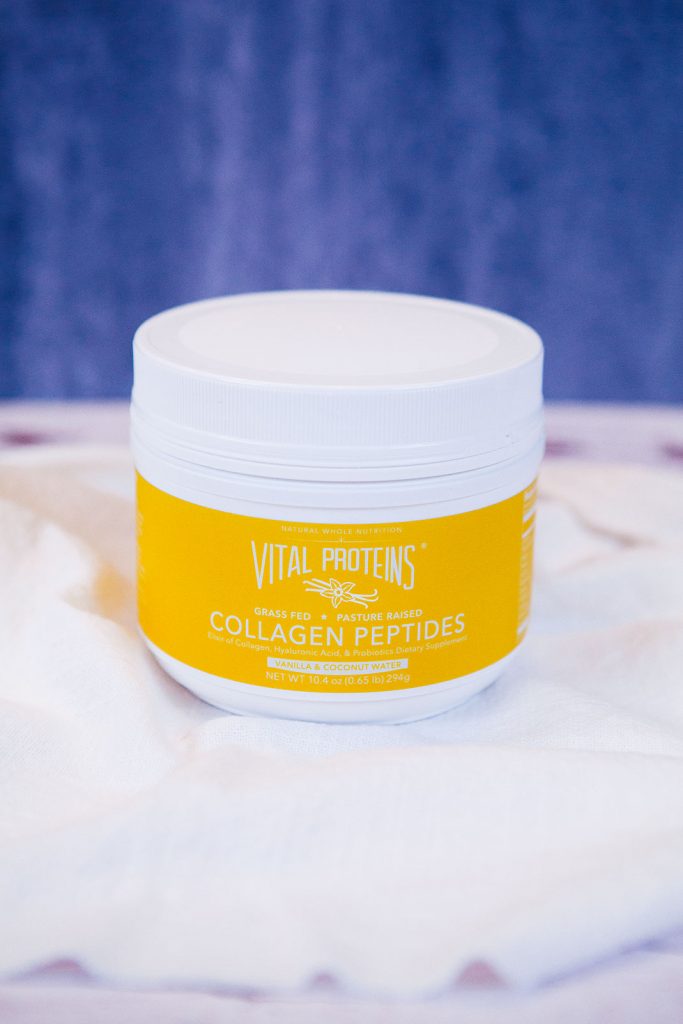 In addition to the collagen, protein and amino acid profile that comes with the Unfavored Collagen Peptides, we get magnesium, potassium, probiotics and hyaluronic acid with the Vanilla & Coconut Water Collagen Peptides option. A flavor to consider if you're needing extra minerals in your diet…or if you're in need of a bit more flavor in your afternoon treats.
Why I take it:
I take the Collagen Peptides (Vanilla & Coconut Water) for the same reason I take the Unflavored Collagen Peptides: to add strength and vitality to my hair, skin, nails, bones and joints, as well as adding that extra protein boost to my morning smoothies.
I take this specific flavor whenever I feel the need to add a subtle hint of vanilla to my smoothies (based on my mood and cravings) and whenever I sense that my gut can benefit from the added probiotics it comes with (which the Unflavored Collagen Peptides doesn't have).
How I take it
I use it mainly to make my go-to protein smoothie first thing in the morning before the gym, but I also like to add it to my mid-day coffee (12 oz dark brewed coffee + 1-2 tablespoons full fat canned coconut milk + 2 scoops Collagen Peptides, blended until frothy), as I think the hint of coconut and vanilla pairs really well with a dark brew.
I also like to add Collagen Peptides (Unflavored) or Collagen peptides (Vanilla & Coconut Water) to a few Paleo brunch staples I like to make for the weekends, such as my: Pumpkin Blueberry Chia Seed Puddings and Blackberry Crumble Pumpkin Bars. Either Collagen Peptides (Unflavored or Vanilla Coconut Water) works great for these two recipes. If you want a hint of vanilla in your treats, you know which one to chose!
When I take it
I take the Collagen Peptides (Vanilla & Coconut Water) in the morning with my smoothie or in the mid-afternoon with my coffee. Whether I do the unflavored or the vanilla & coconut water flavor, it doesn't matter. Depends what I'm in the mood for on any particular day, or on whether or not I feel like my gut can benefit from the added probiotics (from the vanilla & coconut water flavor).
Both Collagen Peptides do the trick as far as keeping my skin, nails, hair, bones and ligaments in tip-top shape. If I get a bit more than the 2 scoops a day (which make a serving), you will not see me complaining. 😉
---
The award to my all time favorite flavored whey protein goes to: Collagen Whey (Banana, Cinnamon & Vanilla)! The banana flavor is very subtle, and it's perfectly balanced by the hint of cinnamon and vanilla that are also included in the flavoring mix. I mean, not that I would be a little bit mad if the banana flavor was stronger, as I am Ecuadorian and I am 100% obsessed with all things banana, but for those of you who wonder how strong the banana taste is: not overpowering.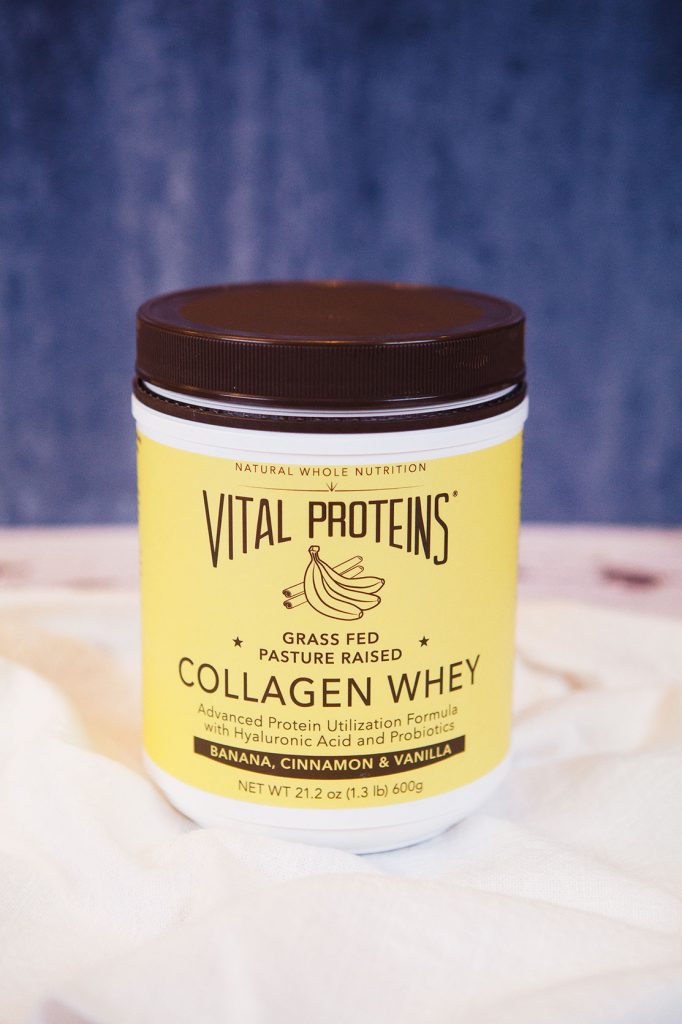 I love consuming products that come from quality ingredients, because that confidence and trust you get by knowing I am truly giving my body only the best available, is priceless. This product is made with organic grass-fed whey and uses only natural ingredients for the flavoring, no sweeteners or sugars added here. Super score, as I know that products such as these don't affect my gut nor get me bloated. Awesome flavoring + no gut inflammation = whey perfection.
Why I take it:
I take Whey Collagen as a post workout drink to replenish my muscles after a hard workout. I love the protein and the amino acid profile in this product, as when these two are combined, they support improved athletic performance. And since I like to consider myself extremely athletic, this product is right up my alley. Since I love lifting weights, running and biking (just to name a few), I need proper supplementation to replenish lost minerals and broken muscle fibers, as well as to prevent overall inflammation.
How I take it
I love simplicity, so I love mixing a scoop of this Whey Collagen in a blender along with filtered water and ice; it makes for an amazing banana slushy. However, if I am short on time and on-the-go, I simply bring a scoop with me in a shaker bottle and fill it up with water after I'm done at the gym before I head out to run errands. (Note: I do prefer it blended with ice though!)
I also like to bake it with, and I love making waffles with it. I have this bomb Paleo waffle recipe I love to make on Saturdays for my honey and I, called: Banana Protein Paleo Waffles. It's simple and quick to make, and it is packed with great protein for us protein lovers!
When I take it
I don't take flavored Whey Collagen every day, but when I do take it (I'd say once or twice a week) I tend to take it as a meal replacement whenever I am busy and don't have time to sit down and eat a home cooked meal. It is really nice to have a go-to flavored protein that you can bring with you anywhere in case of emergencies, or when you know you won't have time to eat. It. Saves. My. Butt. No one likes Mrs. Hangry, and this Whey Collagen helps to keep her from showing up!
---
Ahhh, Beef Gelatin. The powder that makes the frothy magic and the gel magic happen.
Beef Gelatin is made from one simple ingredient (just like the Collagen Peptides Unflavored), which is both grass fed and organic. It is also a gluten-free, non-GMO, PALEO and Whole30 approved product…so this supp has us Paleo people covered.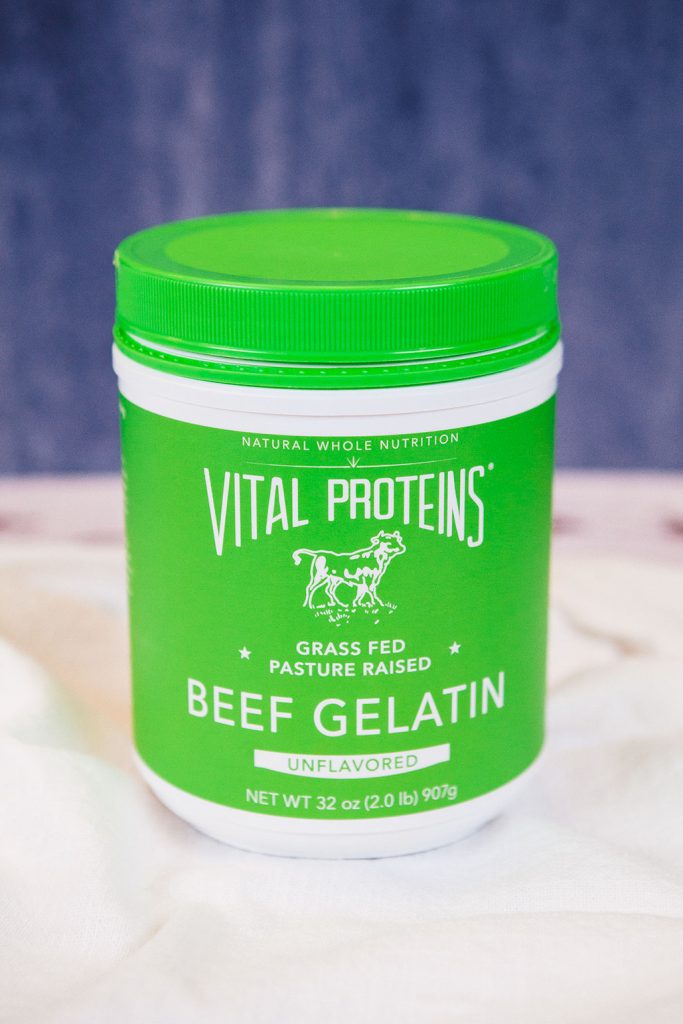 Why I take it:
I take Beef Gelatin mainly for gut health, as it has the advantage of taking slightly longer to digest and coating the small intestine. This helps improve the lining of our digestive tract and prevent leaky gut syndrome. Gut inflammation can be prevented by avoiding leakages from the gut into our bloodstream, which is why gut lining health is crucial!
It also aids in join recovery, bone health, and helps supports hair, skin and nail growth. You've probably noticed that Beef Gelatin has a similar amino acid profile and very similar nutritional benefits to the Collagen Peptides. However, these two differ in application.
Beef Gelatin will "gel" in cold liquids (unlike the Collagen Peptides), so it's ideal in hot preparations like soups, broths, sauces or gravy, where you can use it as a thickening agent. It can also be used in cold recipes like mousse, ice cream, pudding, yogurt, fruit snacks and healthy gummy bears.
How I take it
I love adding 1 scoop (1/2 serving) of the Beef Gelatin to my mid-morning frothy butter coffee.
To make this frothy butter coffee you'll need:
16 oz hot coffee
1 tbsp ghee (clarified butter)
1 scoop of Beef Gelatin
Add coffee and gee to a high-speed blender and blend on high until smooth. Turn blender back on on low with lid open and slowly pour Beef Gelatin in; add lid on and blend on high for a few seconds. Enjoy!
I also like to incorporate Beef Collagen in baked goods as a thickening agent. These Egg Free Brownies are a fun recipe that calls for Beef Collagen, so be sure to check it out if you have a sweet tooth! If you're almond intolerant like me, simply substitute the almond flour with cashew flour.
When I take it
I take it in my coffee a few times a week, usually after breakfast but before lunch. It's a great substitute for creamers, because instead of filling you up with sugar (like most creamers would), Beef Collagen fills you up with great nutrition that helps improve your health.
Such a win!
---
Beauty made easy with this Beauty Boost supplement. Even the bottle is a beauty…totally representing, if you know what I mean! (wink wink)
This product is 100% plant based and made from all organic ingredients (fruits and  vegetables); again, a product you can trust and feel completely comfortable about. LOVE. (Enter praise hands emoji here.) 
It has 300% of your daily Vitamin E needs, 100% of your daily Vitamin C needs, 165% of your daily Vitamin B6 needs, 100% of your daily Folate needs…need I go on?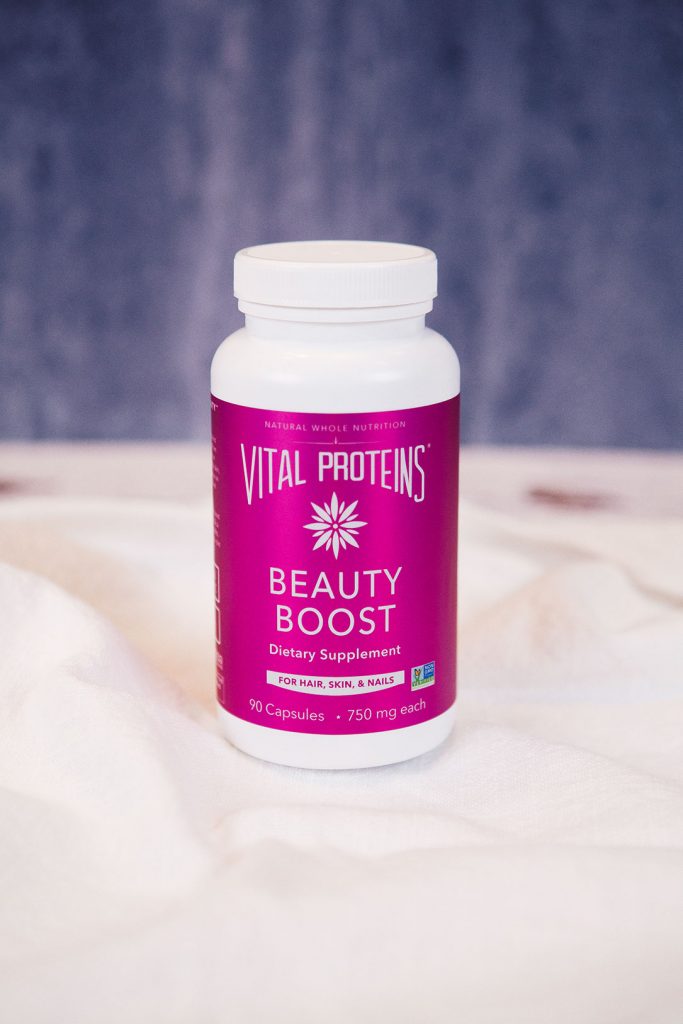 Why I take it:
I am all about natural beauty and I know outside beauty comes from within. What we put in our bodies matters. When we take care of our nutrition, we are in turn, taking care of our looks. Two birds with one stone, type of thing.
This gorgeous purple bottle has the power of giving us that nutrition boost that we need to shine from the inside out. I love taking it because with it, I see a more youthful skin, stronger nails and shinier hair. And, newsflash: vitamins are WAY cheaper and WAY more natural than botox, skin/hair treatments and fake add-ons. A no-brainer.
Bonus: Beauty Boost is really high in Vitamin C, a cofactor to the synthesis of collagen, which helps us get the most out of the Collagen Peptides supplement we are taking!
How I take it
Three capsules a day is what I take on the daily. I swallow them one by one, along with water, because I can't swallow all of them at once.
When I take it
Usually take my three Beauty Boost capsules after my first meal. In general, I prefer taking vitamins with a full stomach, as it helps me avoid any possible nausea.
When it comes to pills, it's a good idea to keep them visible, so that you don't forget to take them. At least until you've formed a habit to take them, and then it becomes a part of your daily routine.
---
Superfoods. That's what this Collagen Beauty Greens is all about. It has:
Organic Kale
Organic Spinach
Organic Alfalfa Leaf
Organic Wheat Grass
Coconut Water Powder
Organic Barley Grass
Marine Collagen (Snapper)
A killer combo, right?
It also has an all-natural flavoring, from organic coconut water and madagascar vanilla beans, which is subtle and versatile.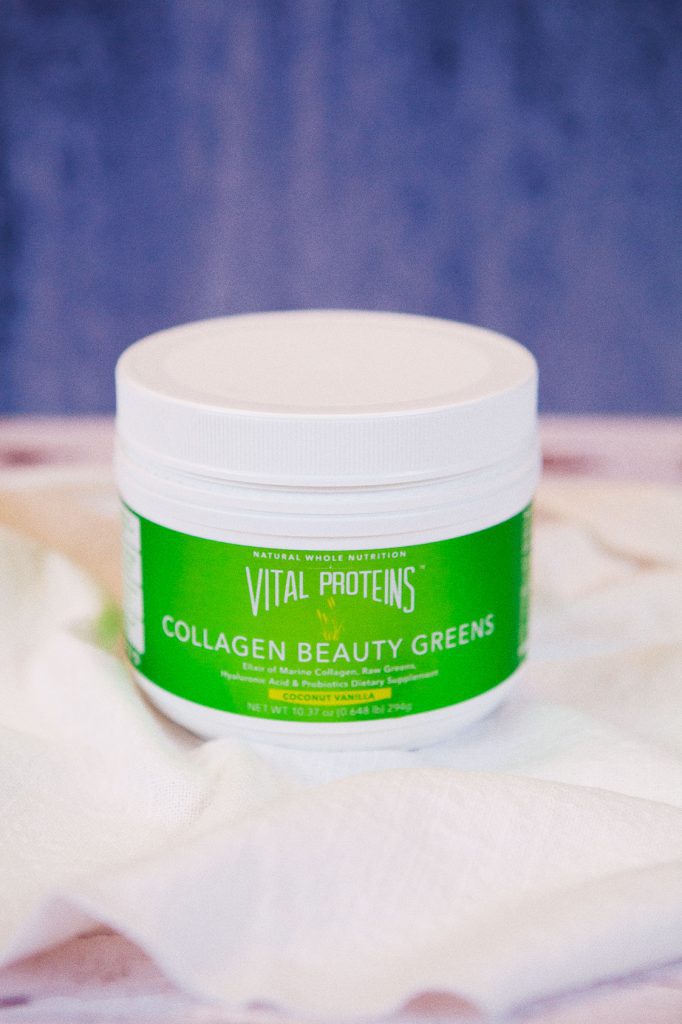 Why I take it:
This beauty product also allows you to shine from within. I find that my skin feels radiant and hydrated after taking this supplement straight for a few days. Also, I tend to feel very refreshed and energized from all of the superfoods this greens powder mix contains.
Remember how we talked about we are what we eat? Well, this also applies to energy levels and wellbeing, not just beauty.
How I take it
I like to mix it in orange juice. Because why not add the extra Vitamin C that orange juice provides to provide an extra nutrition boost!? A scoop of Collagen Beauty Greens (which is a full serving) mixes well in a 16 oz glass of OJ.
You could also add a scoop to your favorite smoothie!
When I take it
One scoop of Collagen Beauty Greens twice a week is what I tend to go for. Sometimes I do more (like if I am feeling a bit under the weather and need an extra boost) and sometimes I do less (when I travel or run out).
When I drink it, I like to do so in the morning. It gives me an energy lift and I feel like it gives my metabolism and nice kick-start!
---
PIN ME!

Thank you Vital Proteins for sponsoring this post!