Dirty Chai Paleo Muffins with Cinnamon Sugar and Whipped Cream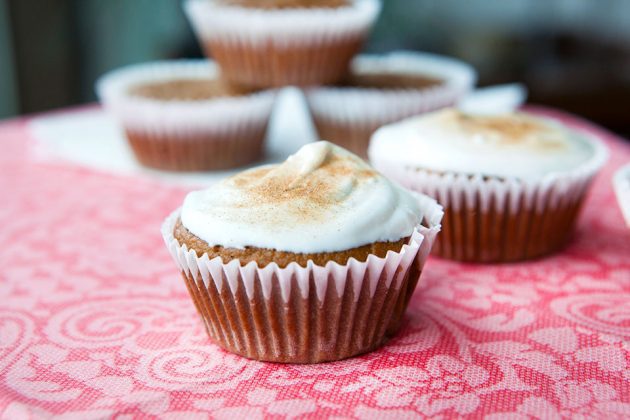 1 cup unsweetened almond milk
2 chai tea bags
¼ cup cold coffee (I used a lungo shot of Vanilio Nespresso, using my KitchenAid Nespresso machine)
3 tbsp coconut oil, melted
3 large eggs, whisked
3 tbsp vanilla extract
½ cup tapioca flour
½ cup coconut flour
½ tsp baking soda
½ tsp baking powder
½ tsp ground cinnamon
½ tsp ground ginger
¼ tsp ground allspice
⅛ tsp ground cloves
⅛ tsp ground cardamom
¼ tsp sea salt
1 can full fat coconut milk, chilled overnight
5 tbsp powdered coconut sugar (pulverize regular coconut sugar in blender)
Cinnamon, to taste
Coconut sugar, to taste​
Preheat oven to 350 degrees Fahrenheit.
Add muffin liners to muffin pan and set aside.
Brew coffee and set aside to cool.
Add milk and chai tea bags to small saucepan. Place under medium heat and steep tea for 7 minutes (milk should reduce by one quarter). Squeeze tea bags and throw away. Let mixture cool for 10 minutes.
Place cooled chai tea, coffee, coconut oil, eggs, honey and vanilla extract in a large bowl and whisk to combine.
In a separate bowl combine dry ingredients (tapioca flour, coconut flour, baking soda, baking powder, sea salt and spices). Then, transfer dry ingredients into the wet ingredients bowl, and use a spatula to combine all ingredients well (make sure you get rid of all bumps by pressing them with your spatula).
Pour batter into muffin liners; mixture makes ten muffins so distribute batter accordingly.
Bake for 35 minutes.
Once done baking, remove from oven and set aside to cool.
Place mixing bowl and can of coconut milk in the refrigerator overnight.
Once coconut milk and bowl have chilled for 24 hours, carefully remove the coconut milk from the fridge so you don't disrupt the separation. Scoop off the cream that has risen to the top and place it in a chilled bowl. Beat the cream on high until peaks form, about 2-3 minutes. Add 1 tbsp of powdered sugar at a time, while the beaters are still going.
Place the bowl of whipped cream in the refrigerator for 20 minutes and then beat again right before using it on muffins. Add a dollop of whipped cream on each muffin, and sprinkle a little bit of your cinnamon/sugar on top. Enjoy!
Tools You'll Need:
- Muffin pan
- Muffin liners (x 10)
- Standing mixer
- Mixing bowls
- Measuring cups
- Measuring spoons
- Spatula
Recipe by
AmazingPaleo.com
at https://www.amazingpaleo.com/2016/06/07/dirty-chai-paleo-muffins-cinnamon-sugar-whipped-cream/