Paleo Chocolate Chunk Banana Bread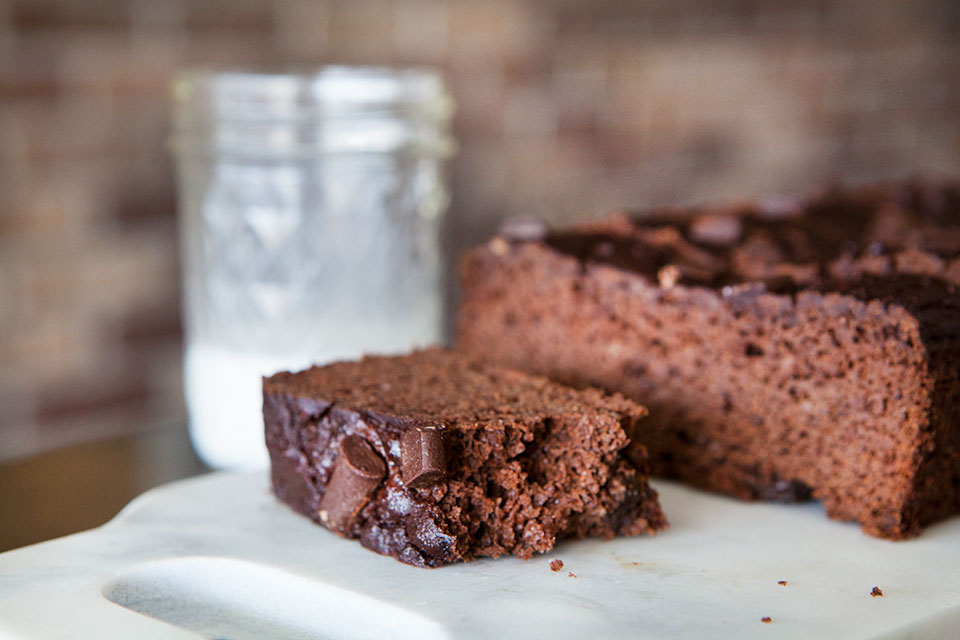 ¾ cup raw cashews
½ cup coconut flour
½ cup raw cacao powder (or unsweetened cocoa powder)
1 teaspoon baking powder
1 teaspoon baking soda
Pinch of sea salt
4 medium ripe bananas
4 large eggs
2 tablespoons honey
1 teaspoon vanilla extract
¼ cup coconut oil
⅓ cup Enjoy Life semi-sweet chocolate mega chunks
Coconut oil spray (to grease bread pan)
Preheat oven to 350 degrees Fahrenheit.
Grease bread pan with coconut oil spray (or regular coconut oil) and set aside.
Add cashews to food processor and process until butter-like texture is reached. Allow cashew butter to cool (about 5 minutes), and add in bananas, eggs, vanilla extract and coconut oil. Process until smooth.
Add dry ingredients (coconut flour, cocoa powder, baking powder, baking soda and sea salt) to a mixing bowl and combine well.
Pour wet ingredients from food processor into dry ingredients, and mix well.
Fold in chocolate mega chunks to the mixture, and pour batter into bread pan. Add a few mega chunks on top of the batter for decoration.
Bake for 55 minutes.
Let cool and refrigerate overnight before slicing. Enjoy!
Tools:
- Bread pan (9" x 5")
- Food processor
- Mixing bowl
- Spatula
- Measuring cups
- Measuring spoons
Recipe by
AmazingPaleo.com
at https://www.amazingpaleo.com/2016/09/14/paleo-chocolate-chunk-banana-bread/