Sweet Raspberry Paleo Muffins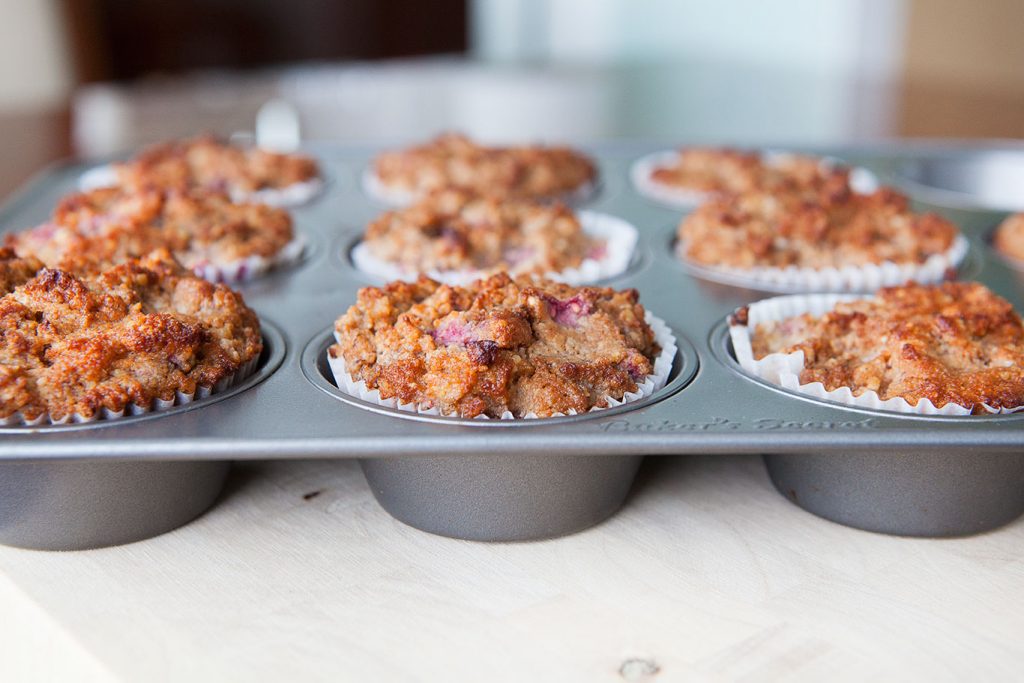 ¾ cup raw cashews
¾ cup coconut flour
¼ cup + 2 tablespoons tapioca flour
2 tablespoons honey
1 tablespoon cinnamon
1 ½ teaspoons baking soda
1 teaspoon sea salt
3 large eggs
½ cup coconut oil, melted
¼ cup unsweetened carton coconut milk
1 teaspoon vanilla extract
1 teaspoon apple cider vinegar
3 large ripe bananas
1 ½ cups fresh raspberries
Preheat the oven to 350 degrees Fahrenheit.
Line your muffin pan with muffin liners and set aside.
Place cashews in food processor and carefully pulse until a flour consistency is reached. Transfer cashew flour to a large mixing bowl.
To your large mixing bowl, add in all dry ingredients and whisk until well mixed. Set aside.
In a medium mixing bowl, first whisk your eggs and then add bananas in. Mash bananas well with a fork and combine with eggs well. Then whisk in melted coconut oil, coconut milk, vanilla extract, honey and apple cider vinegar.
Fold in the raspberries into dry ingredient mix until lightly coated. (This keeps them from sinking to the bottom when baking.)
Pour wet ingredients into dry ingredient mix, and gently stir to combine.
Divide batter evenly between cupcake liners (fill them all the way up) and bake for 35 minutes.
Let cool and enjoy!
Tools You'll Need:
- Muffin pan
- Muffin liners
- Food processor
- Large mixing bowl
- Medium mixing bowl
- Spatula
- Measuring cups
- Measuring spoons
Serving size:
1 muffin --
Calories:
245
Fat:
14 g.
Carbohydrates:
24 g.
Protein:
7 g.
Recipe by
AmazingPaleo.com
at https://www.amazingpaleo.com/2016/11/02/sweet-raspberry-paleo-muffins/