Pumpkin Pie Paleo Soft Bars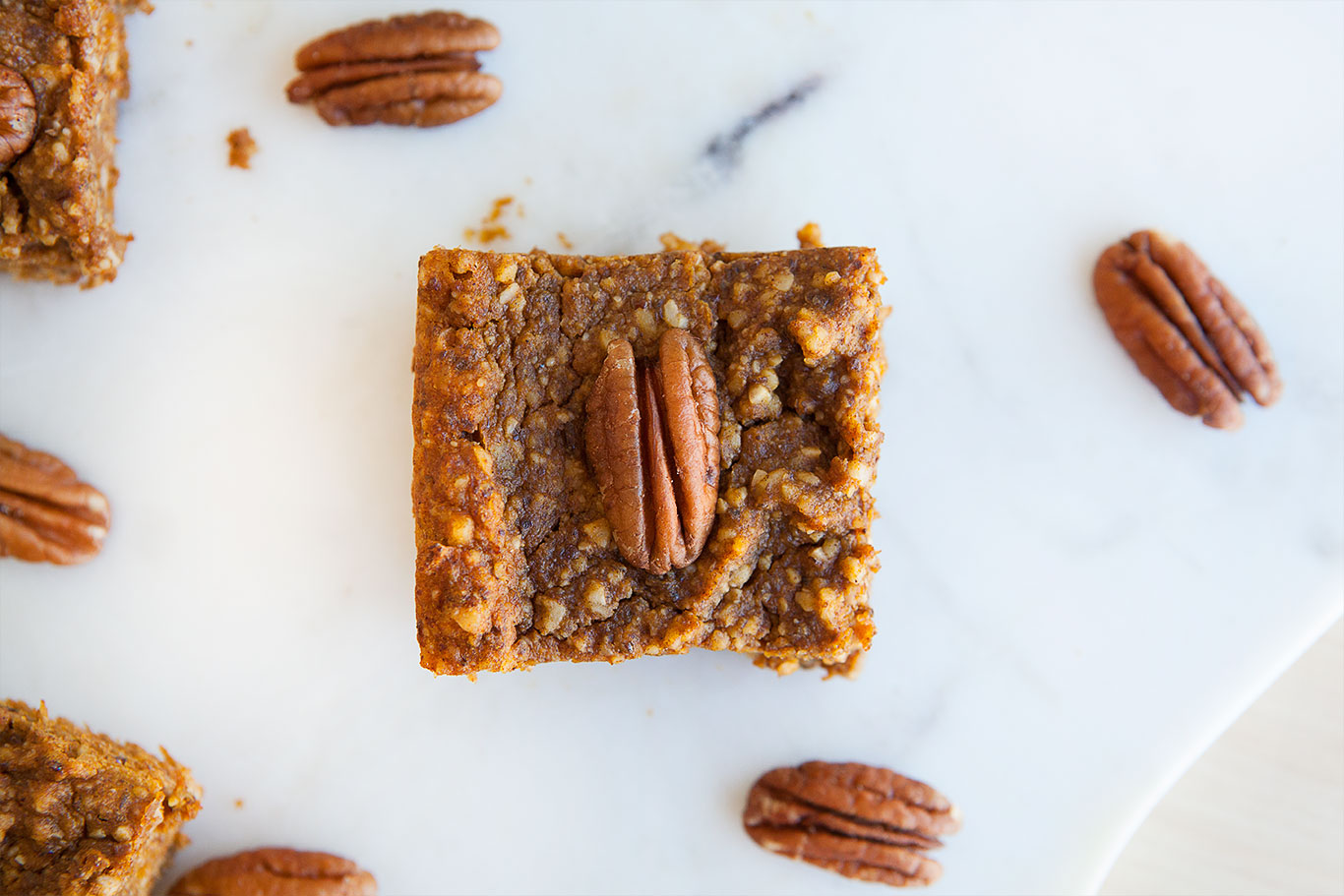 15 oz can pumpkin puree
2 eggs
6 medjool dates, pitted
1 cup cashew meal (process raw cashews finely in a food processor if cashew meal is not available)
½ cup walnuts
2 tbsp flaxseed meal
1 tsp coconut flour
¼ tsp allspice
1 ½ tsp pumpkin pie spice
½ tsp baking soda
¼ tsp sea salt
Pecans, to decorate
Coconut oil, for greasing
Preheat oven to 350 F. Grease pan with coconut oil and set aside.
Add walnuts to a food processor and pulse until finely ground. Transfer to mixing bowl, and mix in cashew meal, flax seed meal, coconut flour, pumpkin pie spice, allspice, baking soda and sea salt. Set aside.
Add dates to the food processor and process until dates take the consistency of a thick paste. Add in pumpkin puree and eggs, and process until well combined. Pour over bowl with dry ingredients, and fold to combine.
Pour batter into greased baking dish, top with pecans and bake for 30 minutes. Let cool, slice and enjoy right away.
Tools You'll Need:
- 9x9 inch baking dish
- Food processor
- Mixing bowl
- Spatula
- Measuring cups
- Measuring spoons
Serving size:
1 bar --
Calories:
226
Fat:
15 g.
Carbohydrates:
17 g.
Protein:
7 g.
Recipe by
AmazingPaleo.com
at https://www.amazingpaleo.com/pumpkin-pie-paleo-soft-bars/