Turmeric Cauliflower Kale Salad with Roasted Pepitas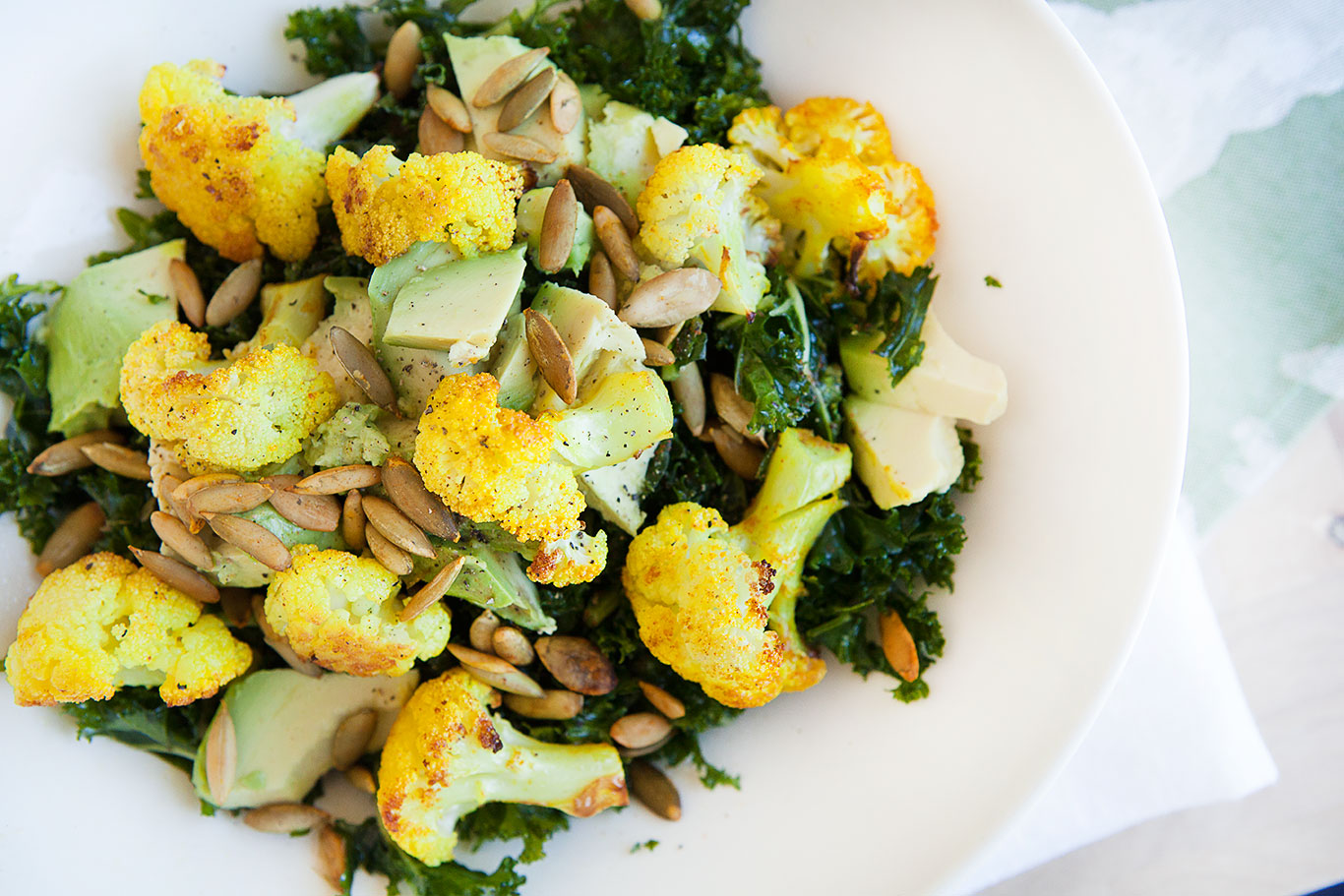 Serves:
2 individual salad bowls
Add all ingredients to a large salad bowl, and using your hands, gently massage the oil and lemon juice on the kale. Do this for about two minutes, and place it in the refrigerator to rest. Save the avocado for later, when you're ready to assemble the salad.
Grease a 9x13" baking dish with coconut oil. Set aside.
Preheat oven to 450 degrees Fahrenheit.
Add cauliflower florets to greased baking dish; pour melted coconut oil on florets and season with spices. Bake for 25 minutes (use a spatula to move veggies around halfway).
Remove from oven and let cool.
Preheat the oven to 375 degrees Fahrenheit.
Toss all of the ingredients together in a mixing bowl.
Spread ingredients on a baking sheet and bake for 5 minutes, shaking the pan once to prevent pepitas from burning.
Let cool, and use to top salads or eat as a snack.
Take out your kale base from the refrigerator and add cauliflower florets to it. The florets can be warm or cold; it's your choice. I like mine a bit warm, fresh out of the oven. Toss a few pepitas on top of the salad and garnish with avocado slices. Add fresh ground black pepper and nutritional yeast on top.
You'll have a few pepitas leftover, lucky you! Save them for later to top salads or eat them as a snack!
Serving size:
per individual salad bowl --
Calories:
350
Fat:
30 g.
Carbohydrates:
17 g.
Sodium:
980 mg.
Fiber:
10.6 g.
Protein:
7.2 g.
Recipe by
AmazingPaleo.com
at https://www.amazingpaleo.com/2017/03/28/turmeric-cauliflower-kale-salad-roasted-pepitas/