Coconut-Almond Chicken Patties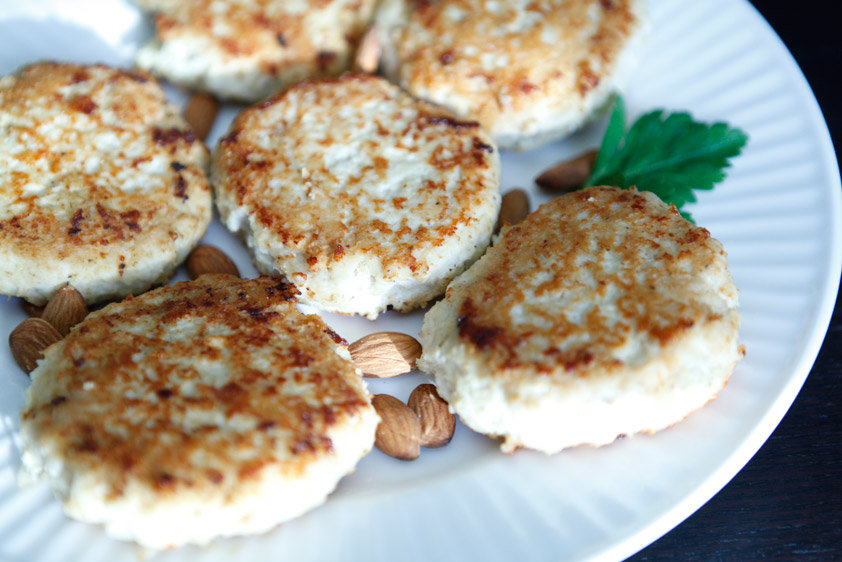 2 lb. of organic ground chicken
2 egg yolks
½ cup of Paleo almond flour
½ cup of unsweetened shredded coconut
2 teaspoons of onion powder
2 teaspoons of garlic powder
½ teaspoon of sea salt
½ teaspoon of pepper
3 tablespoons of coconut oil
Place 1 paper towel on top of a serving plate.
Combine all ingredients (except the coconut oil) in one mixing bowl.
Place skillet over medium heat and add on 1.5 tablespoons of coconut oil.
Once oil melts, grab a handful of the mixture and start creating your chicken patties. Place patties on skillet as you are creating them. Cook 4 patties per time.
Once you have 4 patties in your skillet, cover and let cook for 5-6 minutes (or until bottom is brown).
Flip patties and cover. Cook for another 5-6 minutes. Cook until both sides are crispy (brown, not burnt).
Use your spatula to take patties out; place them on top of serving plate so that paper towel absorbs excess oil.
Repeat steps 3-7 with remaining mixture.
Tools you'll need:
- Skillet with cover
- Spatula
- Mixing bowl
- Paper towels
- Measuring spoons
- Measuring cups
- Serving Plate
Recipe by
Amazing Paleo - Healthy Paleo Diet Recipes
at https://www.amazingpaleo.com/2012/06/28/coconut-almond-chicken-patties/