Cheesecake in a Jar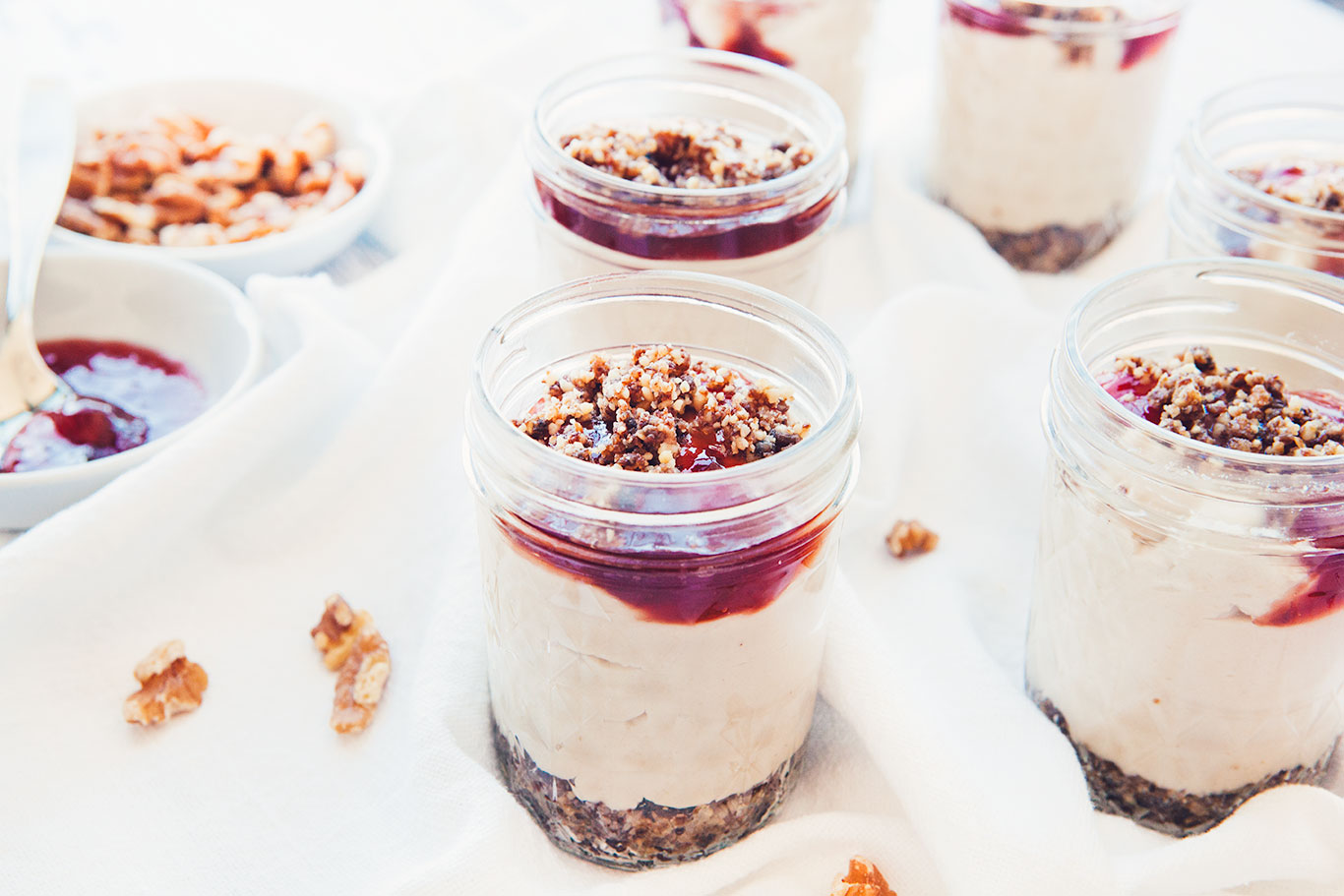 Serves:
Ten 8 oz. mason jars
1 cup raisins
1 cup raw walnuts
¼ tsp sea salt
3 cups raw cashews, soaked overnight and rinsed
1 cup honey
Juice of ½ lemon
½ cup canned full fat coconut milk
1 cup melted coconut oil
2 cups fresh strawberries
2 tbsp honey
1 tbsp fresh lemon juice
Prepare the strawberry jam: add strawberries, honey and lemon juice to a bowl and toss to combine. Transfer to a saucepan and cook over medium heat for about 5 minutes, until strawberries become soft and somewhat bubbly. Reduce heat to medium and continue to simmer for about 10 minutes, or until it begins to thicken. Remove from heat and let cool completely. Transfer to a jar with lid and refrigerate until ready to use.
Prepare the crust: add raisins to a food processor and process until small bits remain. Remove and set aside. Add walnuts to the food processor and pulse until they reach a flour-like consistency; add raisins back in, along with sea salt, and pulse until a loose dough is formed. Transfer mixture to a bowl and refrigerate until ready to use.
Prepare the cheesecake: add cashews to a high-speed blender and blend on high until smooth. Add in honey, lemon juice and coconut milk and blend until well combined. While blender is on, slowly add in melted coconut oil. Keep on blending until mixture is smooth and creamy. Refrigerate until ready to use.
Assemble the Cheesecake in Jars: Add ~3 tbsp of the crust layer to the bottom of each mason jar (set a bit of the crust layer aside to top off cheesecake jars after adding in the cheesecake filling and the strawberry jam layers). Add a thick layer of cheesecake filling on top of the crust layer, filling the mason jars ¾ of the way up. Add 2 tbsp of strawberry jam on top of cheesecake layer and top with a bit of the walnut/raising mixture you had set aside. Refrigerate until firm, and serve.
Serving size:
8 oz jar --
Calories:
357
Fat:
24 g.
Carbohydrates:
36 g.
Sodium:
52 mg.
Fiber:
2 g.
Protein:
5 g.