Blackberry Crumble Pumpkin Bars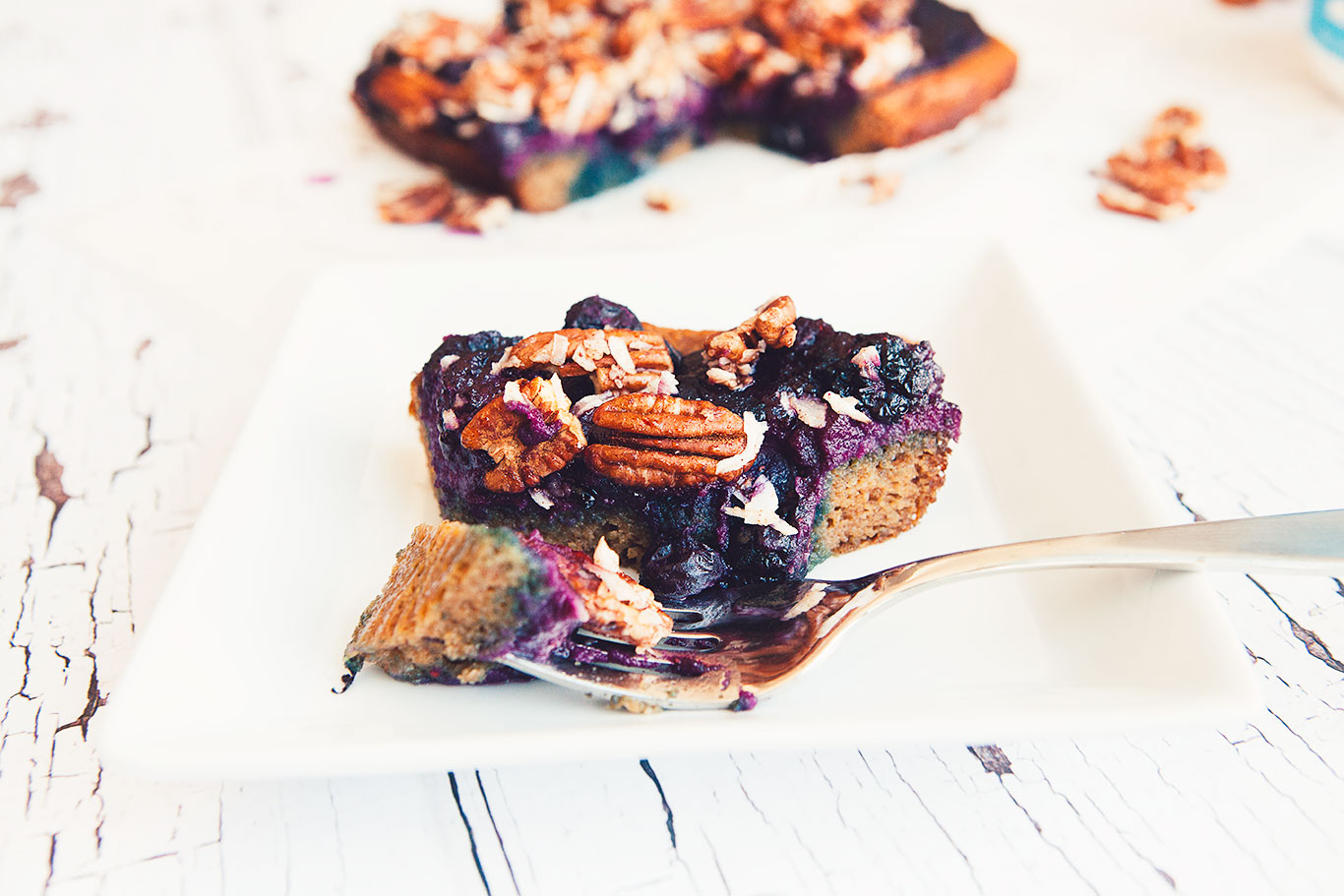 ⅓ cup pumpkin puree
⅓ cup maple syrup
¼ cup melted coconut oil
3 eggs
1 tsp vanilla extract
¼ cup coconut flour
2 scoops unflavored collagen peptides
1 ½ tsp pumpkin pie spice
½ tsp baking soda
½ tsp baking powder
¼ tsp salt
2 cups mixed berries (blackberries and blueberries)
4 tbsp honey
2 tbsp coconut butter
Juice of ½ lemon
Zest of ½ lemon
2 tbsp coconut flour
½ cup pecans
¼ cup unsweetened shredded coconut
1 tbsp honey
¼ tsp cinnamon
¼ tsp salt
Preheat oven to 350 F. Grease an 8"x8" baking dish with coconut oil, line with parchment paper, and set aside.
Mix pumpkin layer wet ingredients in a mixing bowl (pumpkin puree, maple syrup, coconut oil, eggs, and vanilla extract).
In a separate bowl, mix pumpkin layer dry ingredients (coconut flour, collagen peptides, cinnamon, nutmeg, ground cloves, powdered ginger, baking soda, baking powder, and salt). Pour dry ingredients into wet ingredients and mix until no lumps remain. Transfer into lined baking dish, spread evenly and bake for 30 minutes.
Add mixed berries, honey, coconut butter, lemon juice, and lemon zest to a small saucepan and place it over medium heat, stirring constantly. Once berries start to break down, remove pan from heat and mix in coconut flour. Set aside to cool.
In a small bowl, add crumble mix (pecans, shredded coconut, honey, cinnamon and salt) in and mix until combined. Set aside.
Once pumpkin layer is done baking, pour mixed berries on top, add crumble mix on top of that and bake for 15 minutes. Let cool completely, lift parchment paper to remove from pan and cut into squares.
Tools You'll Need:
- 8x8 baking dish
- Saucepan
- Spatula
- Mixing bowls
- Whisker
- Measuring cups
- Measuring spoons
Recipe by
AmazingPaleo.com
at https://www.amazingpaleo.com/2017/09/22/blackberry-crumble-pumpkin-bars/