Cauliflower Wings and Mixed Greens Salad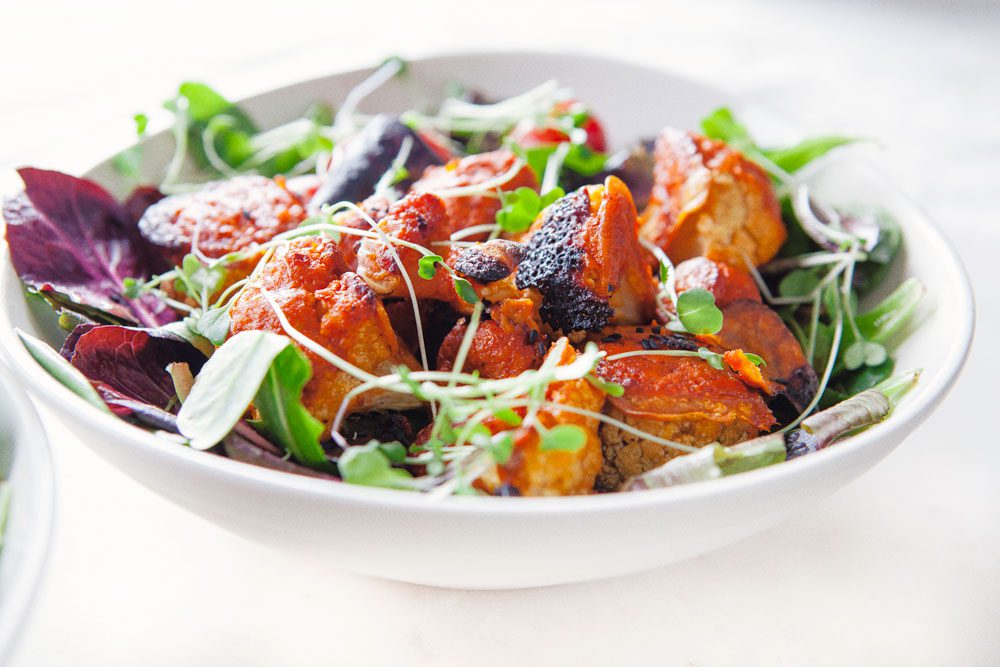 1 sweet potato, peeled and cubed
2 tablespoons coconut oil, melted
½-1 tsp pink Himalayan salt
½ tsp freshly cracked black pepper
4 cups mixed greens
8-10 cherry tomatoes
Handful micro greens
Optional: black sesame seeds
2 tbsp extra virgin olive oil
2 tbsp balsamic vinegar
Pink himalayan salt, to taste
Freshly cracked black popper, to taste
Preheat oven to 450 F.
Grease baking dish and set aside (for potatoes).
Line baking pan with parchment paper and set aside (for cauliflower wings).
Place sweet potato cubes in baking dish, drizzle coconut oil and season with salt and pepper. Place potatoes in the oven and cook for 30-35 minutes, moving them half-way with a wooden spoon to keep them from burning.
Follow instructions for cauliflower wings and cook them simultaneously with sweet potatoes.
Prep light vinaigrette: add all ingredients to a small bowl and whisk together until combined.
Add mixed greens to a salad bowl and toss with light vinaigrette. Add in sweet potatoes, cauliflower wings, cherry tomatoes, micro greens and sesame seeds. Enjoy!
Recipe by
AmazingPaleo.com
at https://www.amazingpaleo.com/2018/03/08/cauliflower-wings-and-mixed-greens-salad/