Lemon Energy Balls with Poppy Seed Coconut Glaze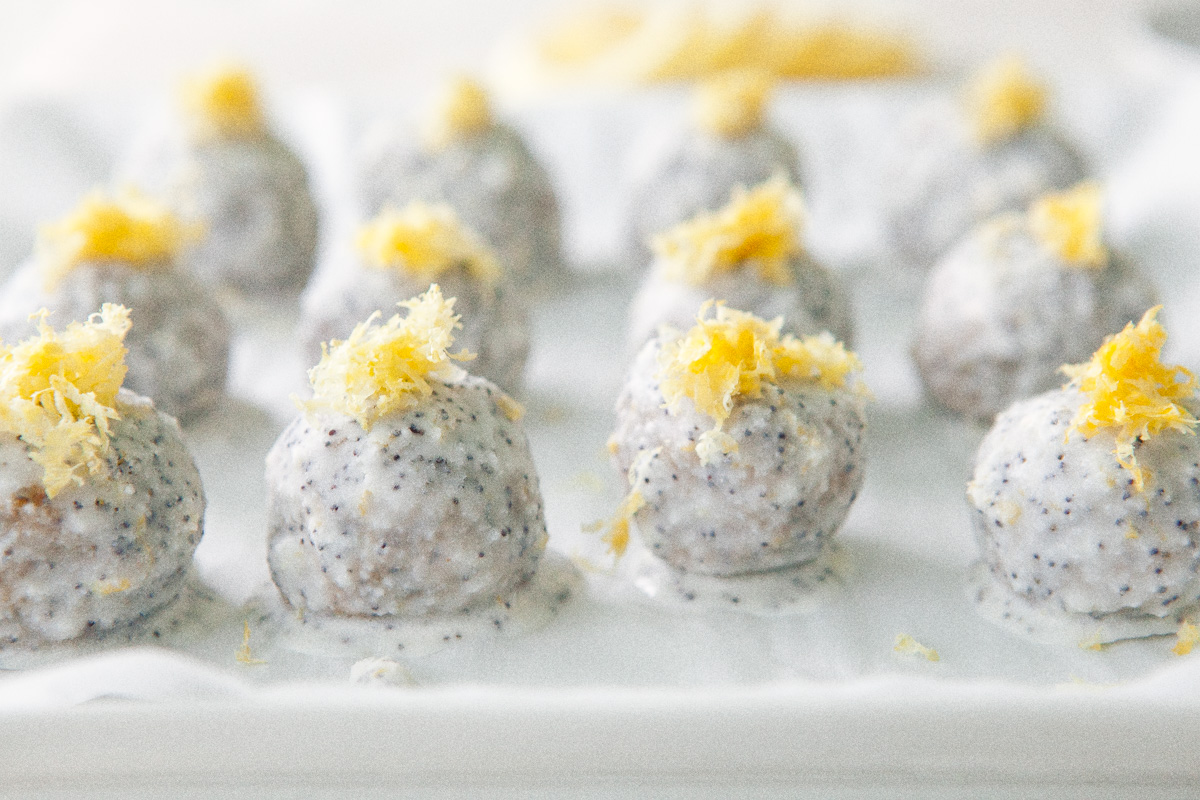 1 ¼ cups chopped nuts (almonds, cashews, etc.)
1 ½ cups walnuts
¼ cup poppy seeds
¼ cup unflavored  collagen peptides
¼ tsp sea salt
1 cup dried apricots
1 tsp vanilla extract
¼ cup melted coconut butter
¼ cup melted coconut oil
4 tbsp maple syrup
½ tsp lemon zest
½ lemon, juice of
7 tbsp melted coconut butter
3 tbsp melted coconut oil
1 tsp poppy seeds
1 tsp lemon zest + more for garnish
Prepare the energy balls: add all energy ball ingredients (except poppy seeds) to a food processor and process until a doughy consistency is reached. Add in the poppy seeds and pulse a few times to combine. Wet your hands slightly, and shape dough into ~20 ping-pong sized balls. Place balls on lined plate as you go. Freeze balls for about 20 minutes to get them firm before coating with glaze.
Make the glaze: add glaze ingredients to a small bowl and whisk until smooth. Dunk each ball in the glaze until fully coated and place glazed ball back onto parchment-lined plate. The glaze should harden almost immediately due to the frozen balls, however, if it doesn't, simply place plate back in the freezer.
Enjoy right away, or store in refrigerator or freezer.
Tools You'll Need:
- Food processor
- Spatula
- Citrus juicer
- Measuring cups
- Measuring spoons
- Mixing bowls
Recipe by
AmazingPaleo.com
at https://www.amazingpaleo.com/2018/06/20/lemon-energy-balls-with-poppy-seed-coconut-glaze/