Carrot & Zucchini Muffins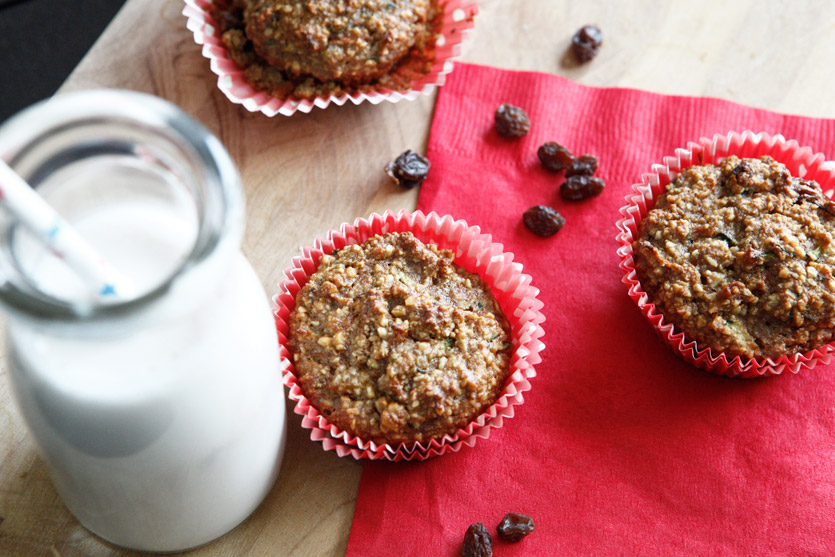 2 cups almond flour
2 whisked eggs (include yolk)
1 tablespoon of coconut flour
½ cup of grated carrots (peeled)
¾ cup of grated zucchini (unpeeled)
¼ cup melted raw honey
¼ cup melted organic coconut oil
1 teaspoon of vanilla extract
1 ½ teaspoon of cinnamon
½ teaspoon of baking soda
½ teaspoon of sea salt
⅛ cup of raisins (optional)
Preheat oven to 350 degrees.
Prep muffin pan and place liners in each hole.
In a mixing bowl, combine dry ingredients together (almond flour, coconut flour, cinnamon, baking soda and sea salt).
In a mixing bowl combine wet ingredients together (eggs, raw honey, organic coconut oil and vanilla extract).
Add wet ingredients to the dry ingredients and stir until combined.
Add grated carrots, grated zucchini and raisins to the mix. Using a spatula combine all ingredients together.
Using a tablespoon, add mixture to each muffin liner. Each liner should be ½ to ¾ full.
Place muffin pan in the oven and bake for 25-30 minutes.
Let cool for about 15 minutes and eat (or store in refrigerator).
Tools You'll Need:
- Muffin pan
- Muffin liners
- Mixing bowls
- Spatula
- Whisker
- Measuring cups
- Measuring spoons
- Grater
- Peeler
Serving size:
1 muffin --
Calories:
203
Fat:
16 g.
Carbohydrates:
9 g.
Protein:
6 g.
Recipe by
Amazing Paleo - Healthy Paleo Diet Recipes
at https://www.amazingpaleo.com/2012/08/03/carrot-zucchini-muffins/