Epic Paleo Mexican Chicken Salad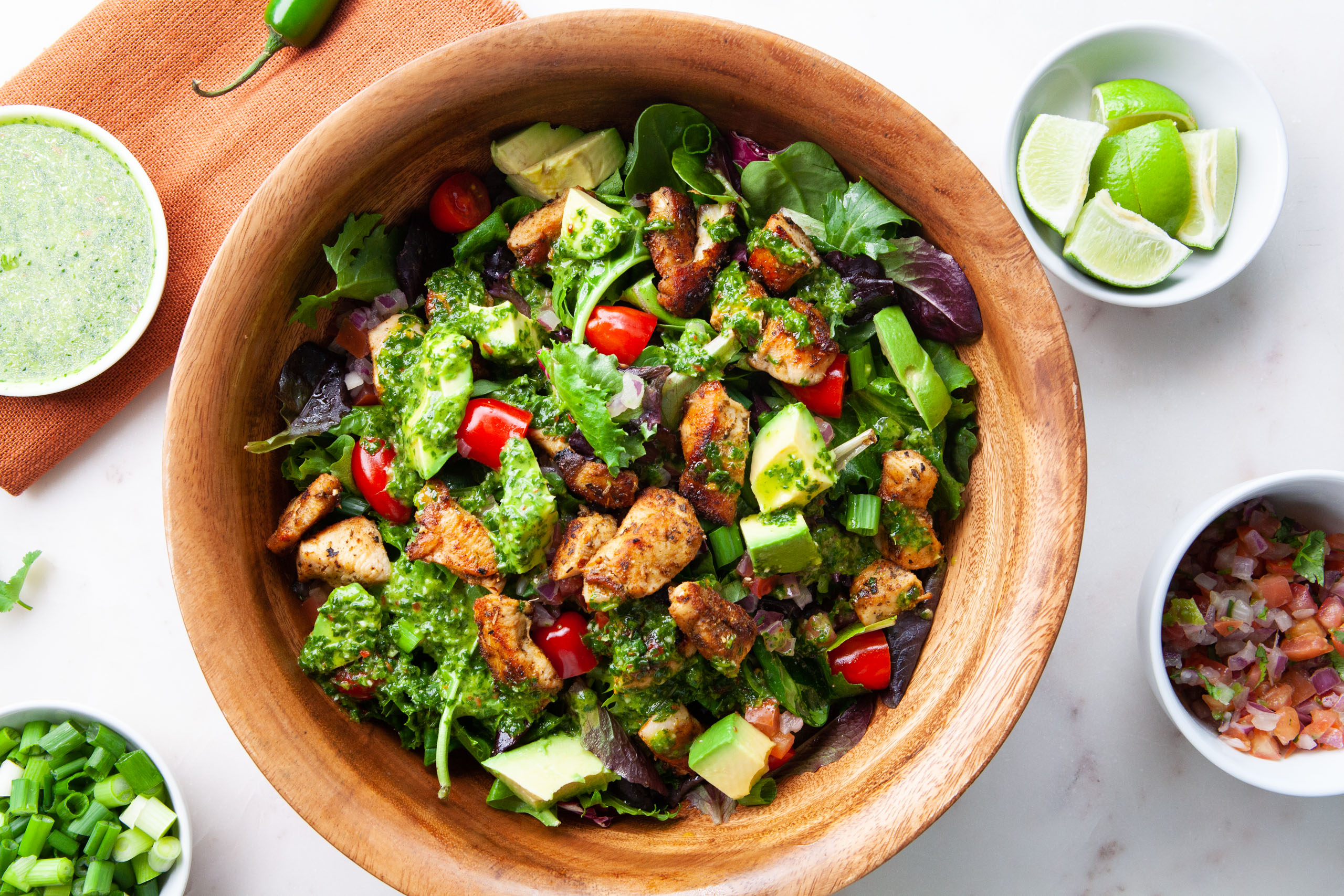 2 chicken breasts, cubed
2 tbsp extra virgin olive oil
1 tsp cumin
1 tsp garlic powder
½ tsp oregano
½ tsp salt
½ tsp freshly cracked black pepper
¼ tsp cayenne pepper
4 cups mixed greens
1 tbsp extra virgin olive oil
½ lemon, juice of
Salt and pepper, to taste
¼ cup chopped green onions
8 cherry tomatoes, halved
½ avocado, cubed
Pico de Gallo, to taste
Paleo Cilantro Dressing, to taste
Prep the Paleo Cilantro Dressing.
Prep the chicken: Place the chicken in a bowl and add in the oil and the spices. Toss to coat the chicken evenly and chill in the fridge for about 1-2 hours to marinate. Place cast iron skillet over medium/high heat and add olive oil. Once hot, add in chicken carefully and cook for about 6 minutes. Turn chicken and cook for another 5-6 minutes until done. Set aside.
Assemble the salad: Assemble greens on a large salad bowl, add in olive oil, lemon juice, salt and pepper. Massage to coat, as this will soften the greens and take away the bitterness. Add in green onions, tomatoes, pico, avocado and chicken. Drizzle Paleo Cilantro Dressing to taste and eat up!
Recipe by
AmazingPaleo.com
at https://www.amazingpaleo.com/2019/03/25/epic-paleo-mexican-chicken-salad/