Sweet Potato Chocolate Cake and Coconut Coffee Frosting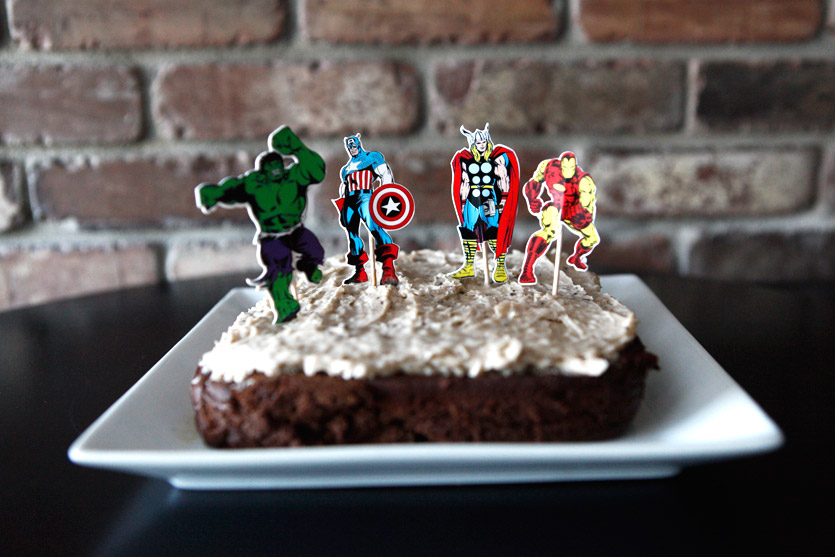 2 medium sweet potatoes, peeled and baked
1 tbsp coconut flour
1 tbsp melted extra virgin coconut oil
6 squares 100% cacao chocolate bar, melted
¼ cup cacao powder
¼ cup melted honey
3 eggs
1 tsp vanilla extract
1 tsp baking soda
½ tsp sea salt
Coconut oil spray
1 cup extra virgin coconut oil
1 ½ tsp vanilla extract
3 tbsp full fat canned coconut milk
2 tsp Truvia, or sweetener of choice
¼ cup shredded coconut
2 tsp instant coffee
Preheat oven to 325 F. Grease 8" square baking dish and set aside.
Place sweet potatoes in a food processor and process until pureed. Add in the rest of the cake ingredients and process until well combined. Pour mixture into baking dish and bake for 40 minutes. Let cool completely.
Make the frosting: add coconut oil to a stand-up mixer bowl, and mix in medium speed until fluffy, about 5 minutes. While mixer is still on, add in vanilla extract, sweetener and coconut milk. Mix until well combined. Fold in shredded coconut and instant coffee.
Frost the cake, slice and enjoy right away.
Tools You'll Need:
- Food Processor
- Stand up Mixer
- Measuring cups
- Measuring spoons
- Spatula
- Small spoon
- 8x8 baking pan
Recipe by
AmazingPaleo.com
at https://www.amazingpaleo.com/2012/08/16/sweet-potato-chocolate-cake-cinnamon-frosting/