Gluten-Free Quinoa and Tofu Bowl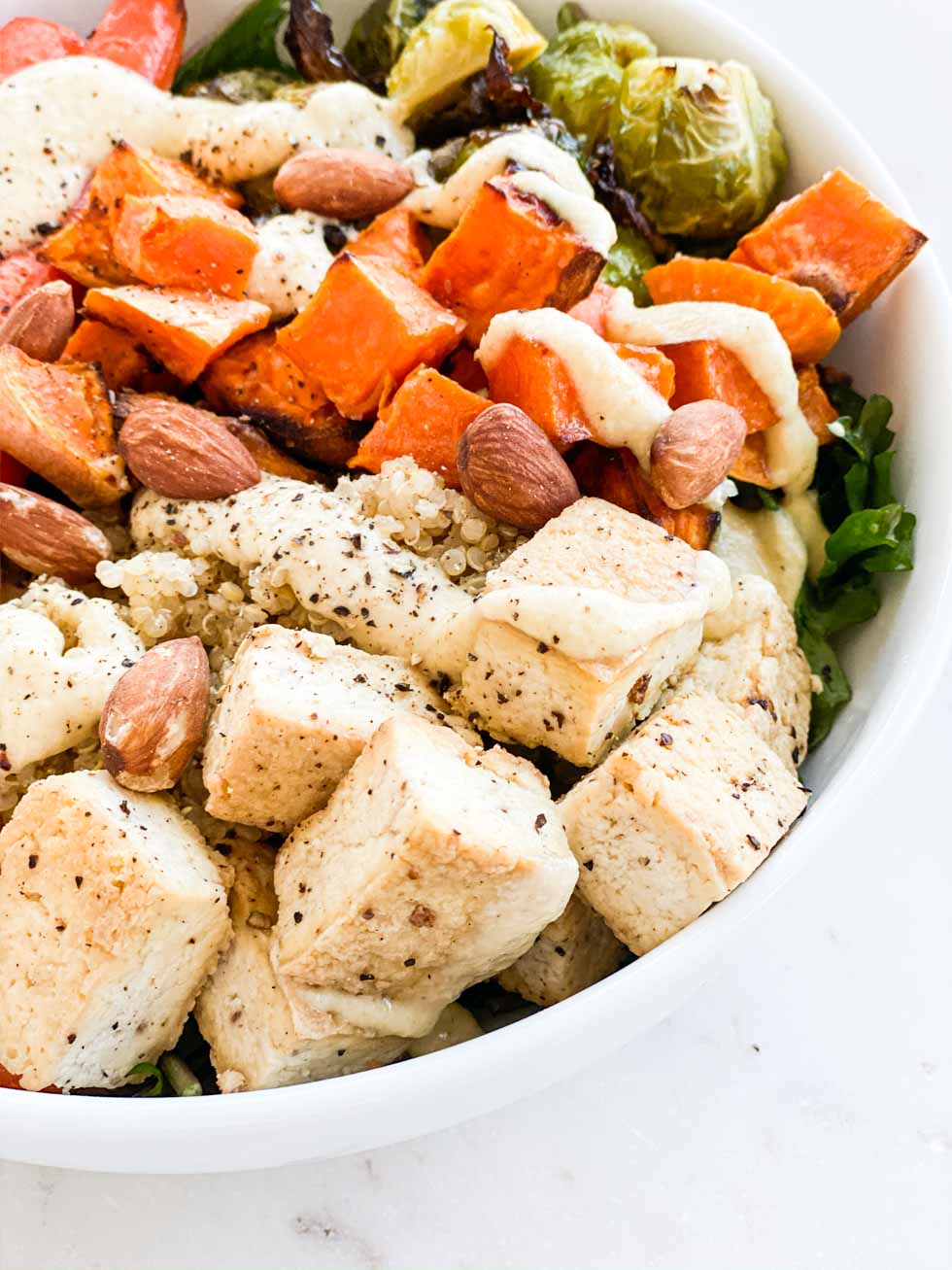 1shallot
3 garlic cloves
½ cup olive oil
¼ cup apple cider vinegar
1 lemon, juice of
1 tbsp dijon mustard
1 tsp coarse kosher salt
¼ tsp dried oregano
Freshly cracked black pepper, to taste
1 cup white quinoa
1⅓ cups low-sodium vegetable broth
1 packet extra firm tofu (extra firm tofu is key!)
Coarse Kosher salt, to taste
Freshly cracked black pepper, to taste
2 sweet potatoes, peeled and cubed into small squares
4 carrots, peeled and cut in half
1 lb brussels sprouts, sliced in half
Olive oil, enough to lightly coat all veggies
Freshly cracked black pepper and salt, as desired
Baby kale, as desired
Freshly squeezed lemon juice, as desired
Olive oil, as desired
Coarse Kosher salt, as desired
Roasted and unsalted almonds
Roast garlic cloves in a foil packet with a drizzle of olive oil for 15 mins at 400 F. Make sure foil packet allows garlic cloves to breathe, so create a little pouch with a piece of aluminum foil with enough air for the garlic cloves to sit. Once garlic has baked and cooled, add to blender along with the rest of the vinaigrette ingredients, and blend on high until smooth.
Cook according to packaging instructions; I like using low-sodium vegetable broth vs water for added flavor.
Press tofu with tofu press for 20 mins. Cut into small squares and season with salt and pepper. Sauté each side for 5 mins in cast iron skillet with olive oil. Transfer skillet to oven, bake at 375 for 15 mins.
Add olive oil, salt and pepper to all veggies; roast them separately for 30-35 mins at 450 F. Check on your veggies after the 20 min mark, to move them around and to prevent them from burning. Take them out if you feel some veggies will burn if they stay longer.
TIP: do not overcrowd baking sheets/pans as veggies will steam vs roast.
Add your greens, a bit of olive oil, fresh squeezed lemon juice and salt to each bowl. Give your greens a little massage to soften them up. Set aside.
To your bed of greens, add desired amount of quinoa, roasted veggies, tofu and almonds. Finish it off with a generous drizzle of Lemon Olive Oil Vinaigrette.
Substitution ideas for the quinoa:
- Cauliflower rice (cook per packaging instructions)
- Rice, millet, buckwheat, or other gluten-free grains -- if these don't hurt your belly

Substitution ideas for the tofu:
- Grilled chicken
- Pan seared salmon
- Poached egg
- Fried egg
Recipe by
AmazingPaleo.com
at https://www.amazingpaleo.com/2020/03/14/gluten-free-quinoa-and-tofu-bowl/