Butternut Squash and Kale Plant Based Bowl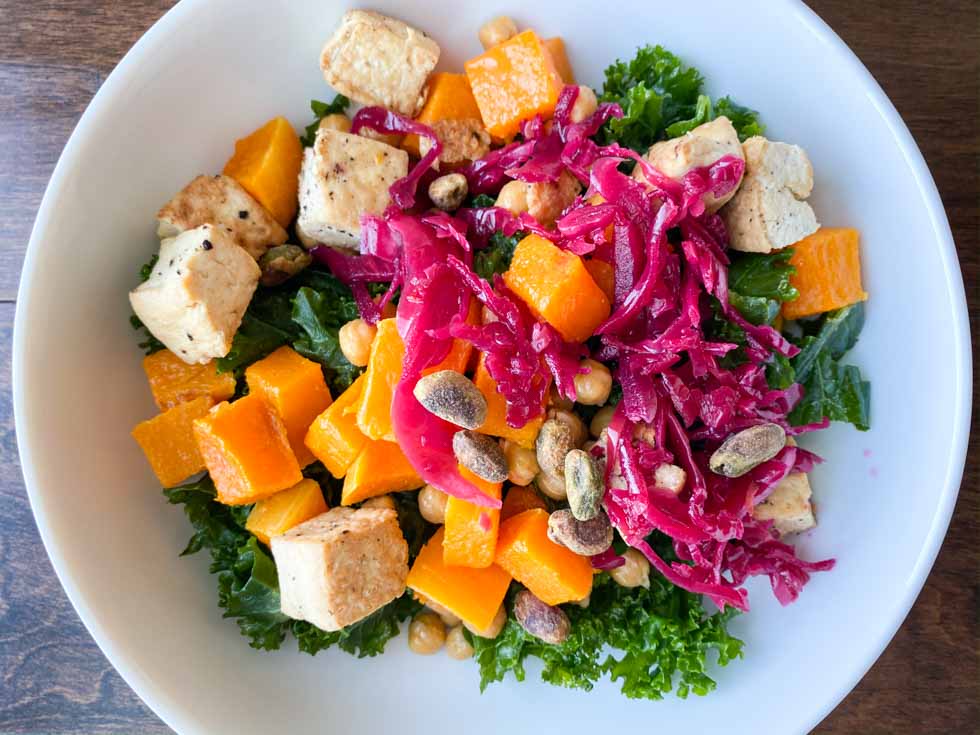 1 packet extra firm tofu (extra firm is key)
2 tbsp olive oil
Coarse Kosher salt, to taste
Freshly cracked black pepper, to taste
1 large butternut squash, peeled, seeded and cut into small cubes
1 can chickpeas, drained and well rinsed
3 tbsp olive oil
Coarse Kosher salt, to taste
Freshly cracked black pepper, to taste
6 cups kale
1 lemon, juice of
1 tbsp olive oil
Pinch of coarse Kosher salt
Beet sauerkraut, as desired
Roasted pistachios, as desired
Olive oil, as desired
Freshly squeezed lemon juice, as desired
Add olive oil, salt and pepper to butternut squash squares and chickpeas; roast them separately for 30-35 mins at 450 F. Check on your veggies after the 20 min mark, to move them around and to prevent them from burning. Take them out if you feel some veggies will burn if they stay longer.
TIP: do not overcrowd baking sheets/pans, to allow roasting (vs steaming).
Press tofu with tofu press for 20 mins. Cut into small squares and season with salt and pepper. Sauté each side for 5 mins in cast iron skillet with olive oil. Transfer skillet to oven, bake at 375 for 15 mins. Set aside.
Add your kale, a bit of olive oil, fresh squeezed lemon juice and salt to a bowl. Give your kale a little massage to soften it up. Set aside.
Divide the kale amongst 4 bowls. To each bowl of kale, add desired amounts of roasted butternut squash, chickpeas, tofu, beet sauerkraut and pistachios. If desired, top off with a drizzle of olive oil, freshly squeezed lemon juice, salt and pepper. Enjoy!
Leftovers: save each of the bowl components separately, for extra freshness and for each component to maintain its flavor. Leftovers last fresh for up to 4 days.
Recipe by
AmazingPaleo.com
at https://www.amazingpaleo.com/2020/03/26/butternut-squash-and-kale-plant-based-bowl/