Vegan Pasta with Chickpea & Tomato Sauce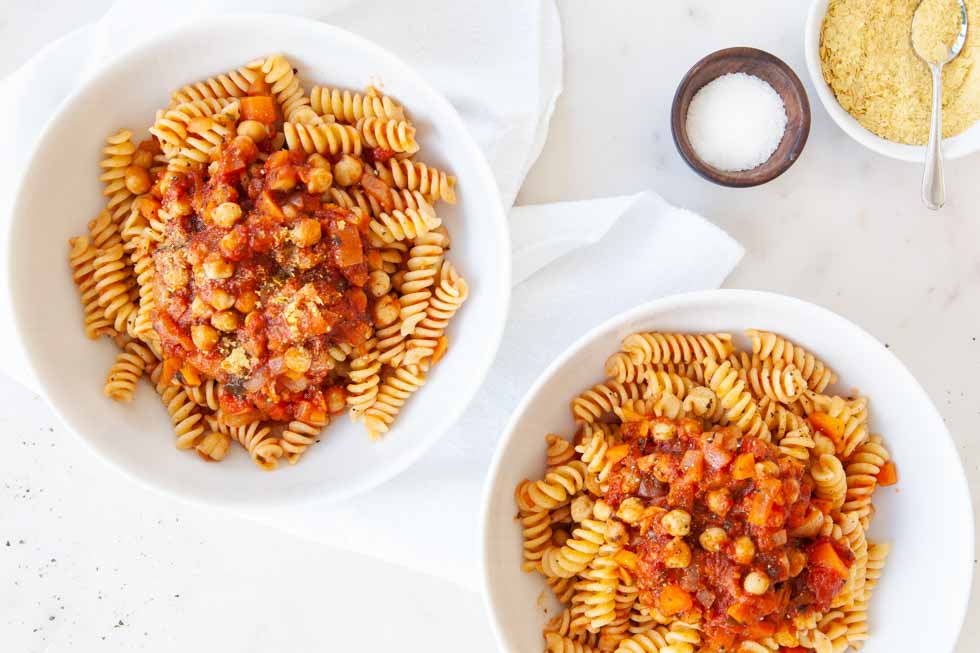 Set cast iron skillet over medium-high heat; once hot, add 2-3 tbsp olive oil. Add in carrots and onions, cook until soft and fragrant, stirring frequently to avoid burning. Add in garlic and salt, and cook until fragrant. Add in chickpeas and cook for another 2-3 minutes, stirring frequently. Add in tomato sauce, reduce heat to medium-low, stir and cook for another 5 minutes. Set aside.
Cook pasta al-dente, per packaging directions. Before draining, make sure you save about 2-3 cups of the water. Drain pasta and place pasta back into pot. Slowly add in a bit of your starchy water (water you saved prior to draining) and stir, so that pasta does not become dry nor sticky. Add in half ⅔ of the sauce and combine…add in starchy water as needed to make it nice and juicy.
Serve pasta, and top with remaining sauce. Sprinkle nutritional yeast generously on top and add freshly cracked pepper. Enjoy!
Refrigerate in tight lid container; stays fresh for about 4 days.
I enjoy eating it cold vs reheating it.
Recipe by
AmazingPaleo.com
at https://www.amazingpaleo.com/2020/03/31/vegan-pasta-with-chickpea-tomato-sauce/