Sweet Potato Mexican Salad Bowls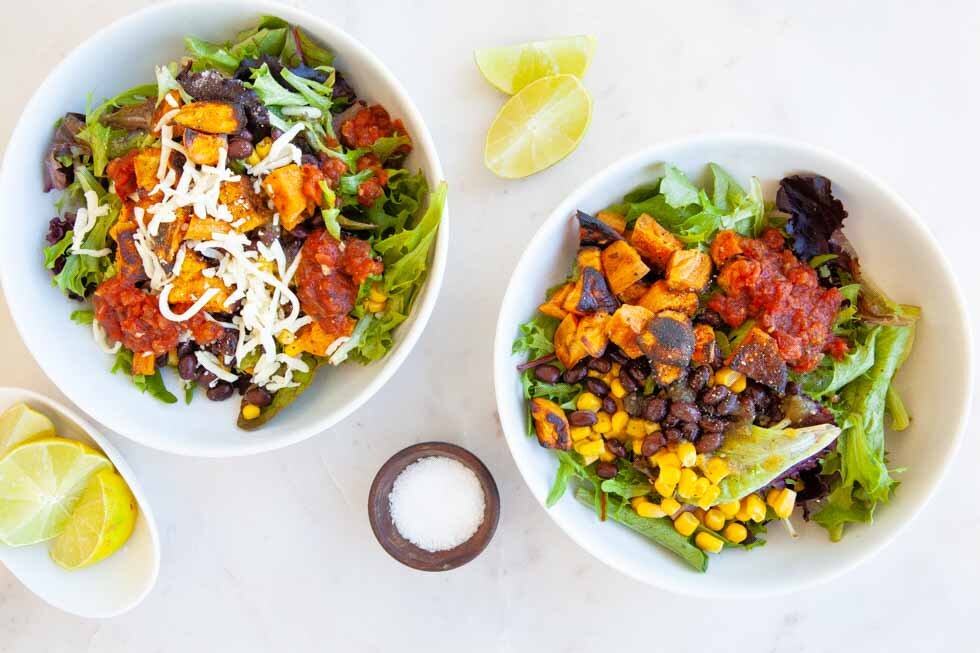 6 garlic cloves
1 lemon, juice of
⅓ cup olive oil
Salt & pepper, to taste
2 large sweet potatoes, peeled and cubed
2-3 tbsp olive oil
Salt & pepper, to taste
Preheat oven to 400 F.
Peel 8-10 garlic cloves and add them to a piece of foil. Drizzle some olive oil on them, and then fold the foil to create a little packet, so that the cloves are nice and protected in a pocket-like pouch. Roast garlic for about 15-20 mins. Let cool once done.
Add garlic and the remainder of the vinaigrette ingredients to a small bowl. Whisk well with a fork, cover and set aside for later use.
Preheat oven to 450 F.
To a large roasting pan, add sweet potato cubes, olive oil, and salt and pepper. Roast for 25-35 mins. Check on them after the 20 min mark, to move them around and to prevent them from burning. Take them out if you feel they will burn if they stay longer.
TIP: do not overcrowd baking sheets/pans as potatoes will steam vs roast.
Set out four large salad bowls, and add a nice bed of greens to each.
In no particular order, add the corn, beans, sweet potatoes and salsa.
Dress your bowls up with: a generous amount of Roasted Garlic Vinaigrette, a few squirts of green hot sauce and some salt and pepper to taste. Enjoy!
Customize these bowls per your preference. For example, you can chose to only use the vinaigrette and avoid adding the salsa and the hot sauce. You could also chose your preferred kind of bean (or avoid it completely). Possibilities are endless, but this is a great base template for you to start from.
Recipe by
AmazingPaleo.com
at https://www.amazingpaleo.com/2020/04/10/sweet-potato-mexican-salad-bowls/