Bacon Pesto Stuffed Burgers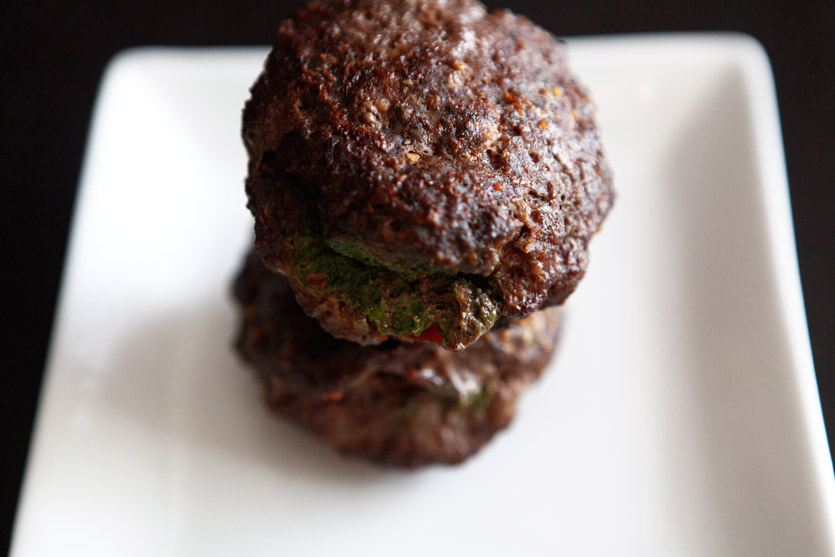 1 lb. organic ground beef
4 tablespoons of Paleo Pesto
5 strips of uncured bacon (cooked and diced)
1 tablespoon Montreal Steak spice
Cover your baking sheet with aluminum foil. Set aside.
Set broiler on high, arranging rack so that the patties will be about 2 inches from the heat.
Mix ground beef and Montreal Steak spice in a mixing bowl.
Make 8 wide and thin patties out of the ground beef mixture. Set them aside.
Place 4 patties on your baking dish (aligned in the center…see picture below).
Pour 1 tablespoon of pesto on the middle of each patty. Place bacon pieces on top of pesto (see picture below).
Top off with remaining 4 patties and pinch the meat around the edges to keep inside ingredients from coming out.
Place patties in oven and broil for 6 minutes.
Carefully flip each patty and broil for another 6 minutes, or until meat is well done.
Remove from oven and let cool off for a bit.
Tools You'll Need:
- Baking sheet
- Aluminum foil
- Spatula
- Measuring spoon
- Sharp knife
- Mixing bowl

I recommend topping each patty with a bit of Sriracha sauce…you know, to add some zing!
Serving size:
1 patty --
Calories:
366
Fat:
25 g.
Carbohydrates:
1 g.
Protein:
30 g.
Recipe by
Amazing Paleo - Healthy Paleo Diet Recipes
at https://www.amazingpaleo.com/2012/08/24/bacon-pesto-stuffed-burgers/