Paleo Chocolate n' Espresso Truffles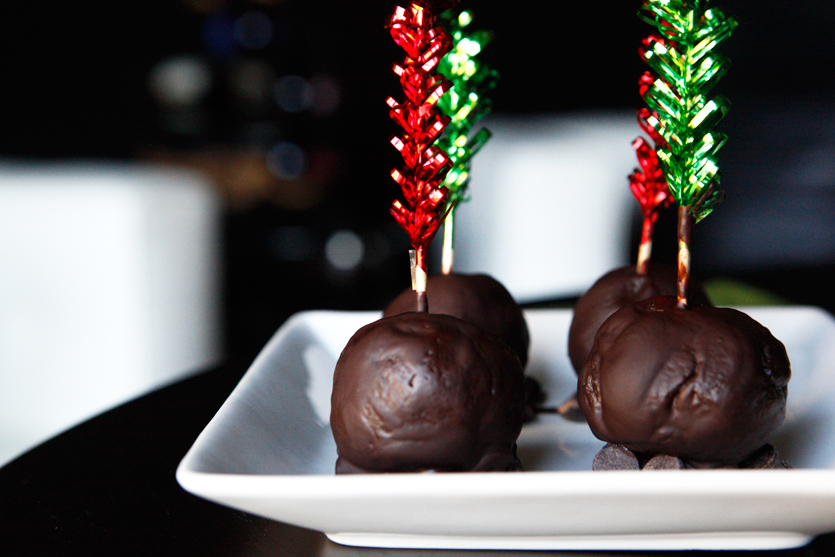 2 cups of sunflower seeds
14 medjool dates, pitted
6 tablespoons unsweetened dark chocolate powder
2 tablespoons RAW honey
1 tablespoon vanilla extract
1 tablespoon instant coffee
½ teaspoon cinnamon
¼ teaspoon sea salt
85%+ cacao chocolate bar, melted
½ cup unsweetened dark chocolate chips
2 tablespoons coconut oil, melted
Line your baking dish with parchment paper. Set aside.
We'll start by roasting our sunflower seeds
Place skillet under medium heat and add coconut oil; once coconut oil melts, add in sunflower seeds.
Using your wooden spoon, slowly and consistently stir sunflower seeds so they all get a chance to roast and get a perfect golden color (you can keep it at medium heat or reduce it to medium-low, just be sure your sunflower seeds don't burn).
Once seeds are golden, turn burner off and let seeds cool.
Now, we'll continue with our truffle mixture: Plug in your food processor and add in your roasted sunflower seeds. Process until sunflowers convert into a flour/meal like texture.
Add in dates to sunflower seed flour/meal, and process until both ingredients have mixed well.
Add instant coffee, vanilla extract, honey, sea salt, cinnamon and chocolate powder to the mix; process until you create a paste-like mixture (see picture below).
Place chocolate bar in a small bowl (see picture below) and melt it in the microwave. My chocolate bar took about 2-3 minutes to melt.
Place chocolate chips on small plate (see picture below) and have it ready for your "truffle-making process-line" (see picture below).
Grab a handful of your truffle mixture and create a small truffle-looking ball.
Dip your truffle in melted chocolate (make sure its covered completely).
Grab a toothpick, pick chocolate covered truffle with it and dip it in chocolate chips (chocolate chips should stick to truffle's bottom).
Place truffle in parchment paper; be sure to position it in a way that truffle doesn't tilt to its sides (what I did to avoid tilting of truffle: placed chocolate chips around truffle to create a little wall, so that truffle stays put and protected).
Repeat steps 11-14 until truffle mixture is gone.
Place baking sheet in your refrigerator and let truffles cool for about 2-3 hours before eating.
Tools You'll Need:
- Food processor
- Skillet
- Wooden spoon
- Baking sheet
- Parchment paper
- Measuring spoons
- Measuring cups
- Holiday/festive toothpicks
- Small bowl and plate

Note 1: Slightly modified from PaleOMG.com
Note 2: I made these for a dinner party and prepared them 2 days in advance; they were perfectly fresh and plenty cold/hardened!
Serving size:
1 truffle --
Calories:
229
Fat:
14 g.
Carbohydrates:
25 g.
Protein:
5 g.
Recipe by
Amazing Paleo - Healthy Paleo Diet Recipes
at https://www.amazingpaleo.com/2012/11/11/paleo-chocolate-n-espresso-truffles/