Paleo Chocolate n' Espresso Truffles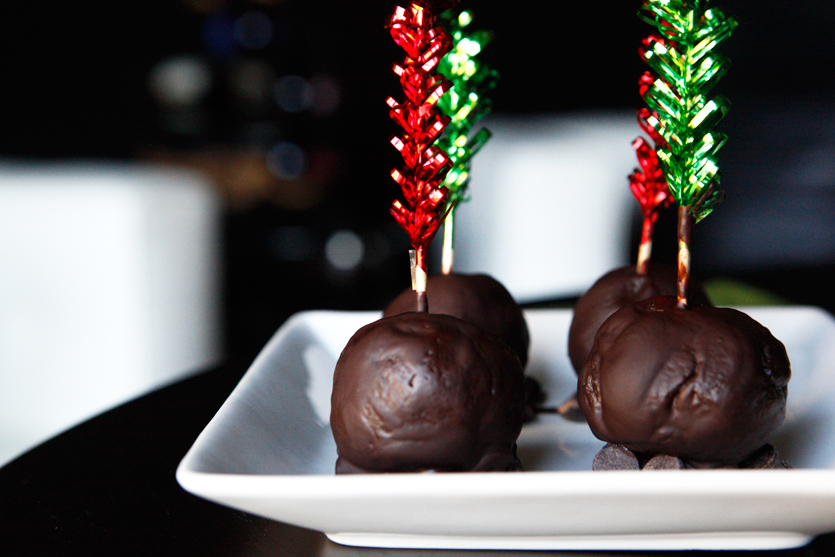 2 cups of sunflower seeds
14 medjool dates, pitted
6 tbsp cacao powder
2 tbsp RAW honey
1 tbsp vanilla extract
1 tbsp instant coffee
½ tsp cinnamon
¼ tsp sea salt
85%+ cacao chocolate bar, melted
½ cup unsweetened dark chocolate chips
2 tbsp melted coconut oil
Line a baking sheet with parchment paper and set aside.
Place a skillet over medium heat and melt coconut oil; add in sunflower seeds and use a wooden spoon to slowly and consistently stir them, so they reach a golden brown color (reduce heat to low if need be, just be sure sunflower seeds don't burn). Once seeds are golden, turn burner off and let seeds coo completely.
Add sunflower seeds to a food processor, and process until a flour-like texture is reached. Add in dates, and process until both ingredients have mixed well. Add in instant coffee, vanilla extract, honey, sea salt, cinnamon and chocolate powder, and process until a paste-like mixture is reached. Set aside.
Add the chocolate bar to a small microwavable bowl and melt it in the microwave, and set aside.
Add chocolate chips to a flat plate and set aside.
Form the truffles: grab a handful of the truffle mixture and create a small truffle-looking ball; dip the truffle in melted chocolate, making sure its coated completely; pick chocolate covered truffle with a toothpick and dip it in the plate with the chocolate chips, so that a few chips stick to the truffle's bottom as their base; place truffle on lined baking sheet making sure truffle doesn't tilt to its sides (if needed, place chocolate chips around the truffle to create support). Repeat this step until mixture is used up.
Refrigerate baking sheet and let truffles cool for 2-3 hours before enjoying.
Tools You'll Need:
- Food processor
- Skillet
- Wooden spoon
- Baking sheet
- Parchment paper
- Measuring spoons
- Measuring cups
- Holiday/festive toothpicks
- Small bowl and plate

Note 1: Slightly modified from PaleOMG.com
Note 2: I made these for a dinner party and prepared them 2 days in advance; they were perfectly fresh and plenty cold/hardened!
Serving size:
1 truffle --
Calories:
229
Fat:
14 g.
Carbohydrates:
25 g.
Protein:
5 g.
Recipe by
AmazingPaleo.com
at https://www.amazingpaleo.com/paleo-chocolate-n-espresso-truffles/