7 Paleo Thanksgiving Recipes (7 of 7) - Brussels Sprouts & Sweet Cherries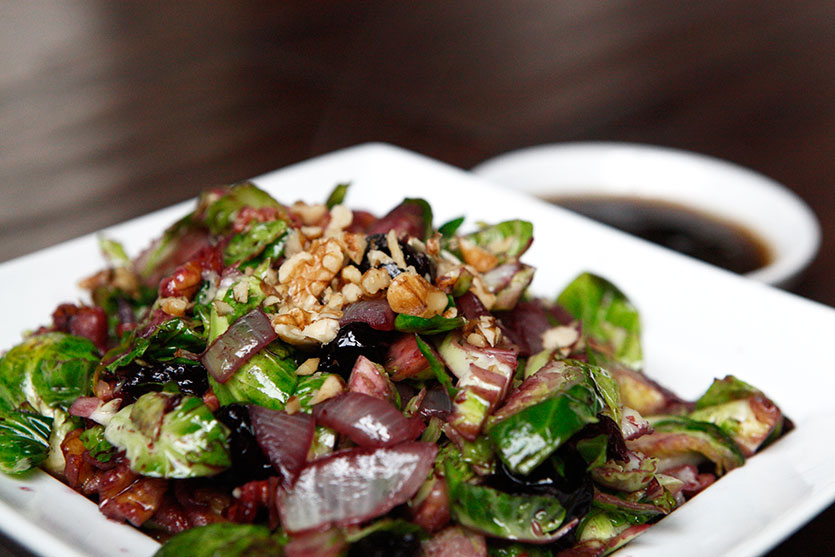 1 lb brussels sprouts, halved and cut into strips
½ cup yellow onion, diced
3 tbsp coconut oil
½ cup walnuts, chopped
½ cup sweet cherries, chopped
3 tbsp honey
2 tbsp balsamic vinegar
2 tbsp extra virgin olive oil
Sea salt and pepper to taste
Prepare dressing. Melt honey in a small sauce pan, and remove from heat. Whisk in vinegar and olive oil, set aside.
Place skillet over medium heat, and sauté onions with coconut oil until caramelized. Add in brussels sprouts and cook until tender. Toss in walnuts and cherries, and cook for another 2 minutes. Remove from heat.
Pour dressing over brussels sprouts, and season with salt and pepper to taste.
Tools You'll Need:
- Medium Skillet
- Small saucepan

I loved eating this salad cold. Don't ask me why, but it tasted extra delicious to me!
Serving size:
1 serving --
Calories:
165
Fat:
11.6 g.
Carbohydrates:
14 g.
Protein:
3 g.
Recipe by
AmazingPaleo.com
at https://www.amazingpaleo.com/7-paleo-thanksgiving-recipes-7-of-7-brussels-sprouts-sweet-cherries/