Blueberry Brownies with Very Berry Sauce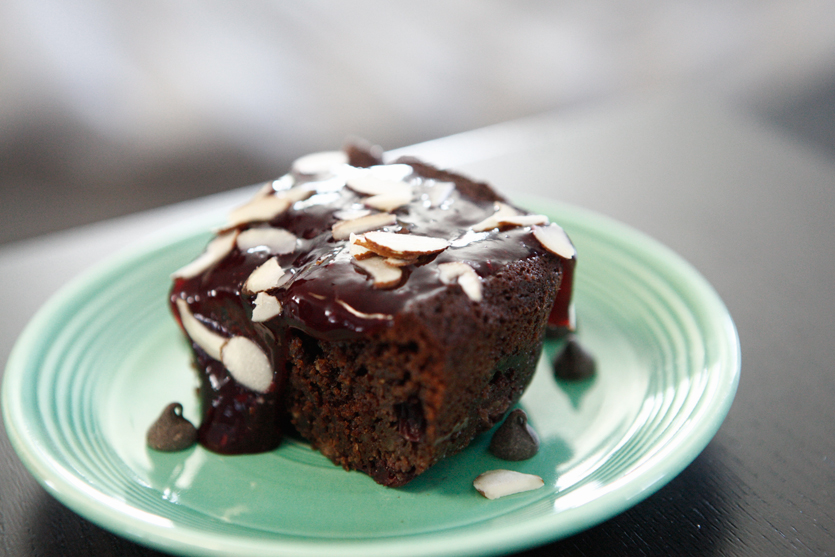 2 cups of almond butter
1 cup honey or maple syrup
1 ripe banana, mashed
2 eggs
½ tbsp vanilla extract
½ cup cacao powder
1 tsp baking soda
¼ tsp sea salt
¾ cups organic blueberries
1 cup dark chocolate chips
Coconut oil spray
2 cups of mixed berries (strawberries, blueberries and raspberries)
3 tbsp honey
¼ cup purified water
1 tbsp triple sec + 1 tbsp purified water (if you don't want to use liquor, replace with 2 tbsp of fresh orange juice & omit the water)
Make the brownies: preheat oven to 325 F. Grease a 9"x13" baking dish with coconut oil and set aside. Add almond butter, mashed banana, eggs, honey and vanilla extract to a standing mixer's bowl, and mix in medium medium speed for ~2 minutes. Add in baking soda, salt and cacao powder, fold in with a spatula first, and then mix in standing mixer until incorporated. Fold in blueberries and chocolate chips. Transfer batter to the greased baking pan, and bake for 40-45 minutes. Check on the brownies at min 40, if they pass the toothpick test, remove from the oven, let cool and chill overnight.
Prepare the very berry sauce: add berries, water and honey to a saucepan and bring to a boil. Once it boils, reduce temperature and let simmer for ~5 minutes, stirring often. Pour mixture through a strainer into a bowl; use a spatula to press on the berries to get as much of the sauce through. Whisk in triple sec and purified water. Set aside and let cool.
Top brownies with sauce, sprinkle slivered almonds, slice and serve.
Tools You'll Need for the Blueberry Brownies:
- 9X13" baking pan
- Sealing wrap (I used Glad's Press n' Seal)
- Stand up mixer
- Measuring cups
- Measuring spoons
- Spatula

Tools You'll Need for the Blueberry Brownies:
- Small sauce pan
- Spoon
- Whisk
- Strainer
- Medium sized bowl

For a thicker sauce, add 1 tablespoon of coconut flour to the berry mixture (warning: gets a bit grainy, not as smooth)
Serving size:
1 serving
Calories:
430
Fat:
28 g.
Carbohydrates:
44 g.
Protein:
9 g.
Recipe by
AmazingPaleo.com
at https://www.amazingpaleo.com/blueberry-brownies-with-very-berry-sauce/