Strawberry Coconut Blondies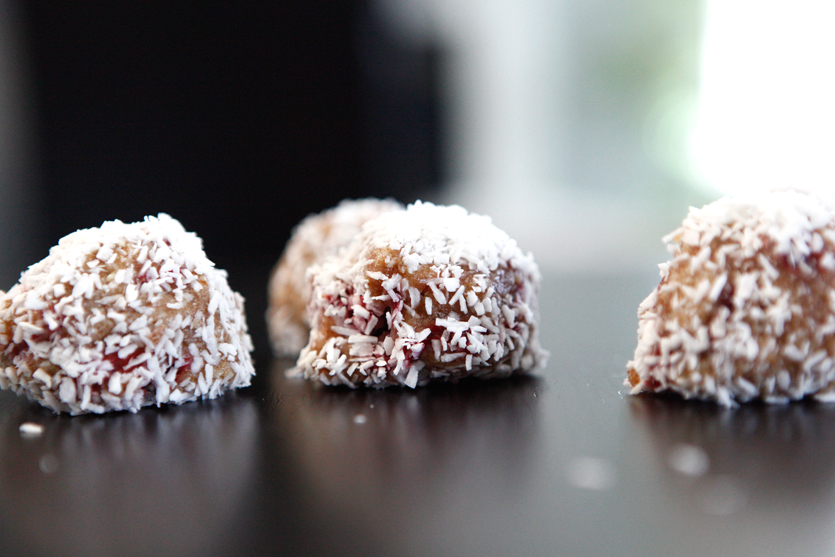 1 cup walnuts
¾ cup roasted macadamia nuts (slightly salted or unsalted, your choice)
5 dates, pitted
½ cup strawberries, diced
3 tablespoons coconut oil, melted
Unsweetened shredded coconut (to coat blondies)
Line baking sheet with parchment paper. Set aside.
Place shredded coconut in your small bowl. Set aside.
Add dates to your food processor and process until mushy.
Add nuts to your food processor and process (along with mushy dates) until nuts become fine.
Slowly add coconut oil to your mixture (keep food processor running). Stop processing once the coconut oil has mixed in well.
Place nutty mixture in your mixing bowl and add in strawberries (use your hands to mix strawberries in well).
Take small amounts of the mixture and form small balls using your hands. Repeat until all mixture has been used (should yield 10 balls).
Grab each ball and dump it in the shredded coconut bowl. Make sure the ball is covered with coconut and then place it back on the baking sheet. Repeat until all balls have been covered in coconut.
Place baking sheet in refrigerator for 2+ hours.
Share them with your family and enjoy every bite!
Tools You'll Need:
- Baking sheet
- Parchment paper
- Food Processor
- Mixing bowl
- Small bowl (a cereal bowl works great!)
- Measuring cups
- Measuring spoons

Keep refrigerated at all times.
Serving size:
1 ball --
Calories:
235
Fat:
21 g.
Carbohydrates:
13 g.
Protein:
3 g.
Recipe by
Amazing Paleo - Healthy Paleo Diet Recipes
at https://www.amazingpaleo.com/2013/03/30/strawberry-coconut-blondies/