Chocolate Date Granola Bar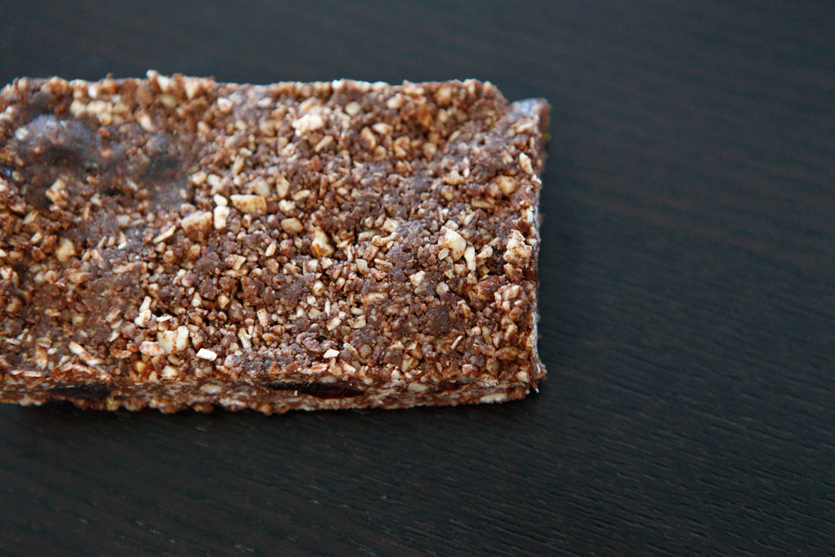 1 cup roasted almonds
½ cup roasted macadamia nuts
½ cup unsweetened shredded coconut
5 tbsp unsweetened cocoa powder
¼ cup dried cherries
6 dates, pitted and diced
2 tbsp honey
4 tbsp melted coconut oil
¼ tsp sea salt
Preheat oven to 300 F.
Place parchment paper on a baking dish and set aside.
Add almonds and macadamia nuts to food processor and process until chopped. Add in cacao powder and salt, and pulse a few times until incorporated. Transfer to a large bowl and mix in shredded coconut, dates and cherries.
Add honey and coconut oil to a saucepan over medium heat, bring to a boil and cook for about 15 seconds after it bubbles. Pour into dry ingredient mixture and combine. Transfer to the lined baking sheet, and using another parchment paper square, push down to settle it tight. Do not bake with the top parchment paper (toss it out). Bake for 10-15 minutes.
Let cool and refrigerate overnight for it to settle. Cut 4 lines horizontally and 1 line vertically, so it yields 10 pieces - these bars are a bit more crumby that the regular granola bar, so be gentle when slicing.
Tools You'll Need:
- Food processor
- 8x8" baking dish
- 2 square pieces of parchment paper (each piece big enough to cover the bottom & sides of your baking dish)
- Small saucepan
- Mixing bowl
Spatula
Measuring cups
Measuring spoons
Serving size:
1 bar --
Calories:
320
Fat:
26 g.
Carbohydrates:
24 g.
Protein:
5 g.
Recipe by
AmazingPaleo.com
at https://www.amazingpaleo.com/chocolate-date-granola-bar/