Ecuadorian Shrimp Ceviche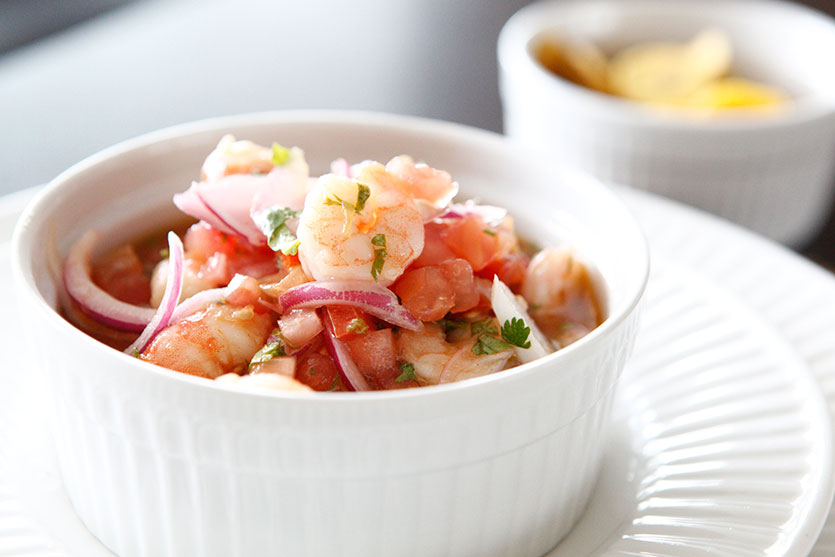 2 lbs small shrimp, cooked
Juice of 15 limes
Juice of 1 orange
2 purple onions, very finely sliced (use mandolin if available)
3 large tomatoes, finely diced
1 bunch of cilantro, finely chopped
½ cup extra virgin olive oil
½ cup ketchup (if strict Paleo, avoid this ingredient)
1 tsp mustard
1 tbsp sea salt
Prep all ingredients ahead of time.
Place your sliced onions in a bowl and rinse with cold water. Once rinsed, add water and a pinch of sea salt to the bowl with the onions and let it sit for 5-10 minutes.
Using your strainer, drain onions and place onions back into your bowl; add about 1 tablespoon of olive oil to your onions and set them aside.
In a big bowl, combine lime juice, orange juice and diced tomatoes.
Add in shrimp to your lime/orange juice and tomatoes; mix well.
Add in onions to your lime/orange juice, tomatoes and shrimp; mix well.
In a separate bowl, combine ketchup, mustard, olive oil and sea salt. Once mixed, add it in to your lime/orange juice, tomatoes, shrimp and onion bowl. Mix it in.
Last but not least, add your chopped cilantro to the bowl.
Cover with lid or tin foil and place in refrigerator. Let refrigerate for at least 4 hours before serving, so that your ceviche is nice and cold!
Serve it in a dessert type bowl, add plantain chips (and popcorn, if you're not Paleo) and enjoy this incredibly refreshing appetizer. You will FALL IN LOVE.
Tools You'll Need:
- Mixing bowls (x2)
- Measuring cups
- Measuring spoons
- Citrus squeezer
- Strainer
- Sharp knife
- Cutting board
Serving size:
1 serving --
Calories:
520
Fat:
18 g.
Carbohydrates:
18 g.
Protein:
73 g.
Recipe by
AmazingPaleo.com
at https://www.amazingpaleo.com/ecuadorian-shrimp-ceviche/