Chocolate Chip Zucchini Paleo Bread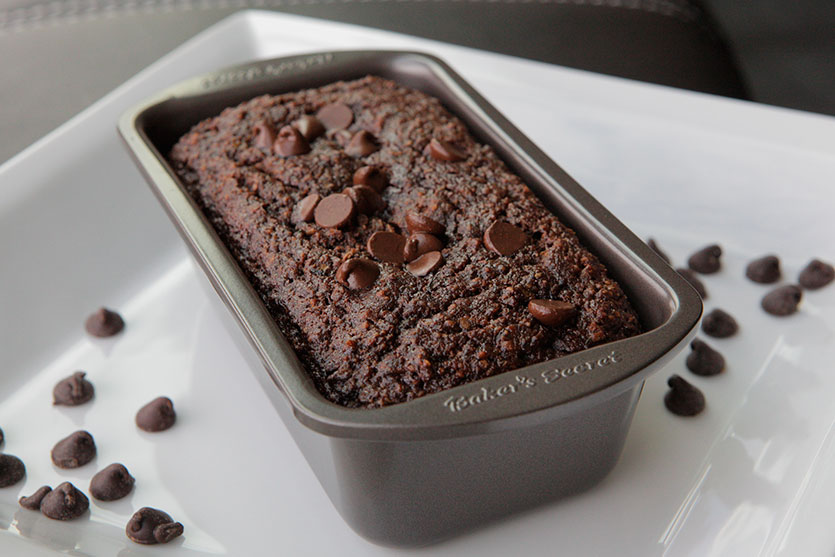 Serves:
2 mini breads (6 slices per mini bread)
2 cups almond flour
¼ cup cacao powder
¼ tsp sea salt
½ tsp baking soda
1 medium zucchini, grated
⅓ cup honey
2 tbsp unsweetened almond milk
¼ tsp vanilla extract
3 eggs
2 tbsp melted coconut oil
¼ cup dark chocolate chips, to garnish
Preheat oven to 350 F.
Mix almond flour, cacao powder, sea salt and baking soda in a large bowl, and set aside.
Whisk eggs, honey, almond milk, vanilla extract and coconut oil in a separate bowl, and pour over dry ingredients. Combine until no lumps remain, and fold in zucchini.
Divide mixture evenly between the two bread pans, and sprinkle ⅛ cup of chocolate chips on top of each. Bake for 40-60 minutes, or until a toothpick comes out clean when inserted.​​
Let cool completely and refrigerate for 2+ hours, as this yields for better slicing.​
Tools You'll Need:
- 2 mini bread pans
- Mixing bowl
- Spatula
- Measuring cups
- Measuring spoons
- Whisk
- Toothpick

Note: I personally like to refrigerate my bread overnight and enjoy the next day, as mixture has solidified and bread stays put when sliced.
Serving size:
1 slice --
Calories:
165
Fat:
11 g.
Carbohydrates:
14 g.
Protein:
5 g.
Recipe by
AmazingPaleo.com
at https://www.amazingpaleo.com/2013/10/03/chocolate-chip-zucchini-paleo-bread/