Paleo Banana Bread with Blueberries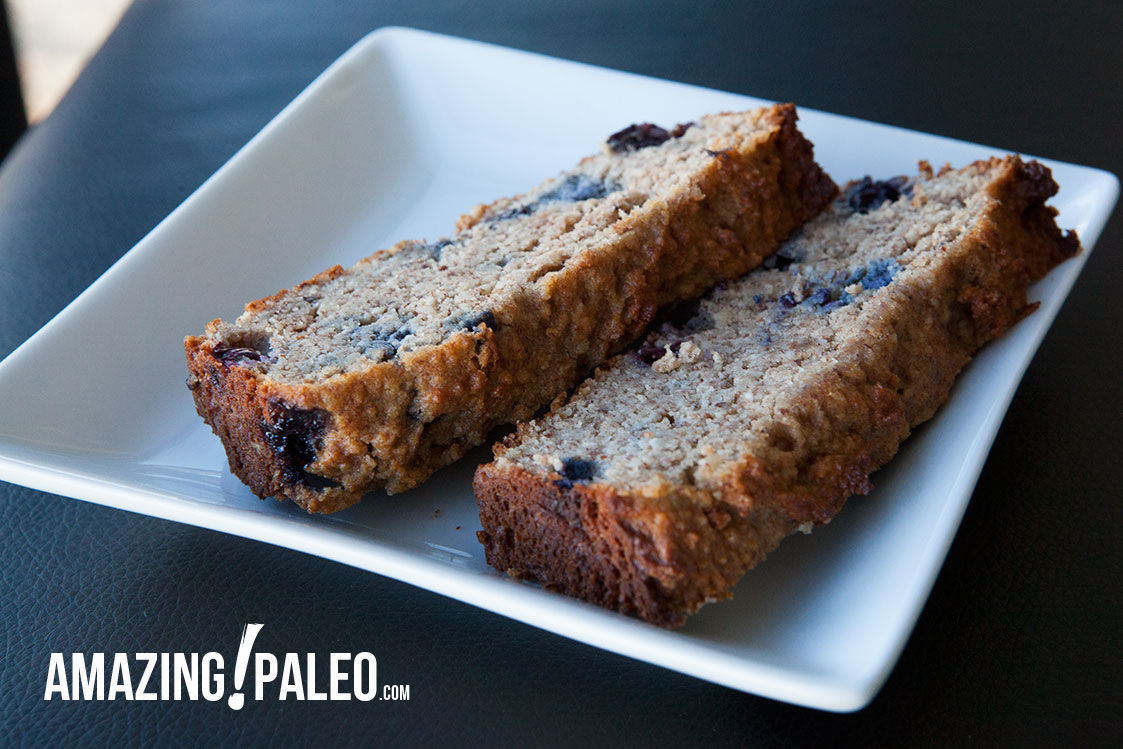 2 cups of almonds
1 ½ tbsp avocado oil
1 cup almond flour
2 ripe bananas (with a few spots, but not all the way brown)
2 eggs
1 tbsp honey
1 tsp baking soda
1 tsp baking powder
1 tsp vanilla extract
1 tsp cinnamon
¼ tsp sea salt
1 cup fresh blueberries
Coconut oil (to grease pan)
Preheat oven to 375 degrees.
Grease loaf pan with coconut oil and set aside.
Grab a mixing bowl and combine dry ingredients (almond flour, baking soda, baking powder, cinnamon and sea salt).
Place almonds in food processor and start processing.
Add in avocado oil as nuts are being processed.
Once oil and nuts are mixed in, stop processing and add in bananas. Start processing again until well combined.
Add in eggs, honey and vanilla extract to your banana/nut mixture and process until well incorporated.
Using a spatula, mix both wet and dry mixtures together.
Fold in blueberries.
Pour mixture into your bread pan. Bake for 30 minutes.
Once bread is done, let it cool for 20 minutes and refrigerate your loaf.
Once loaf has been refrigerated for a few hours (helps to keep it together better when you slice), grab your bread knife and cut into 8 slices. Enjoy!
Tools you'll need:
- Measuring cups
- Measuring spoons
- Mixing bowl
- Food processor
- Spatula
- Loaf pan (8.5 x 4.5 x 2.75 in)
- Bread knife
Serving size:
1 slice --
Calories:
299
Fat:
22 g.
Carbohydrates:
17 g.
Protein:
10 g.
Recipe by
Amazing Paleo - Healthy Paleo Diet Recipes
at https://www.amazingpaleo.com/2013/11/24/paleo-banana-bread-blueberries/