Paleo Triple Chocolate Muffins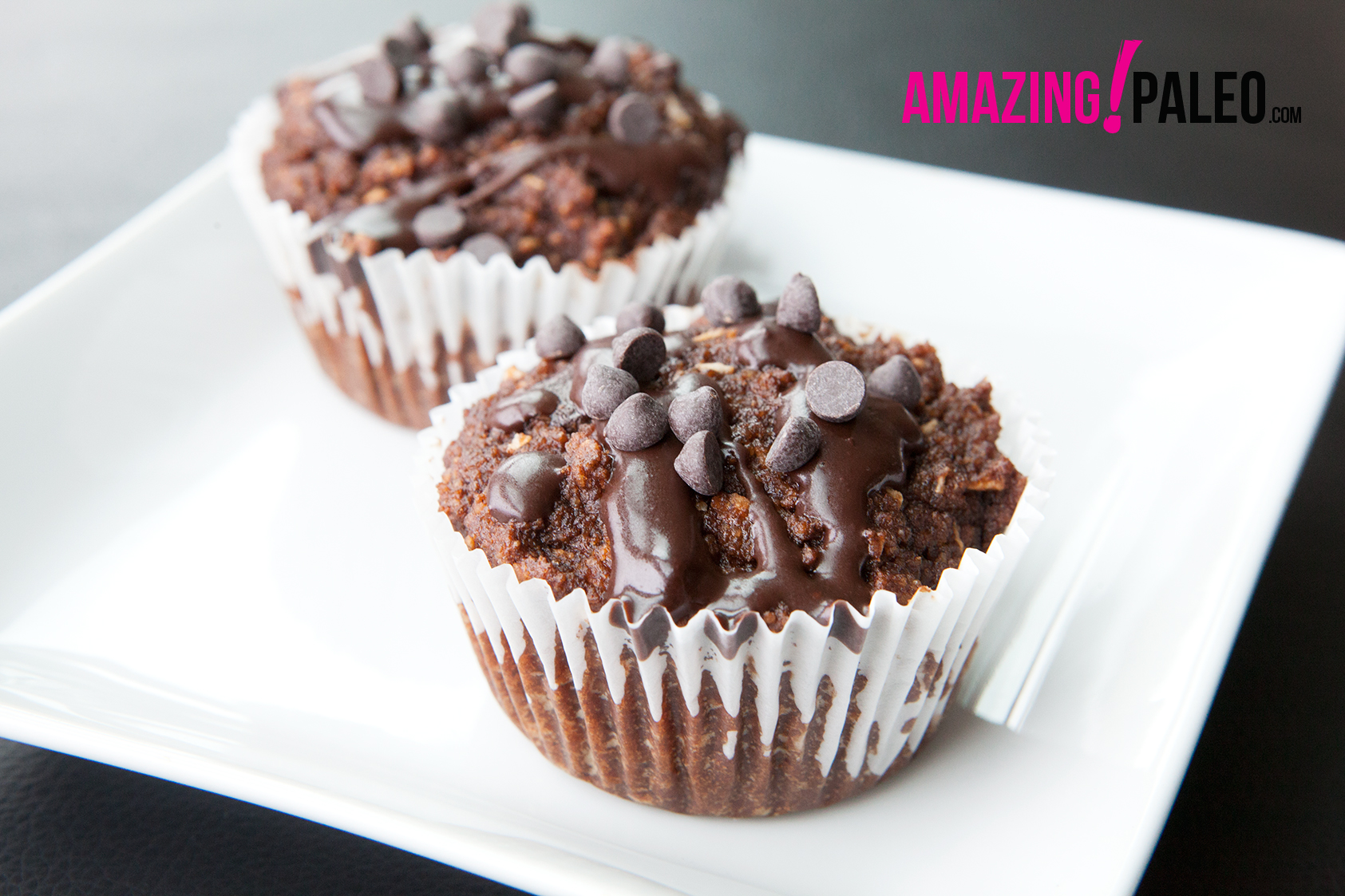 3 cups almond flour
2 tablespoons of coconut flour
1 teaspoon of baking soda
½ teaspoon of sea salt
1 teaspoon of cinnamon
½ cup of shredded coconut
3 tablespoons of unsweetened cocoa powder
4 eggs (including yolks)
½ cup of coconut milk (canned)
2 teaspoons of vanilla extract
4 tablespoons of maple syrup
¼ cup of cacao nibs
¼ cup carob chips (divided)
½ - 1 tablespoon of unsweetened almond milk
Preheat oven to 350 degrees.
Place muffin liners in muffin pan. Set aside.
Combine dry ingredients (almond flour, coconut flour, baking soda, sea salt, cinnamon, shredded coconut and cacao powder) in a bowl. Set aside.
Combine wet ingredients (eggs, coconut milk and maple syrup) in a separate bowl. Set aside.
Pour wet ingredient mixture into dry ingredient mixture and combine well.
Fold in cacao nibs to muffin mixture.
Add muffin mixture to muffin liners; divide mixture evenly between the 12 muffin liners.
Bake for 40-45 minutes.
Once muffins have been baked, let them cool for an hour.
Melt ⅛ cup of carob chips (along with a ½ -1 tablespoon of almond milk), and using a small spoon drizzle it over your muffins. Sprinkle the other ⅛ cup of carob chips right on top!
Eat and be Paleo-merry!
Tools You'll Need:

- Measuring cups
- Measuring spoons
- Mixing bowls
- Spatula
- Muffin pan
- Muffin liners (x12)
- Small microwavable bowl
- Small spoon
Serving size:
1 muffin --
Calories:
249
Fat:
19 g.
Carbohydrates:
13 g.
Protein:
9 g.
Recipe by
AmazingPaleo.com
at https://www.amazingpaleo.com/paleo-triple-chocolate-muffins/