Nut-Free Chocolate Birthday Cake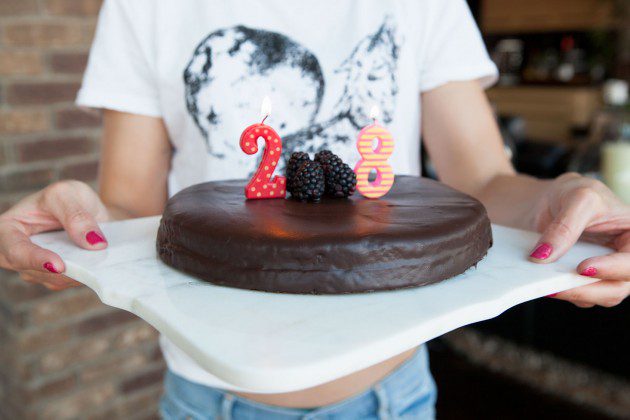 1 cup coconut flour
½ cup cocoa powder
2 tbsp arrowroot powder
1½ tsp baking soda
½ tsp sea salt
1 cup full fat canned coconut milk
1 cup maple syrup
6 eggs
½ cup ghee
2 tsp apple cider vinegar
2 tsp vanilla extract
1 cup organic apricot jam
1 cup dairy free chocolate chips
⅓ cup maple syrup
1 tbsp cointreau (orange liquor)
2 tbsp filtered water
Preheat oven to 325 F. Grease two 9" cake pans with coconut oil, and line them with cut out circles of parchment paper; set aside.
Melt the ghee over low heat in a small saucepan; set aside and allow it to cool slightly. In a large bowl, whisk together the coconut flour, arrowroot powder, cacao powder and salt; set aside.
Separate the yolks from the egg whites. Place the egg whites in the bowl of a standing mixer. Place the yolks in a bowl along with the maple syrup, coconut milk, vanilla extract, apple cider vinegar and melted ghee; whisk to combine and pour over the bowl with the dry ingredients; combine until no lumps remain.
Use the whisk attachment of a standing mixer, and whisk the egg whites until light peaks are formed. Then, stir in the baking soda to the cake batter, and immediately fold in one third of the beaten egg whites to fluff up the batter. Fold in the reminding egg whites until few streaks of egg whites remain visible.
Divide mixture into the two lined cake pans and bake for 40 minutes. Once baked, allow cakes to cool completely.
Once cakes have completely cooled, transfer one of the cakes to a cake serving platter and spread ½ cup of the apricot jam evenly on top. Carefully top with the other cake, and set aside.
Add the remaining ½ cup apricot jam to a small saucepan and heat it up over medium heat until it slightly simmers. Once it liquifies, pour-it into a small bowl over a fine mesh sieve. Immediately, pour the apricot glaze over the top layer of the cake. Use a spoon to spread the glaze into a thin layer. Let it cool for about 10 minutes.
Place chocolate chips in a heatproof bowl. Then, bring maple syrup, orange liquor and water to a boil in a small sauce pan; let it boil for a minute or two, and immediately pour it over the bowl with the chocolate chips. Use a spoon and mix the chocolate until smooth and creamy.
Pour chocolate over the cake starting at the center, and use a spatula to work the chocolate evenly until the entire cake surface is covered. Allow it to cool in the refrigerator, slice it and serve with a side of Paleo ice cream.
Serving size:
1 slice --
Calories:
326
Fat:
15 g.
Carbohydrates:
49 g.
Protein:
5 g.
Recipe by
AmazingPaleo.com
at https://www.amazingpaleo.com/nut-free-chocolate-birthday-cake/