How To: Make Homemade Cashew Milk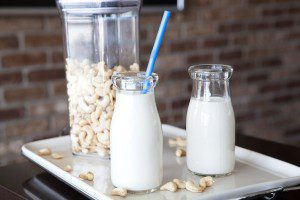 1 cup raw cashews
4 cups filtered water
Place cashews in jar and add water, so that water covers cashews completely. Set aside and let soak overnight (8+ hours).
Rinse cashews, add them to high-speed blender (important to use high-speed blender, so that cashews completely disintegrate), and also add 4 cups of filtered water. Blend on high for about 5 minutes.
Use right away or refrigerate in jar with lid for up to 3 days.
Tools You'll Need:
- Jar (to soak cashews in)
- Measuring cups
- High speed blender (I used Vitamix)
- Large mason jar with lid
Serving size:
½ cup --
Calories:
157
Fat:
12 g.
Carbohydrates:
9 g.
Protein:
5 g.
Recipe by
AmazingPaleo.com
at https://www.amazingpaleo.com/2015/09/02/how-to-make-homemade-cashew-milk/