Crispy Purple Sweet Potatoes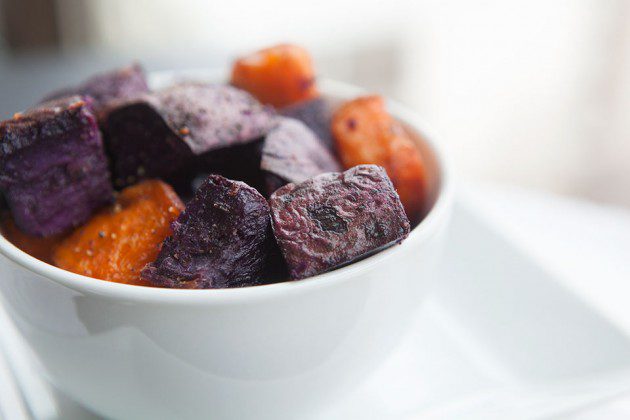 3 large sweet potatoes, 2 purple and 1 jewel
⅓ cup coconut oil, melted + 2 tbsp coconut oil
2 tbsp sea salt, divided
1 tsp black pepper
Preheat oven to 450 F.
Grease two baking dishes with 1 tbsp coconut oil each. Set aside.
Cut potatoes into 1" cubes and place them in a large pot. Add enough cold water to cover potatoes by 1"; add 1 ½ tbsp of salt. Bring to a boil and let simmer for 8 minutes.
Drain water completely. Distribute potatoes evenly between the baking dishes, making sure there's no overlapping.
Drizzle melted coconut oil over potatoes and gently toss to coat. Sprinkle remaining sea salt and pepper, and bake for 50 minutes, tossing half way to prevent burning.
Allow potatoes to cool a bit before serving. Enjoy by themselves or with favorite condiment.
Tools You'll Need:
- Large pot
- Two 9x13 baking dishes
- Large wooden/plastic spoon
- Cutting board
- Sharp knife
- Measuring spoons
- Snack size zip lock bag

Note: whenever I have leftover potatoes, I refrigerate them for later consumption. I love to add them cold to my salads! So noms.
Serving size:
1 serving --
Calories:
185
Fat:
12 g.
Carbohydrates:
19 g.
Protein:
2 g.
Recipe by
AmazingPaleo.com
at https://www.amazingpaleo.com/2016/01/12/crispy-purple-sweet-potatoes/