Paleo Thai Chicken Pad See Ew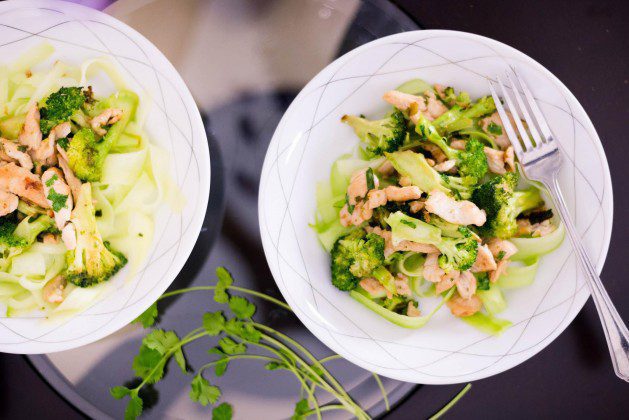 1 chicken breast (0.5 lb. or 250 g), cut into small, thin pieces
¼ cup (0.6 oz. or 17 g) green onion, diced (scallions)
1 cup (4 oz. or 115 g) broccoli florets, broken into small florets
1 teaspoon freshly grated ginger
1 tablespoon (15 ml) tamari sauce (use coconut aminos for AIP)
2 garlic cloves, minced
1 tablespoon cilantro, finely chopped
1 tablespoon (15 ml) coconut oil to cook in
1 cucumber, peeled into long noodles using a potato peeler
Salt to taste
Add 1 Tablespoon of coconut oil into a large sauté pan, and sauté the chicken breast and green onions in it.
Add in the broccoli, ginger, and tamari sauce. Place a lid over the pan and let the broccoli cook on medium heat until it's tender to your liking (approx. 5-10 minutes). Stir regularly.
Meanwhile, peel the cucumber and then create the cucumber noodles by using a potato peeler to peel the cucumber into long, wide strands. Divide the cucumber noodles between two plates.
Add to the sauté pan the minced garlic, cilantro, and salt to taste. Serve on top of the cucumber noodles.
Serving size:
1 serving --
Calories:
154
Fat:
8 g.
Carbohydrates:
11 g.
Protein:
11 g.
Recipe by
AmazingPaleo.com
at https://www.amazingpaleo.com/2016/01/16/paleo-thai-chicken-pad-see-ew/