Winter Chicken Salad with Apple Cider Vinaigrette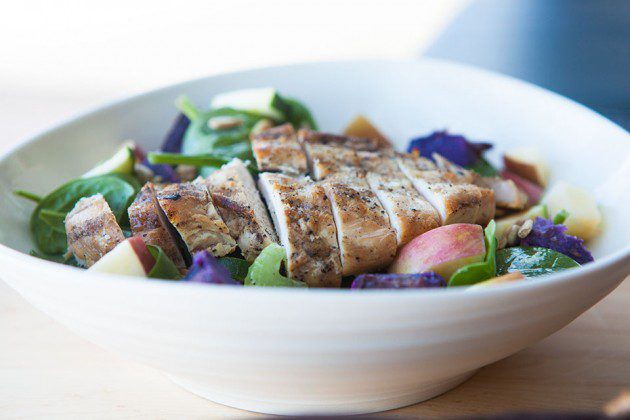 2 cups baby spinach
½ apple
½ avocado
¼ cup celery, thinly sliced
1 tablespoon roasted and unsalted sunflower seeds
4 tbsp avocado oil
2 tbsp apple cider vinegar
Juice of ½ lemon
2 tbsp honey
Pinch of sea salt
Pinch of black pepper
2 organic chicken breasts
2 tbsp grape seed oil
1 tsp sea salt
½​ tsp black pepper
1 large purple sweet potato
2 tbsp coconut oil, melted
½ tsp​ sea salt, divided
¼​ tsp black pepper
Grill the chicken: coat chicken with oil, salt and pepper, and grill on medium-high for about 20 minutes (or until no longer pink), flipping them half way. Remove from grill, let them rest and slice them into strips.
Bake the potatoes: Preheat oven to 450 F. Cut potatoes into 1" cubes and place them in a large pot; add enough cold water to cover potatoes by 1", add ½ tsp of salt, bring to a boil and let simmer for 8 minutes. Drain water completely. Distribute potatoes in a baking dish, drizzle melted coconut oil, sprinkle sea salt and pepper, and gently fold to coat. Bake for 40 minutes, moving them around half way to avoid burning. Remove from oven.
Make vinaigrette: add vinaigrette ingredients to a bowl and whisk vigorously to emulsify.
Assemble salad: add spinach to a salad bowl, drizzle vinaigrette, and toss to coat. Top with apples, avocado, sweet potatoes, celery, sunflower seeds, and sliced grilled chicken. Serve right away.
Tools You'll Need:
- Salad bowl
- Cutting board
- Sharp knife
- Tongs
- Small bowl
- Measuring cups
- Measuring spoons
Serving size:
1 serving --
Calories:
718
Fat:
44 g.
Carbohydrates:
63 g.
Protein:
32 g.
Recipe by
AmazingPaleo.com
at https://www.amazingpaleo.com/2016/01/18/winter-chicken-salad-with-apple-cider-vinaigrette/