Twice Baked Sweet Potatoes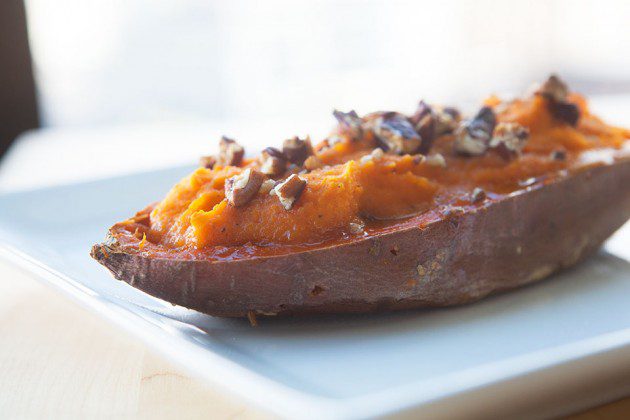 Serves:
6 twice baked sweet potatoes
3 sweet potatoes
¼ cup raw cashews, soaked overnight
1 tbsp filtered water
¼ tsp apple cider vinegar
1 tsp fresh lemon juice
1 tbsp coconut oil + a bit extra (melted, to coat potatoes)
⅛ tsp nutmeg
½ tsp sea salt
¼ tsp black pepper
4 tbsp pecan halves, to top
2-3 tbsp maple syrup, to top
Preheat oven to 425 F.
​Line a baking sheet with parchment paper and set aside.
Poke potatoes with a fork, coat them with 1 tbsp melted coconut oil and place them uncovered on a baking sheet; bake for 35-40 minutes. Remove potatoes from oven, let them cool and slice them in half lengthwise. Scoop their flesh out, leaving only the shells. Leave shells on baking sheet.
Transfer flesh to a food processor and process until smooth. Add in cashews, water, apple cider vinegar and lemon juice, and process until creamy. Add in 1 tbsp coconut oil, nutmeg, sea salt and pepper, and process until creamy. Fill sweet potatoes shells with creamy mixture, top with pecans and maple syrup, and bake for 15 minutes. Serve as a side dish.
Tools You'll Need:
- High speed blender
- Food processor
- Cutting board
- Sharp knife
- Baking sheet
- Parchment paper
- Spoon
Serving size:
1 twice baked sweet potato --
Calories:
176
Fat:
9 g.
Carbohydrates:
21 g.
Protein:
3 g.
Recipe by
AmazingPaleo.com
at https://www.amazingpaleo.com/2016/01/22/twice-baked-sweet-potatoes/