How To: Make Paleo Crepes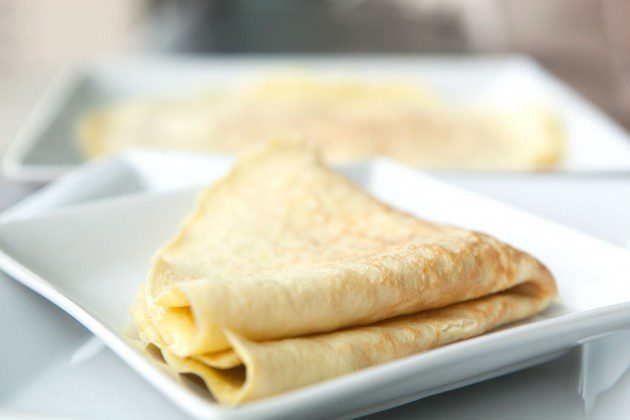 2 tablespoons coconut flour
1 teaspoon tapioca flour
1 teaspoon sea salt
1 cup unsweetened carton coconut milk
2 tablespoons coconut oil, soft or melted
6 eggs
Coconut oil, to grease pan
Place all ingredients in a blender and blend on low for about 1 minute, or until well combined. Let mixture sit for 15 minutes.
Preheat crape pan under medium heat for about 5 minutes.
Once mixture has sat for 15 minutes, blend on low again for less than a minute just to make sure all is well mixed again.
Add about ½ teaspoon of coconut oil to the pan and swirl the pan so that the oil coats the entire surface.
Pour ½ cup of batter into the pan; use crepe spreader in a circular movement to distribute batter evenly to form a large, thin crepe.
Allow it to cook until bubbles begin forming at the surface, then loosen edges with spatula and flip the crepe. This will take about 5-7 minutes, be patient.
Other side only cooks for about 1 minute. Use spatula to remove crepe from pan, placing it on a large plate.
Follow steps 3-6 until all batter is gone. Recipe makes 5 crepes.
Tools You'll Need:
- Cast iron crepe pan (I use
this one
)
- Crepe spreader
- Crepe spatula
- Blender
- Measuring cups
- Measuring spoons
Serving size:
1 crepe --
Calories:
166
Fat:
13 g.
Carbohydrates:
5 g.
Protein:
8 g.