Roasted Butternut Squash Kale Salad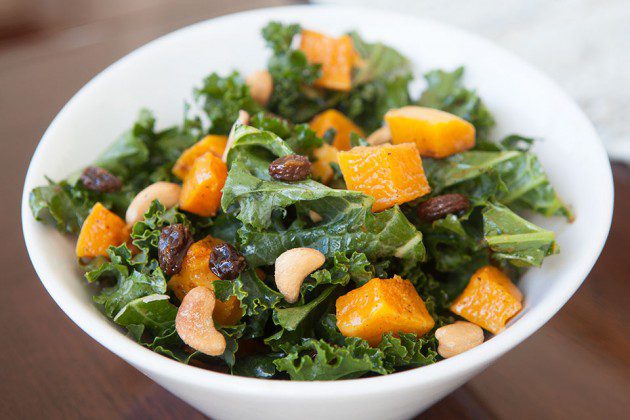 1 kale bunch, washed and chopped
1 large butternut squash, peeled and cubed
2 tbsp grape seed oil
2 tbsp honey
½ tsp cinnamon
1 tsp sea salt
½ tsp black pepper
½ cup organic raisins
Coconut oil spray to spray baking sheet
4 tbsp avocado oil
2 tbsp apple cider vinegar
Juice of ½ lemon
2 tbsp honey
Pinch of sea salt
Pinch of black pepper
Make the vinaigrette: add vinaigrette ingredients to a bowl and whisk vigorously to emulsify. Transfer to a jar with a lid and refrigerate until ready to use.
Preheat oven to 400 F.
Spray baking sheet with coconut oil and set aside.
Place squash in a bowl, and toss with grape seed oil, salt and pepper. Transfer squash to baking sheet and bake for 25 minutes; turn squash occasionally to brown evenly. Remove from oven, fold in raisins, honey and cinnamon and bake for another 15 minutes. Let cool.
Add kale to a large salad bowl; massage with hands until soft with the help of a bit of olive oil, fresh lemon juice and a pinch of salt.
Top kale with butternut squash, roasted cashews and vinaigrette to taste. Finish it off with a sprinkle of feta cheese crumbles or nutritional yeast if desired. Serve right away.
Tools You'll Need:
- Cutting knife
- Cutting board
- Vegetable peeler
- Spoon
- Mixing bowl
- Baking sheet
- Measuring spoons
Serving size:
1 serving --
Calories:
325
Fat:
15 g.
Carbohydrates:
48 g.
Protein:
7 g.
Recipe by
AmazingPaleo.com
at https://www.amazingpaleo.com/2016/02/08/roasted-butternut-squash-kale-salad/