Beef and Sweet Potato Crockpot Chili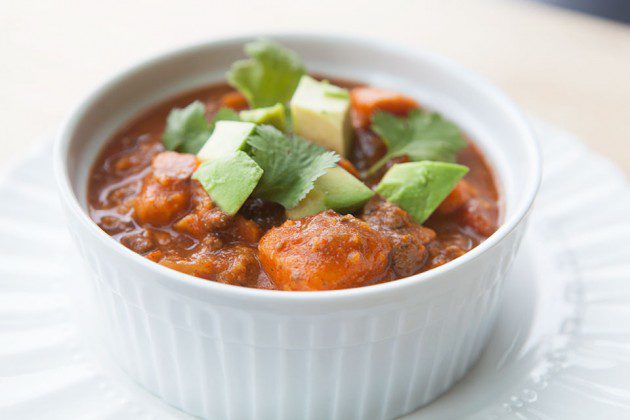 1 lb. ground organic beef
¼ cup minced white onion
3 garlic cloves, minced
1 serrano pepper, minced
1 tsp fine sea salt
1 tsp ground cumin
½ tsp ground paprika
½ tsp ground black pepper
1 tbsp coconut oil
3 sweet potatoes, peeled and cubed
1 28-oz. can diced tomatoes
32 oz. low sodium vegetable broth
½ white onion, roughly chopped
1 tbsp maple syrup
2 tbsp chili powder
1 tbsp ground cumin
1 tsp chipotle chili powder
Place a skillet over medium heat and add coconut oil. Once hot, add in minced garlic and onions, and cook until garlic is golden and onions are translucent. Add in serrano peppers and cook for another 2 minutes. Add in ground beef, helping it break apart with a wooden spoon, and stir beef constantly for about 3 minutes. Mix in sea salt, black pepper, cumin and paprika, cover with a lid and let beef cook for 10 minutes. Remove lid and continue to stir until all the liquid evaporates. Turn heat off and set aside.
Add sweet potatoes to a large pot and cover with cold water. Bring to a boil and let potatoes cook for 10 minutes. Meanwhile, place diced tomatoes, vegetable broth, onions, spices, maple syrup and beef in a crockpot. Once potatoes are done cooking, drain them and add them to the crockpot. Close crockpot with a lid and cook on low for 5 hours. Serve and top with chopped cilantro and avocado slices.
Tools You'll Need:
- Crockpot
- Medium pot
- Frying pan
- Cutting board and knife
- Vegetable peeler
- Spatula
- Measuring cups
- Measuring spoons
Serving size:
1 cup --
Calories:
289
Fat:
19 g.
Carbohydrates:
20 g.
Protein:
10 g.
Recipe by
AmazingPaleo.com
at https://www.amazingpaleo.com/2016/02/03/beef-and-sweet-potato-crockpot-chili/