Patacones (like Plantain Chips, but better!)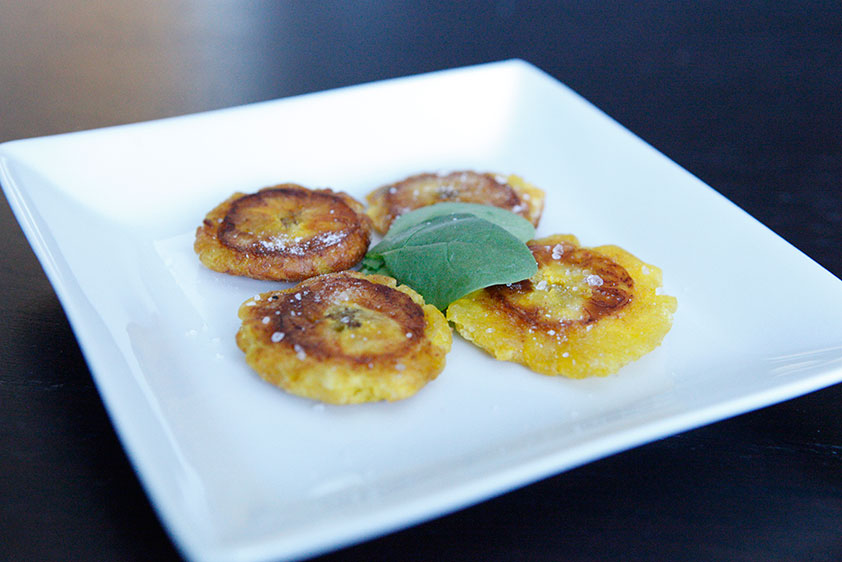 2 plantains
4-5 tbsp coconut oil
Sea Salt, to taste
Freshly squeezed lime juice, to taste
To help you peel the plantains, use a sharp knife and carefully cut down the skin lengthwise; be careful not to cut the plantain's inside. Then, cut each plantain into thick 1 inch slices.
Place a skillet over medium heat and add in oil. You want to use enough oil to cover the skillet's surface, so that once you place the plantains in the skillet, ¼ inch of every slice is covered by oil.
Place plantains in oil and fry for about 2 minutes; you want the plantains to be a bit crisp, but not burnt. Turn plantains over and fry for another 2 minutes.
Remove plantains from skillet and place on a paper towel so oil is absorbed and they get a chance to cool off a bit.
While plantains are still warm, grab a flat-bottomed glass and use its bottom to smash plantains, for a flatter appearance. If plantains stick to the glass, simply detach plantains with your hands. Sprinkle a little salt on top of each plantain.
Heat oil in skillet again and repeat step #3, only frying for about 1-2 minutes this time. Remove from oil and place again on paper towels to absorb any excess oil.
Sprinkle sea salt, squeeze a bit of lime on top and enjoy right away.
Tools you'll need:
- Skillet
- Paper Towels
- Spatula
- Glass (we'll need it's bottom)
Recipe by
AmazingPaleo.com
at https://www.amazingpaleo.com/patacones/