Classic Meatballs with Gravy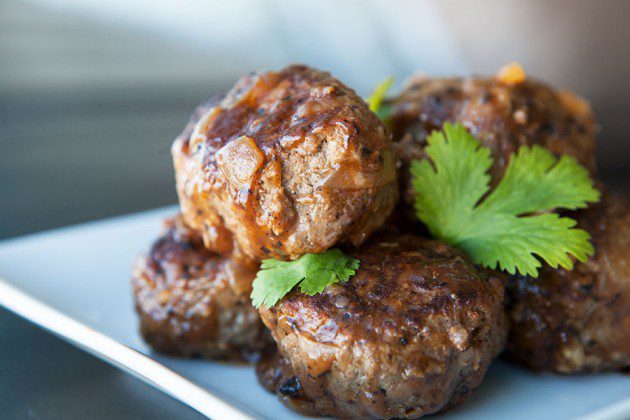 2 lbs. ground beef
⅓ cup cashew or almond meal
1 egg, whisked
¼ cup minced onion
3 garlic cloves, minced
1 serrano pepper, minced
1 tbsp "ketchup" (see recipe below)
1 tbsp fine powdered mustard
1 tbsp Worcestershire sauce
1 tsp ground cumin
1 tsp seasoning salt
½ tsp black pepper
1-2 tbsp coconut oil, for frying
2 tbsp ghee
1 large onion, chopped
1 tbsp Worcestershire sauce
1 cup low sodium vegetable broth
2 tbsp tapioca flour
½ tsp sea salt
1 tbsp "ketchup" (see recipe below)
Parsley or cilantro to garnish
½ cup tomato paste
2 tbsp applecider vinegar
1 tbsp honey
1 tsp kosher salt
½ tsp smoked paprika
½ tsp garlic powder
Make the "ketchup": whisk "ketchup" ingredients in a small bowl, and press through a strainer using a spatula. Set aside.​
Make the meatballs: mix meatball ingredients, except the coconut oil, in a large mixing bowl and shape into 1-½" meatballs; you should get about 15. Preheat cast iron skillet over medium heat, add oil and allow it to melt. Cook meatballs on all sides, until they brown or until they have reached desired doneness. Add more oil as needed. Remove meatballs from skillet and set aside.
Make the gravy: melt ghee in skillet over medium heat, and cook onions until translucent. In a bowl whisk together the tapioca flour and broth. Add broth and remaining gravy ingredients to the skillet, and cook until sauce thickens a bit, about 3 minutes. Adjust seasoning as necessary. Pour gravy over meatballs, garnish with fresh herbs and serve.
Tools You'll Need:
- Large cast iron skillet (or large frying pan)
- Spatula (or tongs, or a spoon)
- Mixing bowls
- Whisker
- Cutting board and knife
- Measuring cups
- Measuring spoons
Serving size:
1 meatball (with gravy) --
Calories:
250
Fat:
22 g.
Carbohydrates:
6 g.
Protein:
10 g.
Recipe by
AmazingPaleo.com
at https://www.amazingpaleo.com/2016/02/04/classic-meatballs-with-gravy/