Road to Hana Banana Bread Recipe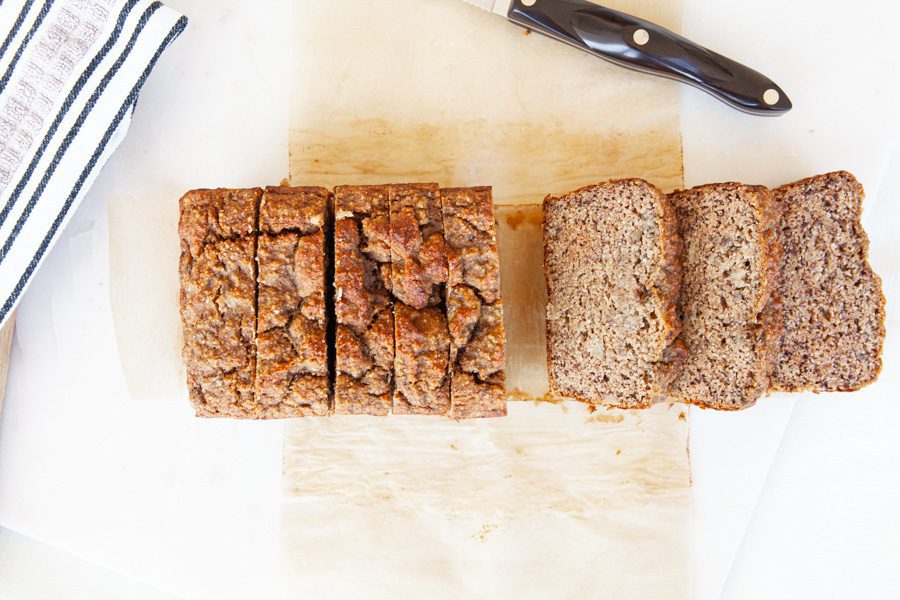 4 medium sized ripe* bananas, well mashed
3 large eggs
½ vanilla bean, scrape for vanilla seeds
2 cups finely ground almond flour
1 tsp ground cinnamon
¼ tsp sea salt
1 tsp baking soda
Coconut oil, for greasing
Preheat your oven to 350°F.
Grease loaf pan (8.5 x 4.5 x 2.75 in) with coconut oil. Line it with parchment paper strips, leaving an overhang on each side of the pan.
Combine all dry ingredients in a medium bowl. Set aside.
In a separate bowl, whisk together the eggs, mashed bananas and vanilla seeds. Pour into dry ingredient mixture and fold to combine until smooth.
Transfer batter to lined loaf pan. Gently tap pan on counter to distribute batter evenly.
Bake for 40 minutes. Let cool completely before slicing.
* Make sure your bananas are not overly ripe. You want bananas with a few brown spots, not ones that are all brown. This avoids making a gummy loaf.
Recipe by
Amazing Paleo - Healthy Paleo Diet Recipes
at https://www.amazingpaleo.com/2021/03/17/road-to-hana-banana-bread-recipe/