Chocolate Banana Paleo Crepe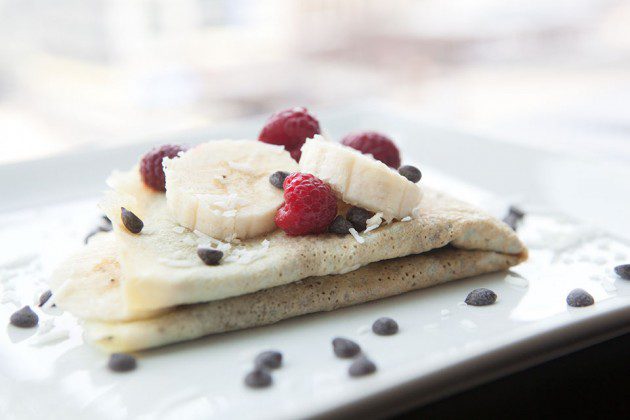 3 tbsp unsweetened cocoa powder
3 tbsp coconut oil
3 tbsp raw cashew butter
2 tbsp honey
3-4 tbsp unsweetened carton coconut milk
Toppings: banana slices, berries, dark chocolate mini chips and shredded coconut
Use my Paleo Crepes recipe to make the crepes. Recipe yields 5 crepes.
Add cacao powder, coconut oil, cashew butter and honey to a small mixing bowl, and mix together until creamy. Slowly, add in coconut milk; add as much as little as you want, depending to how thick you want your chocolate sauce to be.
Spread ~3 tbsp of the chocolate sauce on the surface of a flat crepe. Fold the crepe in half once, add ~1 tbsp more of the chocolate sauce, a few banana slices and some shredded coconut. Fold the crepe in half once more and top it with berries, chocolate mini chips and shredded coconut. Repeat to make the rest of the crepes.
Tools You'll Need:
- Small mixing bowl
- Spatula
- Measuring cups
- Measuring spoons
Serving size:
1 crepe --
Calories:
356
Fat:
27 g.
Carbohydrates:
25 g.
Protein:
11 g.
Recipe by
AmazingPaleo.com
at https://www.amazingpaleo.com/chocolate-banana-paleo-crepe/