Pumpkin Spice Chia Pudding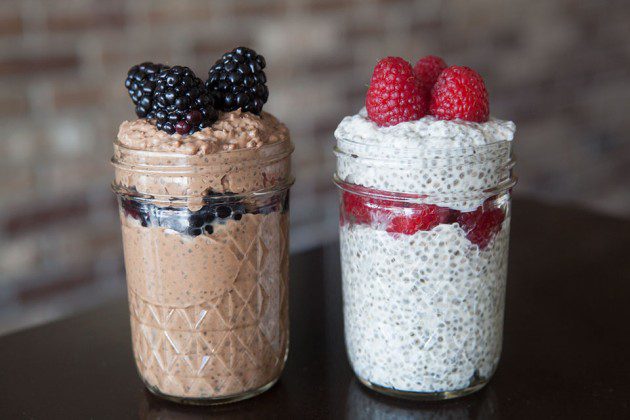 Serves:
Two 8 oz. mason jars
½ cup pumpkin puree
½ cup full fat canned coconut milk
1 cup unsweetened carton coconut milk
1 heaping tablespoon all-natural sunflower seed butter
2 tablespoons honey
½ teaspoon vanilla extract
⅛ teaspoon cinnamon
⅛ teaspoon all spice
¼ cup chia seeds
Toppings of choice: fruit, nuts, seeds, nut butters, seed butters, nut milks, seed milks, and/or Paleo Mixed Berry Jam.
Place pumpkin puree, milks, sunflower seed butter, honey, spices and vanilla extract in blender and blend on high until smooth.
Pour mixture in mason jar; add chia seeds, cover jar tight with lid and give it a nice shake until ingredients are well mixed.
Refrigerate overnight. (Give mason jar a nice shake, 45 minutes after refrigeration, to make sure chia seeds don't sink to the bottom and are able to mix thoroughly -- you can do this a few times to ensure proper blending. If chia seeds are being stubborn, open up jar and use a spoon to mix).
In another mason jar, or small bowl, layer the chia seeds with your topping of choice. I had mine with bananas and a dollop of Paleo Whipped Cream.
Tools You'll Need:
- High speed blender
- Two 8 oz. mason jars
- Measuring cups
- Measuring spoons
Serving size:
8 oz. mason jar --
Calories:
281
Fat:
27 g.
Carbohydrates:
26 g.
Protein:
8 g.
Recipe by
AmazingPaleo.com
at https://www.amazingpaleo.com/2016/02/11/3-chia-seed-pudding-recipes/